"The Secret of GettingHigh Rankings in Google"isn't really a Secret!
Ever heard of "The Butterfly Effect"? 5 minutes is the time an average person
needs to read this page & those 5 minutes will have a dramatic impact on your
success online! That's "The Butterfly Effect" in action, chaps...
skip to linkbuilding packs
Stop looking at SEOs as if they've graduated from Hogwarts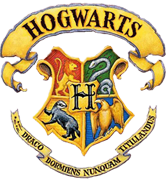 SEO is not rocket science and actually Google advocates the idea that the basic principles of SEO optimization should be easy to implement for anyone who has enough brains to use Internet. They even created an official "Search Engine Optimization Starter Guide" (which honeslty reminds me of a "robot adventure" book for kids) and translated it to 40 languages! I've read it a few times, and I'm telling you - there's nothing "magical" in there.
Learn the principles of SEO in 2 paragraphs
Actually this "SEO-thing" is so simple that I can explain to you the main concept in a few words right now! Here's the "secret formula" all SEOs have been hiding from you all this time:

*that's quite a rough representation, but as you dive into the details of SEO you understand that in the end it all comes down to this very simple concept.
CONTENT that's a no-brainer, right? If your website is about "tarsiers" (btw.. check the cute video with one of them! it's hilarious!) Google won't let you rank for something completely unrelated, let's say "Large Hadron Collider" (I wonder what can be more unrelated to tarsiers than LHC?).
So, the more unique (i.e. not published elsewhere on the web) content around a certain topic you have on your website — the more chances you have of ranking higher for related search terms.
LINKS this is where all the SEO magic lies! You see, Google rates web pages depending on how many links from other pages they have. So if there are 10 websites with cool stories about "tarsiers" - Google will rank the one with the most, high quality, inbound links NO.1.
Links have such a high impact on rankings that oftentimes pages with poor content tend to rank better than those with more information, but less incoming links. This is something "spammers" and "blackhat SEOs" are proactively taking advantage of.
Again, that was a very-very rough explanation of what Search Engine Optimization is all about, so please bear with me. I've already pointed you towards the "Official Google Guide to SEO" so if you feel like learning more about it, it's a great place to start.
So is SEO a Do-It-Yourselfkind of thing after all?
According to the "SEO formula" above there are only 2 main ingredients you need for some decent rankings in Google. The content should not be a problem - I don't think you would launch a website without any knowledge of its topic (that would be a really silly idea in most cases), so let's just consider you will spend a few evenings to write some good content for your future website.
What about the links?
Well, I'm not going to lie to you, you CAN obtain all sorts of links on your own, but that's not something you can do in an hour or two. Let's see what steps you need to take in order to do the linkbuilding
on your own:
1.
Learn SEO techniques – From Google's report, SEO blogs and from paid courses;
2.
Spend LOTS of time building links with the tactics you've learned;
3.
Monitor the results to see if each particular linkbuilding tactic was effective enough;
4.
Repeat steps 2, 3, 4 till you get the idea of which linkbuilding methods have the highest ROI and put the countless hours of your time solely into them.
I bet once you dive into all the details above and see how much work and time it takes your reaction will be pretty much the same like of the tarsier below (God, I love them!):
An Easy Way Out!
This page would be pretty much pointless without offering some easy way out, right? Here at WebDesign.org we've been mastering our linkbuilding skils since the day we launched (back in 1996) and judging from the volume of Search Traffic we get I can tell you that we've become pretty good
at it: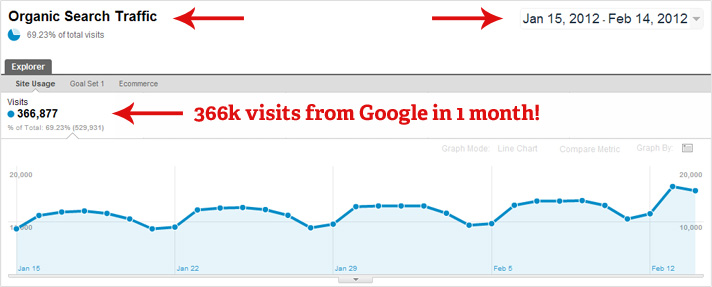 Our Highly Experienced Linkbuilding Team is who we give the credit to for this insane amount of Search Traffic in the first place. And you know what? You can rent our team to build links for your website! This will save you TONS of time and effort, and I think the screenshot above is a fantastic proof of our
effectiveness.
Linkbuilding Packs
Starter170 links
$167
100 links

from major bookmarking websites

50 comments

on popular blogs with links back to your site;

20 web properties

on major Web2.0 services with unique relevant texts & links to your site.
That's the perfect package for brand new websites!
Google usually gets suspicious when brand new websites get TONS of links in a week from launch, as this indicates they are using SPAMMY tactics to boost their rankings.
Well this package is perfectly balanced for promoting brand new website, and all the links are submitted manually (no shady software or spammy scripts being used).
Kicker323 links
$237
200 links

from major bookmarking sites

50 comments

on popular blogs with links back to your site;

20 web properties

on major Web2.0 services with unique relevant texts & links to your site.

3 relevant posts

on private blogs with links to your site.
This package is ideal if you already have some rankings in Google, but they are very low.
If your website has been around for about 6 months or so, this linkbuilding pack should really get you going and improve your traffic from Google.
Hovewer don't expect too much from it, in case your desired keyword is very competitive.
Mammoth555 links
$317
300 links

from major bookmarking website

150 comments

on popular blogs with links back to your site;

20 web properties

on major Web2.0 services with unique relevant texts & links to your site.

5 relevant posts

on private blogs with links to your site.

100 articles

with links to your site submitted to major article directories.
Mammoth pack! We only sell this to sites older than 6 months (sorry guys), and you will see really a significant improve once we build all those links for you. Especially in case you haven't done any linkbuilding as of yet.
We also highly recommend ordering this package a month or two after ordering a Starter or Kicker package.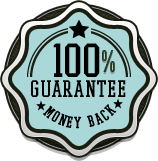 30 Day Money Back Guarantee!
We are a 100% confident in the quality of our links as well as the experience of our linkbuilding team. We guarantee you that your rankings will increase within 30 days since we finish our work. If not - we'll return you all the money. That's a totally safe deal for you!
Custom LinkBuilding Service
In case you have a very reputable site and you already have some Top10 rankings that you wish to improve to Top3 - those packages above may not really give you the results you need.
But that does not mean we can't help you! Please contact us with your situation and we'll develop a custom linkbuilding pack for you personally.
But keep in mind, that's VERY EXPENSIVE!
submit a request
Free SEO Report for your website
Don't have enough time to read 30 pages of "Google's SEO Starter Guide" but need to make sure your website is perfectly optimized for ranking well?
We will examine your website and send you a FREE Report outlining any major SEO flaws if we find any.
This report is 100% FREE if you subscribe to our newsletter below.
Time for a quick Q&A
How long will it take you to build all the links for me?
90% of the links are being built manually, without using any spammy software that may make Google angry. So it takes quite a while. We reserve up to one week for building 100 links.
How long till I see the results?
Once all the links are in place, it will take Google some time to find and incorporate them into your website rankings. Usually you will see movement in your rankings within 1-3 weeks of the links being published.
Is this thing against Google's Webmaster Guidlines?
Nope, we don't do anything illegal. All the work is done by humans and all the sites where we put the links are highly reputable. There's nothing wrong with this practice.
Is there any guarantee?
The only guarantee we can give you is that you will see your rankings improve significantly. We can't promise you certain rankings like Top10 or Top3, but eventually you can get there with these packages.
What do I need to rank in TOP10 or TOP3?
If you're really obsessed with being on Google's page 1, please use the form above to contact us for a custom solution. But once again, that would be a VERY EXPENSIVE service as it takes A LOT OF
WORK.
Can I order one package for multiple keywords?
Yes, you can specify up to 3 keywords, but please keep in mind that the effect will be equally split between them. We do not suggest ordering the "Starter" package for multiple keywords, but the "Mammoth" one may be quite effective here.
Does it work for other languages or English only?
At the moment our linkbuilding packages only work for English sites. Other languages are not supported.