You cannot talk about websites and fail to talk about SEO. In simple terms, SEO can be defined as an act of positioning websites in order to give them high visibility on search engines. You can optimize your site for yourself which is quite a hustle to do if you lack the skills to do it or get an SEO expert to do it for you.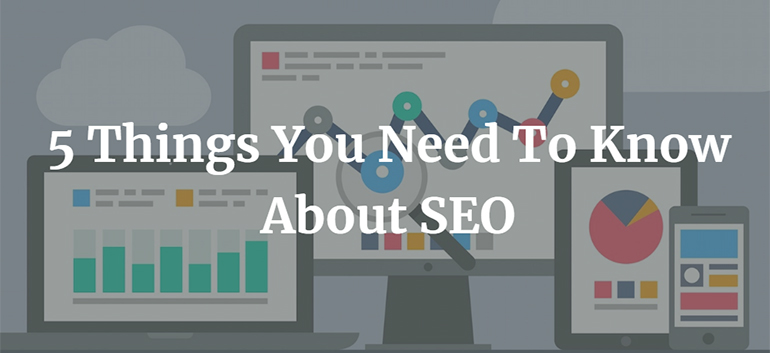 With that said, here are the 5 things you need to know about SEO:
1. Page Speed Matters
Google algorithms usually rank sites that have a fast load speed higher on search engines. Research shows that over 40% of the people who click into your website click out of it if a page fails to load in a span of 3 seconds.
A few ways to improve page speed and keep your website properly optimized is by using compressed images, reducing the number of redirects on your site, installing few plugins, and activating browser caching.
2. Content Is Super Important
Content on a website could be written text, video, audio, or images. Content is what search engines index. SEO is dominated majorly by the content that website owners produce.
For your website to be properly optimized, improve its ranking and build the desired traffic, you'll be required to publish good quality, authentic, and relevant content that can be trusted by search engines and your target audience.
3. White-Hat SEO Vs Black-Hat SEO
White-hat SEO can be termed as the authentic SEO method that people use to rank their sites on search engines. This type of SEO involves adhering to the set rules provided by search engines in order to achieve high rankings.
White-hat SEO involves using genuine original content, relevant titles and meta description, and good links. It's a slow but sure process to rank your site.
Black-hat SEO is an illegitimate technique used to rank sites high on search engines in the shortest time period. Search engine rules are not adhered to in this type of SEO. Some common practices of black-hat SEO involve stuffing meta keywords by using keywords excessively in a sentence and using irrelevant links to boost traffic.
The danger to using black-hat SEO is that when search engines update their algorithms, your site will be detected and flagged off as spam.
4. Onsite Vs Offsite SEO
Onsite SEO involves making your site search engine friendly. You have to adjust a few elements on your site to enable search engines to properly understand your website's structure and content.
Good practices for onsite SEO involve placing keywords on your content's heading, having a 1 -2 words keyword density in your titles, and less than 3% keyword density on your overall content.
Offsite SEO involves taking steps to promote your website on the internet. It majorly involves link building where authority sites link back to your site. Some of the practices involved in off-site SEO include guest blogging by posting on high authority sites with content relevant to your site. Having a strong social media presence is also key in off-site SEO.
5. Site Responsiveness Matters
The kind of theme you choose for your site, the plugins you install, the layout of your pages, and content arrangement all plays a big role in the optimization of your site on search engines. Work with well-designed and updated themes. Use few but relevant plugins, and keep your site's pages well laid out for proper site optimization.