B2B companies are investing more and more in digital marketing. It's no surprise, as 92% of B2B buying journeys start with an online search. B2B brands are using this to their advantage and turning to new means of promotion that will help them reach more potential customers.
It's important to emphasize that B2B digital methods are sometimes very different from those employed in B2C. B2C marketing practices can't just be copied and used in B2B, since they have different sales cycles, target audiences, and decision-making processes. Plus, they tend to use different channels. Here are a few quick tips on how to do your B2B digital marketing right.
1. Target the right audience
Once again, B2B marketers ought to target very specific audiences. They shouldn't aim at reaching large crowds, as improving visibility among the wider population isn't a priority in this case. B2B products and services are marketed to a very limited number of people who are actually interested in them, and an even more limited number of people who have the power and authority to spend the company's money on these products.
That's why you should target executives and managers in your industry that make budget decisions as well as professionals who can affect their judgment. There's a very narrow circle of people you need to have in mind when crafting your digital strategy.
Remember that basically all your prospects are professionals, and you should address them accordingly. Don't try to excite them or stir their emotions, try to affect their reasoning, and highlight the business benefits they'll get with your product. They don't care much if you have catchy slogans and appealing visuals – they care about how you can influence their financial bottom line.
2. Use data to your advantage
Just like the decisions of your customers, your digital marketing efforts also need to be driven by data. First of all, this means tracking user activity on your website and singling out the most engaged users on your social media.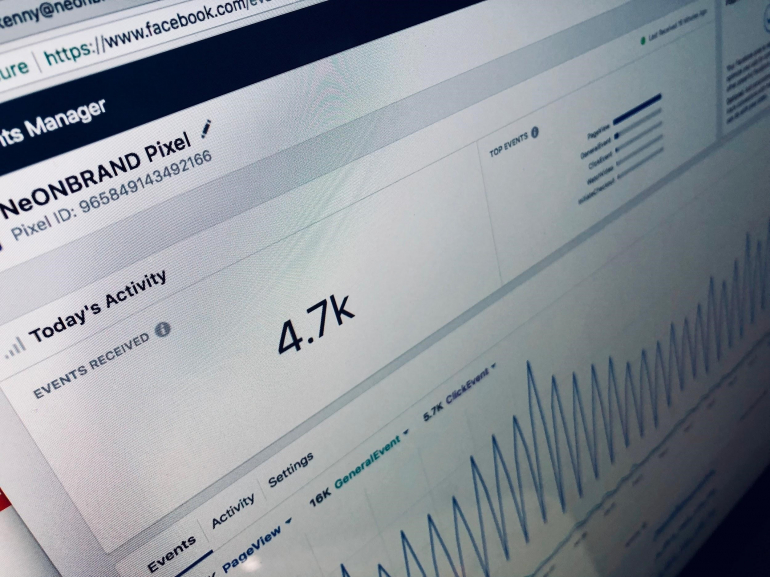 A good insight into these data can help you identify qualified leads and create several customized tactics on how to approach them. You need to recognize the right moment to reach out to these prospects with messages that will depend largely on where they're located in the sales funnel.
Also, don't miss out on the opportunity to utilize
social listening tools
. These will allow you to see discussions and mentions of your company and discover interest in your product. You should pay special attention to firms that have a similar profile to your most profitable accounts.
3. Invest in content marketing
The most effective long-term B2B marketing weapon is quality content. This is exactly why 86% of B2B marketers use content marketing to achieve their goals.
Obviously, running a company blog is a great idea in this respect. It's important that you focus your content on your industry and topics closely related to it, using CTA buttons as a natural part of the content to let people know what you do and sell. This is the best way to attract people who are potentially interested in your product and who could be reasonably expected to eventually convert.
Try addressing questions and issues that consumers usually have when it comes to your branch. The benefits of this are twofold: firstly, by writing articles on industry topics, you're demonstrating your expertise. Secondly, you're helping your readers and showing that you care. Both of these are very important since B2B buyers are looking for long contracts and steady relationships with a vendor, and there are no better ways than this to show your attentiveness, reliability, and professionalism.
There are numerous B2B companies doing this right. For instance, take HubSpot, a company that develops and markets software products for customer relationship management, sales, marketing, and much more. They have a top-quality blog with numerous articles on these topics, but they also produce other types of content, such as e-books, guides, webinars, and free courses. These have helped HubSpot a lot in bringing in leads and establishing themselves as a trustworthy, respectable brand.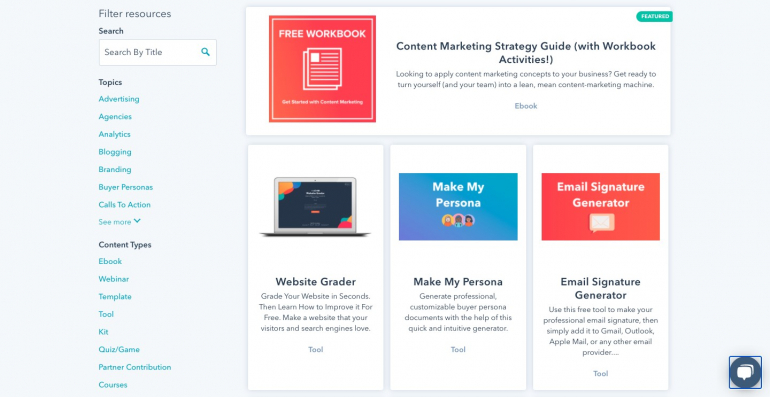 Source:
hubspot.com
4. Put some effort into SEO
Given that more than 90% of B2B buying journeys start with an online search, optimizing your website for search engines is vital. If there's a senior executive somewhere looking for services that you offer, but you're not on the first page of search engine results, there's a high probability that this person will never find out about your company.
Now, there are two hundred parameters that Google takes into account when ranking pages. Obviously, there's no room in this article to deal with all these, but let's just say that most of the parameters are focused on the quality of your content and user experience.
This means that you should be doing SEO not just for the sake of Google rankings, but to make your website better as well. This can affect your bottom line immensely. Take a look at this case study explaining how solid SEO tactics helped a media company grow by 400%!
5. Offer free trials
There are many reasons why decision-makers would think twice before buying a certain product. It can be about the price, cost-effectiveness, reliability, or they may simply be unsure whether their company even needs this product. But one of the most important factors here is the risk and the fear of the unknown. Because B2B purchases are usually a big commitment, the buyers want to be absolutely sure about what they're buying.
So if there's any way to do this, offer free demos of your product or service. This way, you're showing that you have nothing to hide and that you don't want to trick anyone. If you allow a trial period, that can be a great relief to anyone thinking about spending money on your product.
This is especially handy for businesses operating in the software industry. For instance, Forms On Fire provide a free trial of their mobile forms software before you decide to buy it. If you offer this convenience to customers, then you should state it loud and clear, ideally in a CTA button, like Forms On Fire did. There's no way you can miss the "try it free" button or confuse it with something else.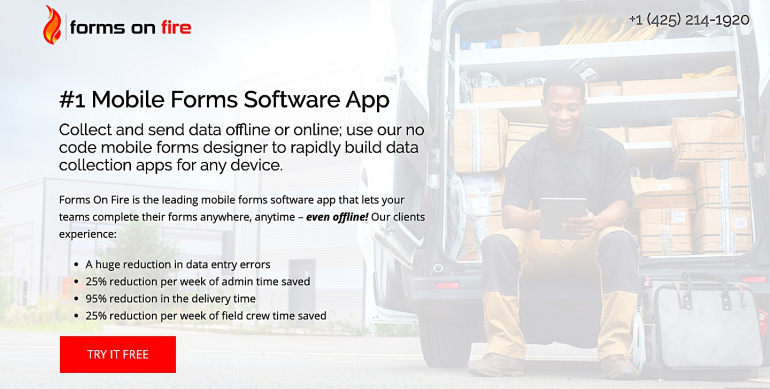 Source:
formsonfire.com
6. Include social proof
However, this doesn't have to help potential customers resolve their trust issues. Nevertheless, a staggering 84 percent of people trust online reviews as much as they'd trust a personal recommendation.
This means that you should include some sort of social proof on your product page or about page or even in the original articles where it seems appropriate. You'll need some sort of a rating system, but you'll need more than that as well.
Ask your clients to write a few sentences about their experiences with you. Testimonials by industry professionals can be a nudge in the right direction for a potential B2B buyer. Just make sure they're honest and genuine, or otherwise, they can have the opposite effect.
Final thoughts
Getting your B2B marketing campaigns to produce significant results is not easy, and it takes time. That's why you'll have to be patient, work hard, and trust the process.
However, this doesn't mean you shouldn't try mixing things up a little bit when you feel like you're stagnating. Finding the exact right marketing formula that will fit your business and your clients takes some risk, some trials, and some errors – but it's all a natural part of growing a business and achieving something big.