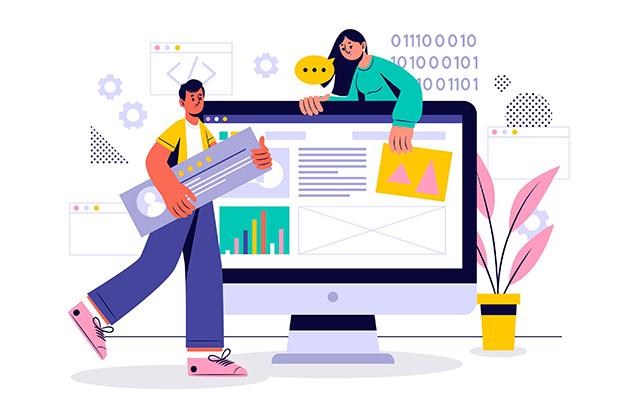 Website design has rapidly evolved over the past 30 years, and what was once a complex building process has become more of a DIY project for many small companies. While websites in the early 90s required complex programming, modern resources have made it easier to create high-functioning websites without a proportional increase in cost.
This feature has changed the landscape of web design, making it much cheaper for small and medium enterprises to establish and maintain an online presence.
Since 2000, website development has integrated the concept of an online economy, allowing companies and customers to trade online safely. It's a whole new ball game in 2022, giving new and established companies a better way to do business online.
Contrary to popular belief, website building is not as cost-intensive as people think. With the right tools, building a highly functional website is inexpensive. We have compiled a list of 6 ways to create a website on a small budget that guarantees functionality and effectiveness at the highest level. These easy steps will help you build your dream website and grow your business.
6 Ways to Build your website on a budget
Note that your website is more than just institute an online presence. It also serves as a validation tool and a business's front door. Organization and proper functioning will have a tremendous impact on how your business is viewed. For this reason, considerations on load time, top-tier Search Engine Optimization, and overall content placement should be at the top of the list of priorities.
So, how do you build your website on a budget?
1. Ensure you have ready content
The most costly phase in web design is content development. Many website owners are unaware that outsourcing content development is expensive. So having ready content beforehand is a critical cost-saving feature. Invest in developing your content and having it ready. Gather all your pitches before you begin the process. This organization won't just save your money - it will also save you the time you can use in other areas of the project.
You may need some professional assistance in image and content placement, but having ready content is a crucial starting point. Google ranking algorithms have placed specific emphasis on quality content.
2. Register a domain name
Cloud hosting is one of the major concerns for many websites, mainly because it is relatively costly. However, plenty of low-cost resources can help give your website a professional look. If you want to mushroom your business, ensure your company is registered using a personal domain name that links directly to your website.
It means that you should steer clear of free web hosting because it creates the impression that your business is an extension of another company.
Although free hosting is much cheaper, it drastically limits your operational capabilities and will prove costly in the future. Luckily there are some great resources online, such as Squarespace. There are plenty of places where you can get a coupon for Squarespace. You just need to know where to look. It all boils down to finding valuable hosting services at a pocket-friendly fee that fits your budget. With the right assistance, you will be well on your way to developing a fully functional website.
The idea here is to get value for money. Ensure you extensively research hosting companies and what they offer. Focus on quality service, especially if you are paying out of pocket. Note that it is better to spend a little more if the value serves your purpose.
3. Focus on critical website features
In the initial stages of website development, it is crucial to maintain functionality. It means cutting out features that crowd your landing page. Remember that your website serves as a gateway to your business, so always prioritize functionality over aesthetics. Visual content is a new trend, but having several videos and images on your website will reduce load time and make your website harder to navigate.
Too many features will increase the development and operating costs of your website. Focus on features that give your customers flexibility, operational efficiency, and optimal user experience. You can always add new features as you go along. Just ensure that you don't sacrifice functionality in the process.
4. Choose a web theme for a reasonable price
A distinctive feature of Zemez templates is that they are affordable, functional, and very easy to customize. Even with a minimal budget, you can get a wonderfully creative website. Moreover, it will be ready for promotion. Interesting? Take a look at Mysterio, you will be impressed by its capabilities and functionality.
For anyone looking for inexpensive clothing and fashion website template, Mysterio is the perfect solution. Here is a completely unique template design that you can change as you wish. With this template, you can make a stunning site on absolutely any topic, whether it's an impressive travel site or photo gallery, an automotive site, or a hosting provider. In the end, it all depends on what result you want to get. Do you want to create your own blog? No problem, with this template you will also find everything you need to get the job done.
Another interesting and accessible template is Biona. Look at this interesting design. It can also be used in various business areas. Just try it, you will be very satisfied!
Perfect Instagram-Oriented Shopify Theme - Delori
Delori is a wonderful example of implementing the unique Shopify 2.0 functionality. It is distinguished by a new 3D product model. Throw in a creative design, ready-made pages, and elements for effective marketing - your site can become the best without using big budgets.
The template is suitable for a site with a minimalistic design, an online store that attracts attention with its elegant style, a one-page creative agency, or an online portfolio for a freelancer. The theme code is SEO friendly. The theme is accompanied by extensive documentation with a detailed description of each option, examples, and screenshots.
5. Find a pocket-friendly content management system
As mentioned earlier, content management and placement are critical when designing your website. Note that modern companies use up to 30% of their total marketing budget on content management. An effective content management system will make your website accessible, organized, and easy to navigate.
An organized website also ensures you have a fully functional support desk ready to address client concerns when needed. The new trend is headless CMS, which means that you have a fully automated website, making it easier to manage information. This reduces the constant need for complex coding.
Considering that you may not have coding experience, you can seek professional help to get your CMS up and running. An efficient content management system will save you time and money in the long run.
6. Invest in Search Engine Optimization(SEO)
Another way to save costs in web development is SEO. Most website owners don't know that SEO is the quickest and most pocket-friendly way to increase visibility and give your business a competitive advantage. Before your site competes at the top level, it must satisfy some basic requirements. The most critical necessity here is how gainful your content is. SEO helps you gain ground against the millions of websites online and reduces the need for constant advertising.
Note that the first five results on google's front page get 70% of traffic. With a good SEO strategy, your site will rank favorably on search engines and establish you as an authoritative resource. While there are other techniques, Search Engine Optimization is the best and easiest way to get your website on the map.
7. Use Plugins
Website design is not an exact science. What works for you may not work for someone else. For this reason, ensure you have an easy way to customize your website in case your initial design fails to meet your expectations. Plugins provide the perfect gateway to change and add features to improve your website, making it more accommodating and user-friendly.
The beauty of plugins as a resource is that you can add them anytime, and there are plenty of free options you can choose from. Paid options offer more versatility unless you are on a tight budget. However, free varieties can still give you some decent functionality.
Final thoughts
Building a website has become an easy and pocket-friendly process over the years. All you need is a good strategy and the right tools.