The design phase is the most collaborative part of a project and can be tricky to navigate well. Giving constructive feedback is a vital part of the process, yet so often can be the thing that really holds a project up.
In order to assure a successful outcome, clear communication is key and it's important that the channels are always kept open, to allow all parties to review and critique designs, throughout the process. However, when it comes to delivering quality feedback, comments such as 'be more creative' simply won't cut it. Here are the 7 key steps to giving useful and effective feedback on your website design.
1. Managing stakeholders
When it comes to website design in particular, often is the case where multiple stakeholders are involved. Perhaps you're a project manager working directly with the agency, but maybe you're also working with a wider team of people within your organisation, all of whom may have different opinions or previous experiences which have influenced how they approach the process. Perhaps there's even a CEO who's required to give final sign off before a project can move forward.
Whatever the situation, as a first step in the process it's important to establish exactly who will be involved in the design process, as well as the who has ultimate control and final sign off. For the project to be a success everyone needs to be on the same page and working together.
2. Be clear, be specific
Arguably the most important advice we can give is to be SPECIFIC. Using vague descriptions such as 'can you make it more edgy' or 'it's not slick enough', are very much open to misinterpretation. In fact, client feedback has even been used to fashion hilarious pieces of art. These posters by Mark Shanley and Paddy Tracey, feature a collection of humorous quotes collated by themselves and their industry colleagues on "their favourite worst feedback from clients."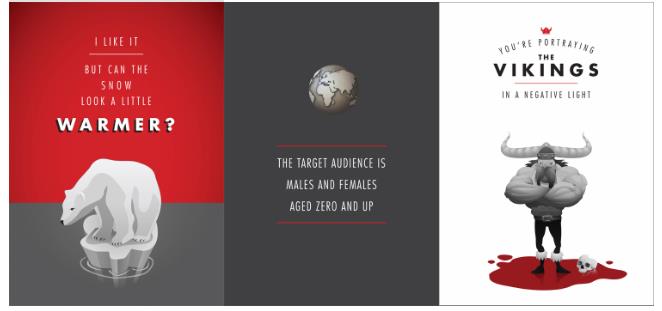 Most often, any issues you have will be easy to fix, but taking the time to properly articulate your feelings and questions can save valuable time for everyone involved.
The more reasoning and context you can provide the better. Be constructive and avoid dead end statements like 'I don't like it', and consider exactly what it is about it you don't like, then provide details on which aspects you would like to be different and how; is the text too small? Are the images targeted towards a younger demographic? Providing clear and concise comments will ensure your designer has something constructive to work from.
3. Be clear on your objective
When assessing your designs, your audience should always be at the forefront of your mind. There may be aspects of the design that you're not crazy about, and it can be easy to get carried away with nit-picking aspects based on your own personal tastes, however, you may not be a part of the target audience that your website is trying to reach.
When viewing the site, try to put yourself in the shoes of your consumer as much as possible. Looking at the site through their eyes, will help you in providing more commercially productive feedback.
4. Provide examples
When it comes to explaining how you want certain parts of the site to look, often the best way to tell us is to show us.
One of the most helpful elements we receive from clients is competitor examples and snapshots of design aspects from similar websites that they love. Similarly, we'll share examples with you to get your opinion and help us form the basis for the designs.
5. Honesty is the best policy
Be completely open and honest with your feedback and don't be afraid to cause offense. Our priority is always to deliver a product that meets with your expectations. If that's not the case, then it's important that you let us know, so that we can revise the design in a way that you're happy with.
Being 100% upfront at the start will help to minimise any unnecessary back and forth in the long run.
6. Listen and be polite
Whilst honesty is always the best policy, it's still important to be polite! Try not to forget that there's a person behind the design. If it's 'negative' feedback you're providing, consider how to phrase it in a way that's both professional and friendly.
Also, remember that the website designer you're working with is an expert in their field, which potentially means they have a far greater level of knowledge and insight into what works and what doesn't. If your designer is reluctant to amend a certain feature. Take the time to listen to and understand their reasoning, rather than pushing your ideas at any cost.
7. Consolidate your feedback
Excessive rounds of feedback can be the death of your project's timeline. If you're keen on working to a particular deadline, then multiple rounds of tweaks are something you should avoid like the plague. The design phase is usually carried out in 3 key stages:
Stage 1: An initial mock up is created from the brief given by the client.
Stage 2: Amends are made to the designs based on the feedback received by the client.
Stage 3: Any final tweaks are made before the designs are signed off and progressed to the next phase of the project.
Any major issues should be identified, discussed and rectified during stage 2. Feedback from all stakeholders should be reviewed and consolidated before being presented to the designer, allowing them to action any changes in a productive manner. When design moves into 4, 5 or 6 rounds of tweaks, it's becomes clear that there's a big problem to be addressed.
Your agency wants to deliver your project to you on time and within budget, but without your cooperation, this is unlikely to be the outcome.
Conclusion
Clear, considered and actionable feedback is the dream of every designer, and the thing that will ultimately help to drive your project forward, helping your ideas to evolve into something yet unimaged. Using these tips to form the basis of the relationship with your designer, means you'll create a long-lasting and effective partnership, that allows you to create something amazing - together.