So, you have invested a lot of time in marketing and reaching out to the customers who have successfully landed on the landing page you intended, what next? Bringing your potential customers to the landing page does not ensure good conversions. Check your analytics to figure out how the landing page is performing. If you see that most visitors quit the page without really engaging with your brand, you need to revamp your landing pages by following these tips to increase sales.
1. Solve Your Customer's Problems:
Every potential customer who has landed on your page is looking out for a solution to some of their problems. That is how they must have landed on the page in the first place. Learn more about your target market to understand what exactly your customer is seeking and provide them a solution to that to increase your conversions.
2. Offer No Distractions:
You want the potential customer to engage with your brand, which means you will add a call-to-action (CTA) on the landing page. Other than describing that one product or service you are trying to sell, do not showcase anything else on the landing page as you will only distract and confuse the customer. They have landed on the page after reading your ad about some specific product or service, stick only to that service on the landing page to increase conversions.
3. Create Attention-Grabbing Headlines:
The first thing potential customers read is the heading as they land on the page. If the heading is not grasping, then they will immediately leave the page. Make it more personalized and write a conversational heading where you directly address the customer. You can also highlight offers and discounts they cannot deny, increasing conversions.
According to Darryl Stevens of DIGITECH Austin, "the 4U (usefulness, urgency, uniquely expressed benefit, ultra-specific) framework of AWAI (American Writers and Artists Institute) can help you write compelling headlines.
Example of a non-4U headline:
Becoming productive with the POMODORO technique
Example of a 4U based headline:
How to Start Saving 2 Hours Per Day with this POMODORO App [NOW]
Check out the below image where we explain how this headline is using the 4U framework.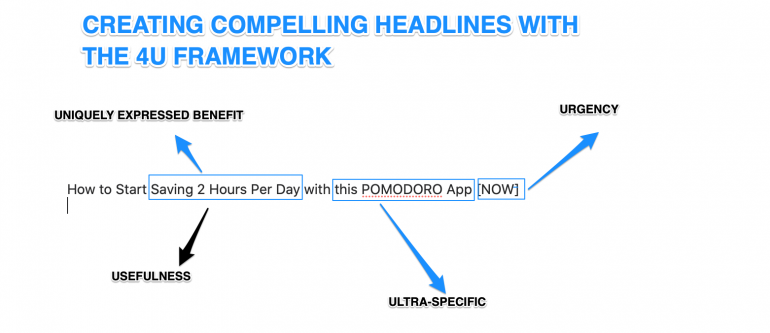 4. Use Testimonials:
Testimonials are helpful in building credibility as potential customers would want to know what existing customers think about your brand and, are they satisfied with your product or services? Adding a few testimonials on the landing page will definitely give your company some brownie points.
5. Insure Money-Back Guarantee:
If the customers are allowed to order from the landing page, then you have to give some kind of assurance that they will not lose money if they are not happy with the product. Offer a money-back guarantee if they are unsatisfied, these tactics can easily improve conversion rate as it builds trust in your brand.
6. Invest in Target Marketing:
The landing page conversion also depends on the fact that the number of people landing on the page is your target audience or not. If the wrong audience lands on the page, the chances of conversion are low. You need to put in place a proper marketing strategy to reach the target audience. Invest in the right keywords of Pay Per Click Ads. Not everything is free, hence you must make an investment to rank higher on PPC ads for the competitive keyword.
Many small businesses fall short of putting capital for digital marketing. If you are struggling to find capital for digital marketing, then get into a lucrative side investment such as bitcoin trading using automated trading software from the-bitcoinfuture.com.
Remember, without investment, you will not get a return and that applies to the marketing field too.
7. Offer Exactly What the Ad Mentions:
If the ad you publish to bring your target audience to the landing page is different than the product you offer on your landing page, people may consider it as clickbait. People are impatient and gaining their credibility means you must be transparent about things. Make sure to offer people what you have promised or else they will leave the page in seconds.
The Bottom Line:
Creating a successful landing page is tricky as each page is different from others. Not even expert digital marketers get it right the first time. Use analytics to conduct A/B, testing till the landing page conversion go high, increasing your sale.