What do you know about fonts? Fonts everywhere, Fonts are bold, italic, serif, and sans - it's the basis info that we all know from Microsoft word. And yeah, rarely do people need knowledge deeper than this. But it was in the past, now fonts are in easy access and everyone can use them. Most people think that this article is not suitable for them, but everyone can find a scope now. You don't need to be a website owner or a journalist to use fonts if you have social pages, sometimes poems are born in your head, or you have something to share with people, it will be interesting for you to understand fonts. Here I want to show you a couple of unique fonts that are surprisingly free. You can check the fonts from the list and others at fontsly.com. Here we go, check the first one:
Star Jedi

Everyone recognizes the Star Wars line, and now you can amuse yourself with an exact copy of the font from this universe. Fonts of this format do not have a widespread use case, it is not a good decision to create a whole site in this style, or an article with a couple of thousand words, it will be difficult to read. But I just wanted to introduce you to decorative fonts, and Star Jedi is the perfect solution for this. Some kind of fan topic or even a reference to Star Wars, using this font will look great. If you already have an idea in your head where to use Star Jedi - you can easily download from fonstly for free.
Pokémon

Another clear copy of the font that we all recognize. Following the link, you can find two variations of this font, the one shown in the picture above, with a black border for each character, and a completely black version, filled with black inside. It's great when the font creator shows indifference in this way. You can choose which version is best for your purposes, download and install the Pokémon font for free.
Minecrafter

One of the most popular games with the simplest storyline, loved by more than a billion players. Using this font on your site is a great PR campaign, statistically every seventh person will pay attention to this font. And this font also has two variations, the second one looks a bit destroyed, this is a reference to the game itself. During the game of minecraft, you need to destroy blocks, collect materials and build a fortress, it is the moment of a dilapidated block that is shown in the second font variation. You can go ahead and check out both Minecrafter Fonts following the link, and as usual, it's free on fonstly.com
Harry P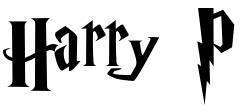 No fan post can do without the most recognizable and popular character - Harry Potter. Once again, I don't understand why this font remains free, a lot of work has been done on it, you personally can compare it with fonts from movies. Some kind of red title using this font will definitely attract a lot of attention. You don't even have to own a blog, as I said, if you have social pages like Twitter or Instagram, you can integrate any of these fonts there. Try to please your readers, and you are guaranteed to get a bigger audience. Go ahead and download fonts you wish from the endless library of fontsly, Harry Potter font it's not even the tip of the iceberg.
Waltograph

Walt Disney is one of the greatest designers (if i can use this word) in the history of mankind. There is no question whether you need this font, you definitely need it. This font is optimally pleasing to the eye, both adult and child, it is recognizable and popular. During the growth of the Disney Volta Empire, no one could use this font, but now anyone can download it for a second. Download here the Waltograph and feel like a great designer, you deserve it.