In less than fifty years all types of business services will be provided via the Internet. Shopping online has also become more popular than regular shopping in all developed countries of the world. A website allows you to sell products worldwide, not just on a local market. It is obvious how useful it can be for a business. Business owners are aware their website is their online image and the most important marketing tool. But surprisingly, many of them don't find time and effort to build a quality-looking site.
Website builder software is thoroughly elaborated for people who have little experience and knowledge in website industry.
So, a responsive website builder is the only tool that can help in the situation when people lack time, money and when everything is developing and changing so quickly and one can't keep up with all upgrades.
Let's now look at top-notch advantages of using the site building software:
1. Reasonable prices and free services
In comparison with hiring a web designer, who you need to pay much, using a free site builder or the one with low cost services is time and money saving for your business or personal needs.
2. Page builder and templates
Making your site goes with learning different programming languages. But when you use a site builder online, you can build a page in less than ten minutes because you have at your disposal ready-made templates, which you can use intuitively to build a responsive and customer-friendly design. You can use many templates according to your preferences and at the same time no knowledge of web codes is required.
3. Adding your own graphics
The first thing people usually pay attention to on the site is its visual cover. A quality website is usually full of bright eye-catching graphics. You may think you need a graphic designer for that matter and again it will cost you a lot. However, with a web design constructor just by making a few clicks you can load all of your favorite pictures and graphics!
4. Simple usage
The best website builders offer very easy-to-use services. It only takes to choose a template you liked most of all. And if after a while you need to add or delete something there is no need to create any codes. You can upgrade your site right from the constructor. Whether you are a business owner or need an individual site to add pictures of your pets, for example, website builder will be the best solution for both of the cases.
We want to introduce the easiest site builder ever - Weblium
Why use Weblium?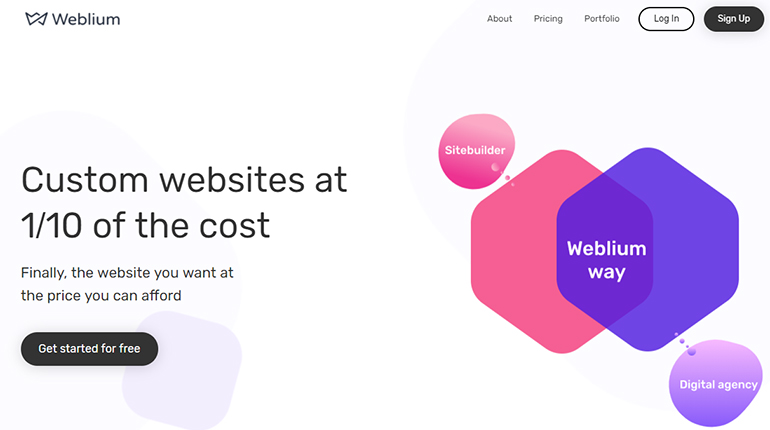 It is a unique website builder developed by real template monsters! All you need to do is to follow the link https://weblium.com/ and list down your preferences, then in 72 hours your website will be completed. Besides the above mentioned advantages, Weblium provides quite a number of services listed below.
The best drag and drop website builder
Imagine that you need to move headings or images on the web page. Without Weblium you would have to spend at least an hour to write a new code. And what if you need to make frequent changes to the site? It will turn into long hours of every day work.
However, at Weblium you just drag it to its new location and drop it there. You will use minimum time and effort but it will influence the outer look and compatibility of the site greatly. At Weblium you get a structure of your website for free.
What you have to do is just to use online drag and drop website builder and make your site in a few clicks of your mouse. You will have access to a special draftium service which you can use to build the website structure with different fonts, adding blocks, interactive prototypes, free photo stock and many other services.
Technology package
Web design will be fully responsive with any device. And the biggest advantage is that you own your website. You can get access to codes anytime, which are not available in many other website constructors. Your package will include website editor that allows you to change the site any time you want. Domains, hosting, and ssl-certificate will be also a part of it. Besides photos there are more than one million free icons as well. In case you are not happy with the site you created, Weblium guarantees 100% refund.
Additional professional package
WIth Weblium you will always be one step ahead. If you suddenly lack content ideas, their team can help you with the texts at reasonable costs. Also your site will be SEO-friendly (which is good for your site optimization).
Personal manager with support
You will have 24/7 access to website setup experts who assist you and support your website. You feel at ease knowing that you have a back-up ready to help all day round.
So, a website builder can save you a lot of money, time, effort, and prevent from frustration, thus be sure to choose Weblium that has all the necessary tools. Website builders make it easy to create a new site and make changes often. In modern business it is vital for your success to respond to your clients' needs even when those needs change fast.