As a business owner, there is nothing more important than having the best marketing tools in your arsenal. Needless to say, one of the most significant tools that you can have is an up-to-date, functional website. With web presence being at an all-time high, your website designer will play an integral role in your business achieving its marketing goals. So, whether you are looking to design a brand new website or redesign an existing one, the million-dollar question is- do you know what to look for when hiring a web designer?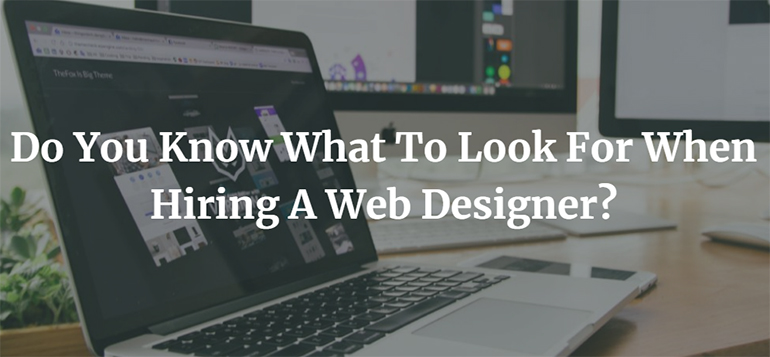 6 Things to Consider When Hiring a Web-designer
These are the qualities and characteristics that your chosen web designer should have:
#1: Experience in the industry
While there are hundreds of web design professionals, a handful of them stand out because of their high level of experience in the field. Forge Web Design in Greenville, SC is an example of an amazing company that will take your web design goals to the next level. The company boasts experience, knowledge and the best design methods. In the same way, you should choose a web designer who is not only familiar with the design process but also understands all the important elements of your business. The professional should be able to make suggestions on issues like the design platforms that suit your business best, conversion strategies, content management systems, mobile-friendliness, the number of landing pages amongst other elements.
#2: An expansive portfolio
This goes hand in hand with experience in the industry. If your web designer of choice is highly experienced, then they will confidently showcase their portfolio. Granted, you may want to hire a startup design company but this is a high-risk gamble because newer companies do not have a track record or enough experience. Companies like Forge Web Design in Greenville, SC boast of detailed portfolios as well as experience with an array of other clients. While the portfolios need not be flashy, they should be able to show you what the designer can do.
Quality #3: High customer ratings
You obviously want to hire the best web designer that you can find. Thus, when going through your potential designer's portfolio, take time to look at their customer ratings. This will certainly help in your hiring decision. If they were rated poorly because they designed a website that crashed or did not turn over the project on time, then you should consider other options. If the designer has a social account like Yelp or Amazon, then you can scroll through their customer feedback. However, if they do not have one, you can still gauge their skills in the way they interact with you in terms of their response times and willingness to answer questions and give well-defined answers.
#4: Extra design services
Ultimately, you are looking for a professional who can create great website pages. Even so, you will still want a web designer who will go the extra mile with SEO knowledge and lead generation. When these elements are included in your website, then they will make it the marketing funnel that you desire. Therefore, instead of looking for a designer who is only good at web design, look for one who can maximize their skills and also has a more holistic approach to their services.
#5: Website maintenance services
It would be an awful lot easier for your web designer to actually maintain your website, especially if you cannot do it yourself. This is because your website needs to be updated, especially if it relies on software and third-party plugins to function. While there are designers who only focus on the creation process, there are others who offer an affordable maintenance plan. The latter will check in on your website long after creation and ensure that it is running accordingly.
#6: Your confidence
At the end of the day, you are the only person who knows the ins and outs of your business. Therefore, you should have confidence in the web designer that you hire. You should be sure that they can represent elements of your business in the best possible ways. When you trust the candidate that you hire, there will be no misgivings and everything else will fall into place.
Your chosen web designer should be able to give you a unique, custom-made website that will promote your business in the best way. Your website should offer your customers a show-stopping experience that will lead to a high rate of conversion. With the aforementioned considerations, you are bound to hire a professional who will get the job done.
Want to create an amazing first impression with your company website? Contact Forge Web Design in Greenville, SC today!