2014 could be the year when your website finally attracts eyeballs of search engine readers, and loads of them, but how far it can reach in terms of numbers depends on multitude of factors, including web design.
In fact, most reports on search engine visibility (aka rankings) will include a thing or two about web design. It also acts as the primer for determining the crawl rate or indexing of your site and how user friendly it is for the visitors.
Another eye-popping statistic is the spending on web design by the big guns of the search engine space. Mashable reported that CNN attracted 42 million unique visitors in the United States and is now planning to spend $15 million on website redesign and infrastructure change. Women's Health magazine also launched a new website design that includes a simple and a cleaner interface with larger images.
And it's not just the big media outlets that are an indication of the role web design plays in expanding search engine outreach. The e-commerce business Fit for a Frame redesigned its website and included featured items that they sell in a neater presentation. They also added an attractive slideshow to increase visual appeal.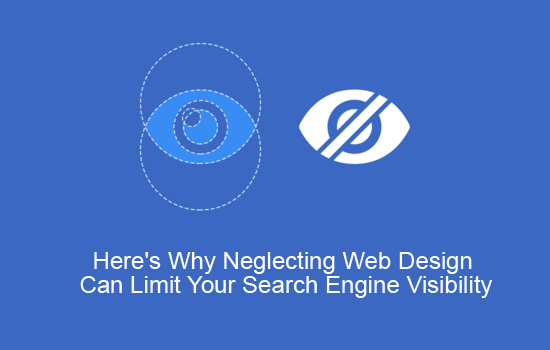 Other Search Engine Visibility Benefits
As evident from the reports above, there are benefits to be reaped, which extend to:
1. Complement SEO tactics
According to Bop Design, a webmaster should combine the objectives of search engine optimization strategy with an updated web design. This is because the website can achieve good search engine rankings for different keyword phrases, but if the visitors land on a site with an outdated design, it can be a sad ending for the SEO efforts.
2. Attract mobile & tablet readers
RWD is the new buzzword in the web design industry, and indeed, websites without a responsive web design are missing out on the visibility they could achieve on iOS, Android, Windows and other smartphone and tablet platforms. Google Think Insights published a report on how Plusnet converted to a multi-screen RWD strategy to create a website that was compatible with different devices. This action increased their traffic by double and sales by 10 times. It's therefore likely that your site will experience an increase in visibility through a RWD by adding sources in the form of mobile and tablet users.
3. Positive reputation
A positive reputation might not be your top most agenda, but it is what is going to determine search engine visibility in the long run. The point to note here is that your website's reputation is as much associated with web design as it is with the content, images, videos, brand name etc. Sites like Mashable have maintained positive reputation over the years, and their site design update shows that web design was an important part of their strategy of continuing domination in the digital space.
4. Referrals, mentions & offers
A lesson from the sites mentioned in this post - their updated web design was so important that it gave everyone a reason to mention them. A good design is also one of the important factors that lead to increased revenue from visitor conversions as well as advertising offers.
So when web design is combined with other essentials like great a great content and social media strategy, your site can be in a long haul in the search engine space.
Have you ever thought why your website's search engine rankings are lower and why it is not producing constant traffic? Here are certain website design rules that might be missing in your website.
1. Missing Uniform Page Layouts
If you are using multiple templates for designing different web pages of your website, it is sure that you are pretty much annoying your visitors. They might be wondering if they are visiting the same website and leaving your site due to bewilderment. Remember a uniform page layout not only avoids confusion but is also easy to update and maintain.
2. Missing HTML Tags necessary for validation while crawling
The other reason might be that your HTML code is not compliant with current W3.org web standards, and your code is not detectable by the spiders or robots sent out by the search engines. So, make sure to make compliant codes and also see if the codes are compatible with different browsers like IE, Chrome, Safari, Firefox etc.
3. Non-Effective Meta Tags
If your title is not descriptive and the meta-tags are missing, then surely your website is appearing in the last pages of web search. Keywords are definitely important but make sure that your title must be matching with the description, content and the keywords of your website.
4. Missing Sitemap
Sitemaps are crucial, and they are the greatest watchers of the search engine robots. They help the robots or spiders leading to your website and then making them to understand about how much your site is organized. This will in turn boost your search engine ranking by making it visible to the spiders.
5. Not using Focused keywords or Key-phrases and in Title and H1
Web crawling robot will definitely visit your website if you have used powerful keywords in the content, particularly in the page titles and h1 headings.
So, when was the last time you analyzed your website's design structure? Well, if not done before it is better analyzing your website design and fixing them by applying these simple rules to make it search engine friendly!