As you should know, getting a good web hosting is crucial to ensure the success of your project. Some experiments suggest that for every second that the load of a website increases, a high percentage of visitors leave the site. Worrying truth?
But a good hosting is much more than good speed, so I want to review aspects such as customer service and the solvency of the best hostings for Mexico. But first, a couple of notes to look for in choosing a good web host:
Speed: As we mentioned before, this is a very important aspect of a good hosting.
The availability: Some cheap hostings have continuous interruptions in their service and this can produce terrible experiences to the users, it will give an unprofessional image and it is not good for the SEO of your site.
Attention to the user: I would not recommend that you use a web hosting that does not offer 24-hour customer service. What will you do if your website falls at 2 in the morning? Also, unless you know English, the ideal is to offer help in Spanish and if it is from Mexico better.
Server features: You will want a web space provider that continually improves your system and incorporates the latest news. For example, the hosting you choose should incorporate PHP 7.
Location of the servers: The closer the hosting of your audience is, the faster the site will load. It is difficult to find hostings with servers in Mexico, having it in the US should be enough, but do not choose one with servers, for example, in Europe or Australia, this would be too far.
Technological needs: It is important that the hosting you choose adapts, as best as possible, to your technological needs. For example, if you are going to create a site with WordPress, the most sensible thing would be for you to get an expert hosting in this content manager.
The best hostings in Mexico
And now what you have come to look for, a list (and comparison) of the hostings for Mexico in which you can trust and host your web project.
Digital Server - Based in Chiapas
It is one of the most popular Hosting in Mexico, they offer telephone service from Mexico City and Tuxtla Gutiérrez (Chiapas). Your web hosting is based on cPanel, a very popular solution in the world of hosting. Its offer of products and services is endless: hosting for Windows, servers VPS, hosting in the cloud, email marketing and Linux hosting (the one that most use).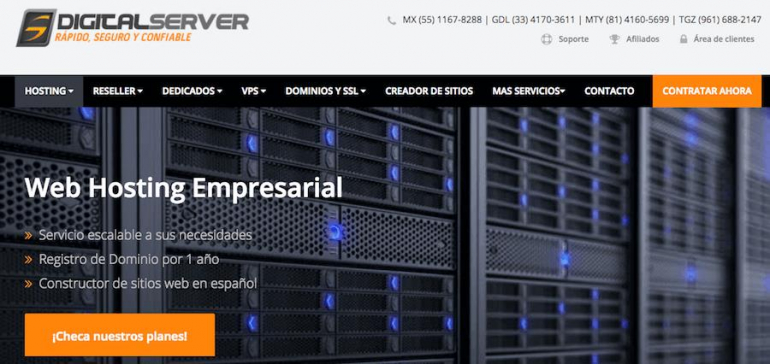 Digital Server also offers a Linux hosting mode with servers in Mexico, but this is quite expensive.
Digital Server prices:
Mini: $ 50 MX per month for unlimited space and 1 website.
Micro: $ 117 MX per month for unlimited space and 3 websites.
Commercial: 2778 $ MX per month for 100 GB of disk space SSD and no transfer limit.
Business: $ 348 MX per month for 150 GB of space on SSDs and no transfer limit.
What we like: Telephone service from Mexico. The high performance plans (Commercial and Business) ensure to offer very good availabilities and offer guarantees of availability. They do not limit the databases that you may have and offer PHP 7.
What we do not like: Some plans limit the number of domains you can have. High performance packages are somewhat expensive although they offer a lot of web space. SSL encryption has to be contracted separately.
SiteGround - The most solvent hosting?
SiteGround was founded in Bulgaria in 2004 but launched its service in Spanish not long ago. Since then it has been accumulating good results to become one of the best shared web hosting. It is a quality hosting specialized in WordPress (and WooCommerce), Joomla and Drupal. But it is also available to other content managers such as PrestaShop or Moodle.
Despite not having servers in Mexico, it offers data centers in the US, Europe and Asia, it is very flexible. In addition, if your project grows, SiteGround offers advanced hosting options (eg, in the cloud) to accommodate your website.
SiteGround prices:
StartUp: 9.95 $ US per month for 10GB of space and unlimited traffic
GrowBig: 14.95 $ US per month for 20GB of space and traffic not limited
GoGeek: 29.95 $ US per month for 30GB of space and unlimited traffic
Note: Keep in mind that SiteGround offers juicy discounts during the first year.
What we like: Unlimited monthly data transfer, this will be good if your website receives many visits. In our experience, SiteGround is one of the hosting that offers the best speed and availability. Your customer service is solvent and fast. Its hosting offers advanced tools for some content managers (eg, WordPress or Joomla). All your plans include SSL encryption ( https ) through LetsEcrypt.
GoDaddy - The hosting giant
Surely you have heard about GoDaddy ( read review ), they are one of the organizations that offer the largest internet services in the world. They have 17 million customers and in addition to shared hosting they offer domain names, dedicated hosting, email accounts and much more.
The prices of the shared GoDaddy hosting for Mexico:
Initial: 49.99 $ MX per month for 30 GB of space and one website.
Economical: 69.99 $ MX per month per 100 GB of space and one website.
Deluxe: 89.99 $ MX per month for unlimited space and websites.
Ultimate: $ 139 MX per month for unlimited space and websites plus more performance.
What we like: They are generous with the web space and do not limit the traffic that your website may receive. If you opt for an annual plan, it will include the domain name (and hosting) without additional costs. It is an economic hosting.
What we do not like: In our tests and tests their performance was not the best, we expected more from this hosting. The databases can not be larger than 1 GB. They offer support 24 hours a day, but in our experience this was a bit slow and unresolvable. Only the most expensive plan offers SSL encryption. It does not have servers in Mexico, these are located in the USA.
Latest reflections on hosting in Mexico
As you can see there are many shared hostings that you can choose for Mexico. Choose one or the other, it will depend on your needs and the budget you have.
If you have a budget, you want the best service, speed and the latest news I would suggest that you value Digital Server (servers in Canada).