It's standard these days for a company website to have an accompanying blog. Unfortunately, the blog is often just there to tick a proverbial box and often does not drive much engagement or many leads.
There are many reasons for this. Often the content is poor, not optimized for SEO, or the posts talk about the company rather than addressing the issues, problems, and trending stories that relate to the target market or ideal customer persona.
Another common problem is the lack of thought that goes into the blog design, especially when it comes to "conversion rate optimization" or CRO. CRO is the process of looking at a webpage or blog's design and tweaking or updating it so that it leads to more sales, leads, or whatever the goal of your blog is. Perhaps you want to generate brand awareness and create a great user experience (UX). CRO and UX often complement each other, but they can also clash, so it's a careful balancing act.
Using popups, for example, might improve CRO, but it can annoy users and stop them from coming back to read your newest posts. This article will look at some simple ways to modify company blog design and layout to enhance lead generation.
Blog Homepage Design
In many cases, the blog homepage will receive the most traffic. This relatively high level of traffic is usually due to the blog's homepage proximity in terms of clicks or steps from the company homepage, or because the blog homepage generates the most backlinks.
Either way, it is essential to optimize the homepage for UX and CRO if you want to generate views and leads. UX is a key ranking factor for Google, so you should not disregard it in favor of CRO.
Offer Based Homepage
If conversion rate optimization is your top priority, you may want to consider using an offer-based homepage.
The offer-based homepage is a bit like a squeeze page or a sales page that promotes one primary conversion goal: a form completion to subscribe to your blog or learn more about your service or product.
You will typically have your logo and a small navigation area in the header of an offer-based homepage. With this type of homepage, you want to promote the form and the offer as much as possible. You will also want to reduce any potential distractions that may lead the visitor away from the offer.
In the header, include a unique or strong selling point related to the offer. For example, if you want people to subscribe to your newsletter, emphasize the unique tips and quality of content they can get and why it is important to them. For example, if you have a business blog, you could promote the newsletter as a weekly key, usable insights from industry-leading marketing professionals.
You may also wish to include trust metrics and even reviews and testimonials to enhance trust.
The offer-based homepage can work effectively for lead generation in the short term, but keep an eye on your Google Analytics metrics, particularly exit page rates and bounce rate. This type of heavy promotion can annoy a lot of visitors. Unfortunately, you can use a more subtle version of the offer-based homepage and add and remove elements and tweak it over time if the UX metrics are poor.
Content-Based Homepage
Compared to the offer-focused home page, a content-based or content-focused homepage is generally a much better user experience.
However, you can still drive a significant number of leads if the content-based homepage is designed with CRO in mind.
Keep your logo and brand elements clear on the page, and also consider including a sidebar. Inside the sidebar, you can promote product pages and services using prominent imagery.
Neil Patel's blog-homepage combines a content-focused layout with a header that promotes his digital marketing services and SEO tool.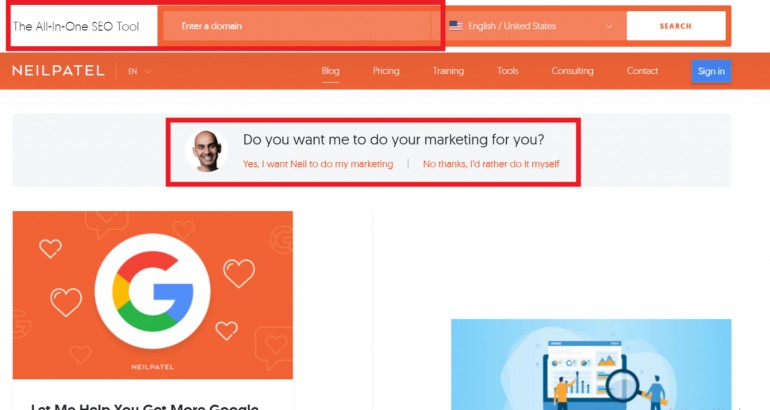 In the image above, you can see the promotional design elements outlined with a red rectangle outline. The blog homepage has much of the content below the fold (you need to scroll down to see it), while you can access the SEO Tool by entering a domain in the header. You can also opt to contact Neil's team for marketing help by clicking the relevant text that sits just below the main navigation bar.
This design does not interfere with UX and also does a great job of optimizing the page for CRO. The CTAs are clear but much more subtle than an offer-based homepage.
You can view another excellent company-blog homepage at: exposureninja.com/blog.
On the Exposure Ninja homepage, they have a contact telephone number in the header, a clear call to action (CTA) button to sign up for their newsletter, and a prominent CTA button to get a free website review to the right of the main navigation. This CTA also moves, and the whole header sticks to the top of the page when you scroll down.
The critical element of having a content-based layout for the homepage, is having great content!
Blog Post Layout
Many of your blog homepage elements can carry over to the blog posts – in particular, the header.
As with the Niel Patel homepage design, it can be very effective to have a CTA bar in the header that sticks to the top of the page when you scroll downwards. The impact on UX is minimal, but it can significantly increase the number of leads that the post or page generates.
A CTA bar that promotes an offer or service in exchange for an email address can be developed using CSS and HTML, or you can use a tool such as hellobar.
Higher value products, such as cars and vacations, can often make sense to promote a phone number and a "click to call" CTA within the header.
Most people will want to discuss the details of a car or a vacation before they choose to book a test drive or holiday. Using a tool such as Google Optimize or hello bar, you can test different CTA buttons and designs and split test to see which is the most effective.
Live Chat Widgets
Managed Live chat has many benefits. With a live chat widget, visitors can ask questions and get answers almost instantly. This is a considerable advantage compared to email and telephone calls which can take hours or even days to resolve queries and answer questions.
It is also possible to customize live chat widgets to pop up proactively after a certain number of seconds or after a period of inactivity. You can also set some live chat widgets to pop up proactively with a specific greeting once the visitor has reached the bottom of your blog post.
Again, this can be a careful balancing act between UX and CRO as many people will find a pro-active live chat window a bit annoying. In most cases, a live chat widget can be left to remain 'dormant' in the corner of the screen, with a clear CTA should a visitor have a question or query.
Conclusion
There are many ways to drive more conversions from a company blog. These include headers and sidebars that contain prominent CTA buttons and images. Live chat widgets can also provide a great UX by providing instant answers to queries, which in turn can generate rapport and more leads. However, the most crucial element of a blog is that it contains excellent content that is useful for your target audience. Great content is the foundation and should generate repeat visitors and even a community around your blog and social channels.