As a website owner, developer or designer, you've probably heard that you should perform extensive competition analyses for the purposes of improving your online presence.
The idea certainly makes sense. Researching websites in the same niche and comparing their decisions about design with your own ideas could be a great way to improve your approach and escape potential UX mistakes. However, the process of finding a competition that is relevant to your business and analyzing the design of their website (and how it compares with yours) may appear as too complicated. And it's true - it's not so easy to do it the right way on the first try.
In this article we'll alleviate some of the painfulness of researching your competition by providing tips and advice on how to do it properly. Competitor research isn't just essential — it may be the most important step you take for your website's success.
Why do you need to research competitors while building a website
We'll begin with the question: why exactly do you need to invest time in competitor research while developing design for your website?
Even a cursory glance at the immediate competition (open two or three tabs with websites of the same niche to get yourself started) will yield significant results.
Just by quickly scanning those few websites you'll learn:
How websites in your niche look like (the structure of the pages, complexity of menus, colors, etc);
Which tone they're using (are they more fun and easy-going or professional and business-y?);
The preferable type of content (written articles, review videos or something else entirely?);
User activity (what type of content is attracting feedback?)
That's a lot of useful information that will leave you with some important food for thoughts. When you're launching a new website, would you prefer to capitalize on the existing trends — or go against the flow and launch something totally new? The answer to this question may lie in the competitor research.
What's even better, by carefully analyzing your competition, you may be able to recognize the mistakes they have made in their UX, from the abundance of banners to convoluted mobile versions. Removing those mistakes from your own website will be a great opportunity to win over audience from your competition.
With that in mind, let's talk about the most important thing: how to do competitor research and what to look for while doing it.
Where to begin? Let's find your competition
If you want to do competitor research properly, start from the very beginning: you'll have to find your competitors properly, first. That's because you may not even know who your competitors are before you start the research.
There are a variety of ways to find your competition. You can start by googling the general keywords connected to your website's topics and check out the results. However, I would advocate using a specialized SEO toolset, if you have access to one. Instruments like SE Ranking Competitor SEO/PPC research tool provide a ton of useful insights when it comes to competitor research.
For example, if you're planning to launch an online shop, you'd probably want to research some of the competition, both huge and small. By simply typing in amazon.com or walmart.com (two of the biggest websites in this niche) into SE Ranking's tool and choosing the Competitors tab, you'll be able to get yourselves a long list of websites from the same niche.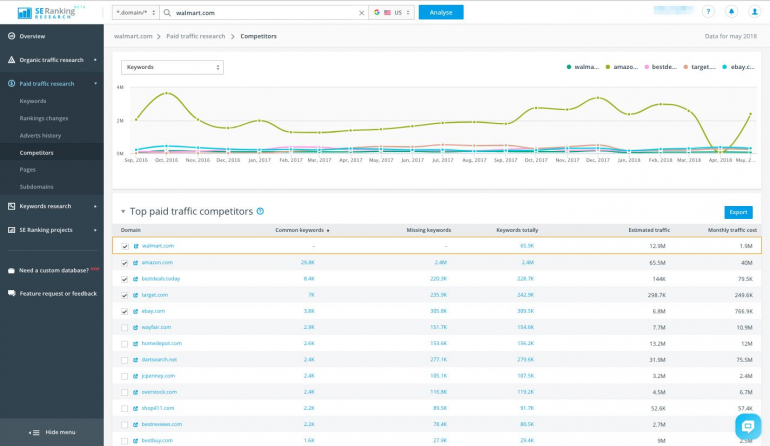 What's best, you'll be able to sort them out and compare them by various metrics, such as the estimated traffic or numbers of keywords they rank for. It's important, because you probably won't be able to overthrow Amazon overnight: better to compare your website with someone smaller and go from there.
By the end of this process you'll have a long list of competitors from the same niche as yours. And now the fun part begins.
Opportunity #1: Design
The first thing you'll notice when researching the competition is the website's design they decided to go with. Each website will probably look different from each other, but most likely will share the same DNA on the whole: the way they present the information on the page, the way they structure articles, the type of illustrations they are using and stuff like that.
So if you're launching a general news website, you may notice that a lot of the sites look the same, with a grid of popular stories on top of the page:

That's not a bad thing (or a good thing) on its own, it's just some food for thoughts. If a lot of websites from your niche share the same approach to design, you'll know that…
This approach is working;
Users are very familiar with it;
When you're working on the design of your website, you can go with the proven approach to quickly attract the audience of the existing websites who will immediately know how to interact with your website.
Or you can design something totally new with the hopes of being distinct and original. It's somewhat risky but might pay off at the end. That's the approach The Outline have used to undeniable success: it doesn't look like anything else in its niche: instead of a grid of posts on the top it uses one huge image with highlighted typography, the illustrations are all custom-made, and instead of a classic white background it uses a combination of black, red and various shades of pink.
Opportunity #2: UX
After you understand the general motifs of competitor's website designs, stay on their pages for a little bit longer and start paying attention to small details.
Here's what it means: scroll their websites and analyze every little thing that you don't like (or like). Then make a list of things you'll change or improve if this was your website.
For example, if you open a couple of popular video games websites, you'll notice that their illustrations are kind of bad: the images are bland and often weirdly cropped.

It doesn't make for a good look — for them. But it gives you a perfect opportunity to make your website distinct by investing in custom illustrations that would look stellar on your website and distinguish you from the competition.
To truly take advantage of UX research, make a table in Google Sheets or Microsoft Excel and write every little aspect of your competitor's website's design. Pay attention to the location of menus and categories, fonts used in the articles, location of the search bar, prominence of advertisements and banners… The list goes on.
Note in your table whether you liked or disliked what your competitor has done and how a regular user may interact with it. It could be something like:
| | | |
| --- | --- | --- |
| Search Bar | Disliked. Search bar is hidden behind a small icon in the top right corner of the page and when clicked it redirects you to a separate page. | The visitors could feel disoriented and use search. As a result they would ask customer support for help more often or pass up on some opportunities. |
| Illustrations | Liked. This website is using custom illustrations and collages. As a result, each new post looks distinct and the overall design of the website is more professional. | Users will surely appreciate attention to details and visit such website more often. |
When the table is completed you'll be left with a rich list of things that you like and don't like. Chances are your competitor's audience will share your take, and that's a great opportunity to win them over.
Opportunity #3: Mobile
A great mobile experience is essential for a modern website. With some websites reporting over 80% of traffic coming from the mobile devices and smartphone sales totalling in billions, it's very important to offer your users a great mobile experience.
That's why it's so baffling that many websites still don't do it. Some of them have responsive versions that are atrociously designed and some of them don't do a mobile version at all, offering their visitors to scroll through a desktop version of their website on a phone.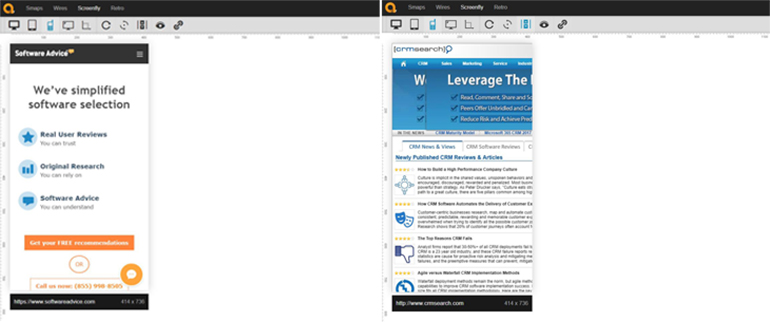 Software Advice has a nice mobile design. CRMSearch? Not so much.
If some of your competitors don't offer a great mobile experience, that's clearly an opportunity to win over some of their audience. You can use tools such as Screenfly to quickly compare how your competitor's website would look on a mobile device.
Opportunity #4: Attention to Details
Generally, just set the bar for yourself that's a notch higher than your competition's, and you're all set. For example, if every other site on your side is SSL-protected, but you're planning to launch it with a standard HTTP, you probably would want to rethink your approach. Buying an SSL certificate is cheap, and HTTPS is more secure and trustworthy. Plus, Google will designate traditional HTTP websites as 'Not Secure' soon, and it won't be a great sign for you.
Another detail: look at your competitor's domain names. A clean domain name for each page not only looks better, it's proven to be a ranking factor for Google.

In this example, TechSpot's web address is way more cluttered than Wirecutter's post on the same topic. If you find that your competitors don't pay attention to such details, it could be a great little trick to steal their position on the search engine page.
One last thing. Even if you don't have advertisements on your website, you probably plan on showing some banners to your users, either to prompt them to subscribe to your newsletter or tell them about a new promo. When researching your competition, pay special attention to how they do banners and advertisements, as a badly done banner could prove to be disastrous for your user's browsing, interrupting and annoying your visitor.
Don't forget to keep up!
Tracking your competition over a long period of time may be even more important than the initial competitor analysis. That's why after you're done checking up on your competition, don't close the tabs yet.
Instead, bookmark those websites — or better yet, add them to a tool like Feedly that would give you a simple way to follow all the updates on those websites. This way you'll be able to quickly react to new changes on your competitor's websites and adapt to them.
Build the Website Your Audience Deserves
The whole notion of competitor research in web design revolves around one simple idea: building the best version of the website possible.
In the modern day of business, you treat your competition as an in-depth rulebook of what to do, what not to do and how you can be better than all of them. You just have to be analytical.
Now let's get back to you. What do you think about competitor research in web design? Any examples on how you've used it in the past? Let's discuss this in the comment section below.