GIFs first popped up back in 1987, as a method of representing moving images. Three decades later, animated images are everywhere on social media. Though GIFs have been a major source of entertainment, they're also a great medium to broadcast memorable advertisement messages. And if you're on your way experimenting with animated ads, here are some best practices that will help you grow your campaign ROIs.
Lower Your Costs of Animated Advertisement Content Creation
Your animated advertisement campaign ROI naturally goes up when you reduce the cost of content. Bannersnack is a terrific tool, particularly for animated advertisement content creation, offering unlimited banner creation. Here's how to use Bannersnack effectively:
Use a standard size banner layout from the gallery or customize as needed.
Add a background, add shapes, add animations, and key in your text
Experiment with the vast range of color options.
The drag and drop based editor helps you preview your banner as you design it.
You can use HTML, video content, links, or your custom code to optimize your animated ads.
The Magic Animator option helps you animate all elements within a banner very quickly.
Once your static banner is ready, click on the Magic Animator button
Select the animation you like; you're done

The banner generator helps you create several animated ads in a jiffy; check out how it looks, here:
Bannersnack also offers you quality web fonts, a library of professional stock photos, and a fully loaded clipart and shapes. These features make it a dependable animation ad creation solution.
Build A Database of Animated Ad Designs
Designing animated ads yourself takes time. Getting a professional to create these animated ads costs a lot. To maximize returns on your animated ads, you'll need to keep on reusing them.
Your animated ads need to be high quality in their visual appeal. Look for sources of free HD quality images that you can use to create animated content. Burst is a good source of high resolution images for blogs and websites. Look for images with sufficient free space on the screen for your animated clipart, shapes, and text.
I picked up a basic image from Burst.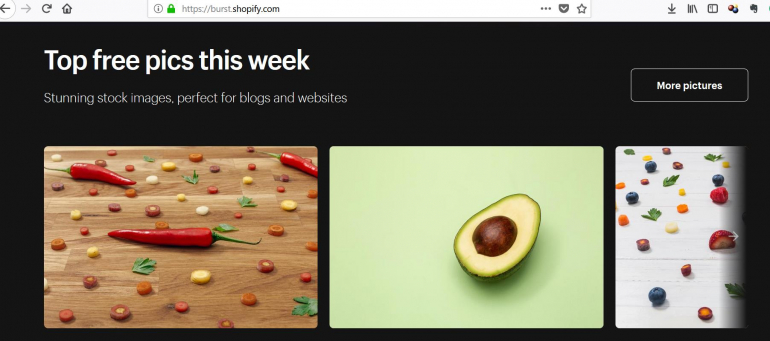 And then used Bannersnack to create an animated ad within 100 seconds; it's that easy.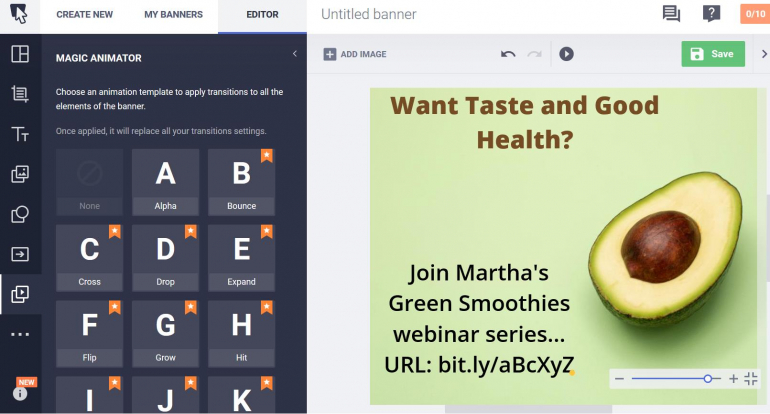 Keep on uploading all your animated advertisement content to a DropBox or Google Drive folder, carefully labeling your campaigns, to enable easy re-use in future.
Note: You'd ideally want to link to your landing pages from your animated advertisements. Also, be ready to accept orders both offline and online because people might search for the store location online and buy them directly from store. In such a scenario, you can easily accept credit cards in-store, on the go and everywhere in between with the help of Shopify POS.
Add Text CTAs To Your Animated Ads
If you're not giving a laser-focused call to action at the end of the animated ad, your content is merely entertainment and won't contribute to ROIs.
Use your animated content creation tool to add text CTA within the advertisement. If you already have a library of animated advertisements that you need to add a CTA for, use these steps:
Open your GIF with Photoshop.
On your timeline, select the top layer of the GIF.
Add text and 'save for web'.

Click 'save', name the file, and then save it.
Post it!
Add Linked CTAs to Your Social Media Animated Ads
With social media, you can track all your campaign KPIs. Also, you can easily target the right audiences for your ads.
If you use Facebook ads, here's how you can do that:
In your Facebook Account, go to Power Editor and select Create Ad.

Key in the desired details, and click on Create (use the 'use guided creation' option if you're unfamiliar with Facebook ads).
Click on the 'video/slideshow' radio button, and then click on 'Change Video'.
You can upload your saved GIFs now.
Add some advertisement copy with a short URL of your landing page.
Concluding Remarks
Animated visuals are not going out of favors anytime soon. Be where the action is. Start optimizing your animated ads to drive campaign ROIs and your marketing success.