Ever since the Web first came onto the scene businesses have graduated realizing the potential that having an Internet presence offers to their organization to the necessity of being on the web. Although it has become much easier to build robust websites with the advent of Content Management Systems, but as users soon found out that getting everything you want out of a CMS might require quite a bit of technical knowledge. For businesses that want a simple, and instant web presence LightCMS offers a perfect solution.
Why Light?
LightCMS is hosted CMS that offers an alternative solution for those who would rather focus on the design of their site and have less of a need for the power and complexity that is found with other solutions like WordPress, Joomla or Drupal. The name "Light" fits as it does not contain many of the features that its counterparts offer; opting instead to give users a website ready for content after only a few clicks during the setup stage.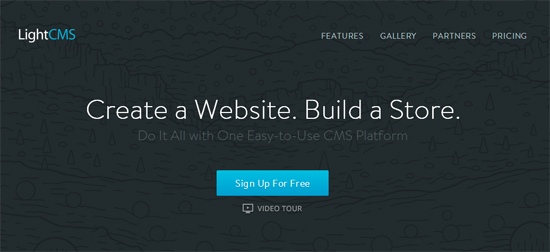 Users start by selecting on of 80+ themes offered by Light CMS or, those with strong design skills, templates can be altered or created using HTML and CSS. As long as the files are named according to the LightCMS standards custom templates can be zipped and uploaded just as easily as any of its counterparts. Once the aesthetics of the site are set LightCMS shows why it is so popular. Unlike the larger content management systems where you have to figure out how to get content elements into certain areas using hooks, modules or components Light relies on a simple drag and drop interface that allows the user to place a content block anywhere they like without any coding.
The support provided through LightCMS can also be superior to other CMS solutions. With the open source offerings, support is usually community based and can take some time before an issue is addressed. LightCMS" subscription model comes with a dedicated support plan to better address issues and questions from customers.
Why Not Light?
While a hosted solution might be the best route for some, it can also be LightCMS" biggest drawback. As a hosted service there is a monthly charge associated with hosting a site. The most basic plan, called the Personal plan, allows for 10 pages, 1GB of storage and up to 100 products if the site is hosting a store for $19 a month. There are also Standard, Premium and Professional tiers offered at $29, $49 and $69 a month respectively and each allowing for more pages, storage and products. The Unlimited plan puts no restrictions on these and costs $99 per month. With other solutions you are only paying for the cost of your hosting provider; that is unless you require a developer who specializes in your CMS application or premium plugins to get the system to do what you want. When these costs are added into the equation a site built with another CMS could easily cost just as much, if not more, than it would with the LightCMS subscription model.
Of course there is also the question of what the solution can do. Since it is built with ease of use in mind it does not offer the extensibility as other content management solutions do. While you can upgrade your subscription model to host more content, if you outgrow its functionality you are limited in your options.
Features
Instant Setup and Free Trial
Website and eCommerce Features
Large Library of Design Templates
Easy-to-Use Design Editor
Responsive Design for Mobile and Tablets
Advanced Users Create Your Own Design
Drag and Drop Content Editing
Secure Shopping Cart and Checkout
Search Engine Tools
Facebook Open Graph Integration
Dedicated Support
Free Automatic Upgrades
Probably the nicest feature is the fact that every feature available on LightCMS is available for every hosting plan. There is no need to upgrade to a large plan just to gain access to additional functionality for your site. The only reason for upgrading would be to host more content.
Final Thoughts
Hosted solutions like LightCMS offer those who aren't well versed in the backed coding of a web application an easy alternative when it comes to building a dynamic, content driven website. Many people with stellar design skills have found this to be a problem with other CMS solutions; they are able to make it look pretty but getting everything to work offers a bit of a challenge to them.
Think of LightCMS as what FrontPage and Contribute were to static sites of the late nineties. It offers someone without the backend knowledge needed to get a professional looking site up and running the opportunity to do so.
By far, however, the greatest feature offered by LightCMS is its support offering. For any busy person who has struggled through forums and comment trails looking for the answer to a question, the ability to log a ticket and have a dedicated professional solve your problem is definitely a nice thing to have.