Change or disappear. This is a rule of survival small business owners have learned recently. For better or worth, your chances to build a successful business without a web presence are close to zero. If you are one of those rare people, who still think that launching a website is complicated, there are some great news for you.
Weblium has made a breakthrough in web development by introducing several highly-functional tools last year. Now, there are even more features to enjoy. But let's start from the very beginning and find the answers to questions that bother you.
Does a small business need a website?
A business, which is not represented online, doesn't exist in people's minds. Some are certain that an Instagram or Facebook page is enough to achieve business goals. However, they don't work for all businesses. If you decide to develop your business without an official website, you don't save your time. You miss new opportunities.
How to launch a website with zero experience in web development?
Thanks to website builders, you can launch a small business website without any help. Blocks and templates will compensate the lack of knowledge on designing and development. You just register and follow the guidelines.
The purpose of a website is to explain to a potential customer how you can assist in solving their problems. It shouldn't be a heavily decorated poster or a collection of beaten slogans. Tell a user who you are, what you do, what makes you unique, and how to reach you.
The essential information includes:
Company basics on the homepage: logo, short description, relevant images, contacts in the footer.
A page featuring your offer: what items or services you provide.
A description of the offer: what it is, features, application, price, etc.
Some evidence: photo and video materials, testimonials, press releases, awards, etc.
Contacts page with a callback form and other details.
What are the common mistakes?
Learn from the mistakes of others. There are some dos and don't to keep in mind in order to avoid the common pitfalls.
1. Choose a domain attentively. A web address is not just a combination of some symbols. It is a marketing tool essential for the future promotion and an element of the company's identity.
2. Don't miss a prototyping stage. Start with the simplest mockup — take a pencil, a sheet of paper, and write down what blocks and information pages should contain. Illustrate it in a primitive way.
3. Work out the website structure. The navigation should be simple. The pages should be connected logically. The interface should be user-friendly.
4. Don't place everything on a single page. Every page should answer a particular question. You can list services or compare packages on one page but not provide a full description of each.
5. Don't launch an empty website. Coming soon message gives the impression that you are working hard on something. Nevertheless, a customer who stumbles upon this is not likely to come back. Searching engines don't like that either.
6. Pay attention to the content. Stealing texts and images from similar businesses is unprofessional. A good copy and relevant media content attract users' attention and meet the requirements of search engines.
7. Design matters but don't overdo it. A creative approach doesn't equal excessive flash animation, a grim cocktail of fonts and colors, or background music. Keep everything readable and relevant.
8. Forget about "on request" prices. A potential client wants to know how much they will pay.
9. Leave some room for feedback. A website lacking reviews seems at least suspicious. People want to make sure the others use your services. Comments don't have to be only positive.
10. Don't expect the immediate results. A website will not produce income or bring new clients the next day after the launch. It will take more than a week and even more than a month. It is a valuable investment.
What's a website builder of the fifth generation?
Create a free website with Weblium to launch it with the least hustle. Right, Weblium is the website builder of the fifth generation. After the release of the new functionality, it opened new opportunities for users. Now, Weblium is not only "do-it-for-me" service; it offers "do-it-for-you" approach, too.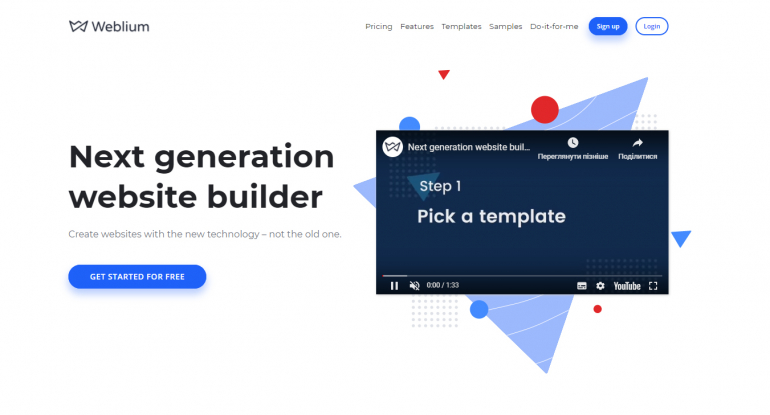 If you don't plan any further involvement in the development process after sending a brief to the Weblium team, let them do it for you. If you prefer to keep a check on everything, do it yourself. There is no need to learn programming languages, SEO, or UX design. It is great if you know the basics but the personal user experience is often enough to create a good website.
Register, discover options for personal use and for businesses, and get amazed by the results! It is hard to convince potential clients in your reliability without an impressive website. Weblium is a new technology that can help you do this, increasing the credibility and approaching more people.