Think you know all about our Joomla templates? Well... we have a little surprise for you! Our developers created an exclusive new generation Joomla template, please welcome Pintex! What's so amazing and new about this template? Let's take a closer look!
The first thing I wanna focus your attention on is the design of Pintex. The template is designed in the flat style, this simple design is the pledge of success. It's the reason why Pintex template fits almost all template categories: business, education, art, photography, society, culture, and architecture.
This fully responsive(!!!) template supports all Joomla's standard features and has lots of new amazing ones. As all its predecessors Pintex is built on Bootstrap framework, this means it has all the usual perks like advanced navigation, easy installation, cross-browser compatibility and advanced commenting system. But... there are lots of new shiny features that make this template a very special one.
First of all Pintex has a built-in color switcher that will help you adapt the color palette to your brand identity. There are 4 available colors: green, blue, red and orange.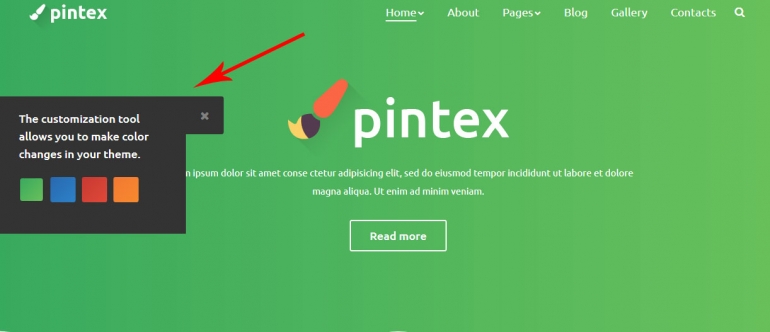 There's also a logo upload option that will help you create a unique website based on this template.
New Joomla pages
Pintex comes with 9 new pages:
Pricing;
FAQ;
Our Team;
History (timeline presentation);
Testimonials;
Site Map;
Forum;
Careers;
Portfolio;
additional page to present Template settings;
additional page to present template Elements like: typography, buttons, lists, tabs, accordions, toggles, tables, progress bars and counters.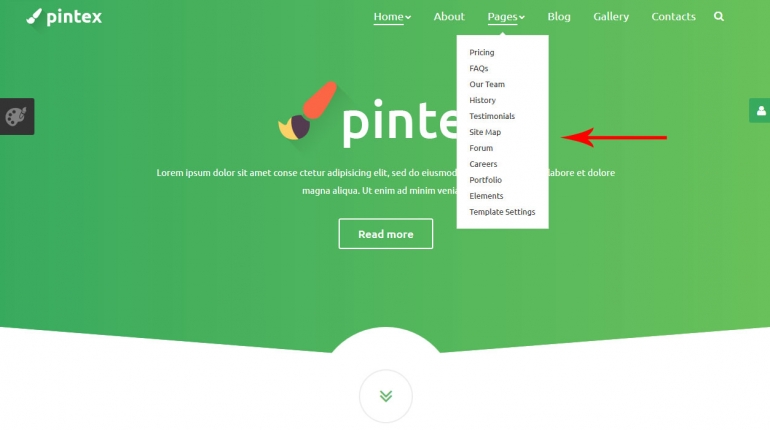 Portfolio page
The design of this portfolio page is simple and totally amazing! Your works will be represented in the trendy flat way.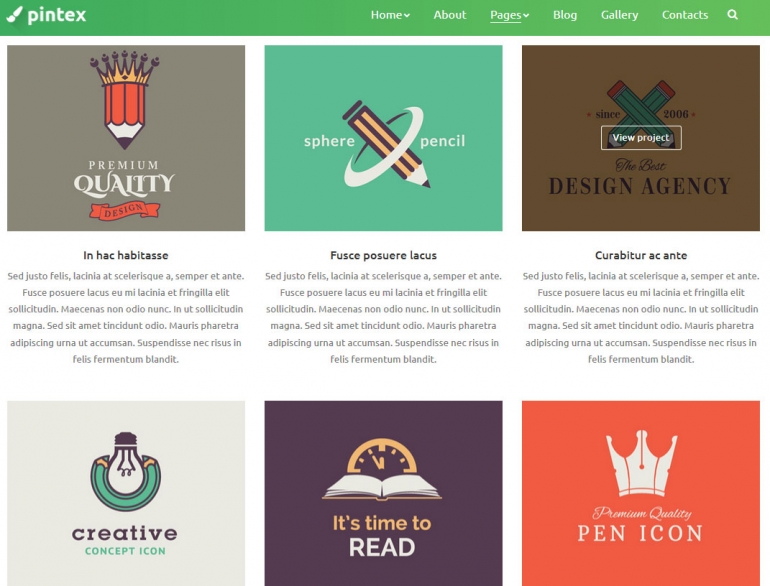 History page
Tell your customers the story of your brand, let the world know how amazing you are, what a great job you've done over the years and continue to do! The vertical timeline will help you arrange the information in the most marvelous way, all the blocks are organized by date and split into sections by month and year.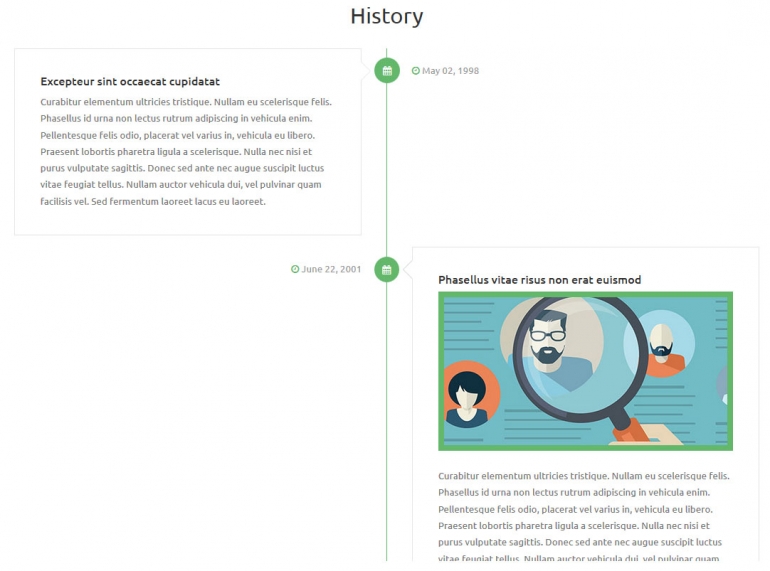 Our team page
Our team page allows you to let your customers get acquainted with you and your team. Upload photos of each team member, share their contact information, the position each person has in the team, other valuable info; increase your brand trust by showing your customers the faces of the people they are working with!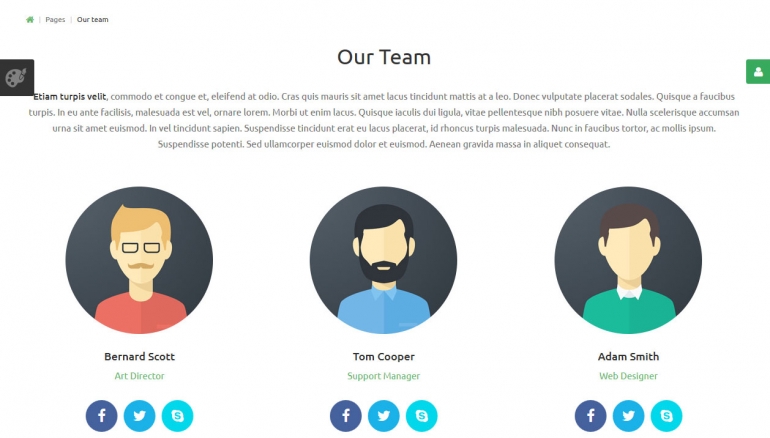 New modules
All this stuff sounds cool, but it isn't the main feature of this new Joomla template. Especially for Pintex our developers created a number of modules that can serve multiple purposes, and this IS the main feature you are going to be blown away by!
Here are the modules you get with Pintex:
Articles Newsflash;
Articles Single;
JoomGallery;
Image Swoop;
CarouFredSel;
Komento;
TM Olark;
Acymailing;
Joomla Cookie Directive Plugin;
TM Addthis;
Social Media Modules;
Joomla Social Login
Let's talk about some of these new modules.
Say, JoomGallery - it helps you create amazing galleries. This new module provides lots of features: full-screen animated JavaScript boxes, configurable watermarks, breadcrumbs and many-many others.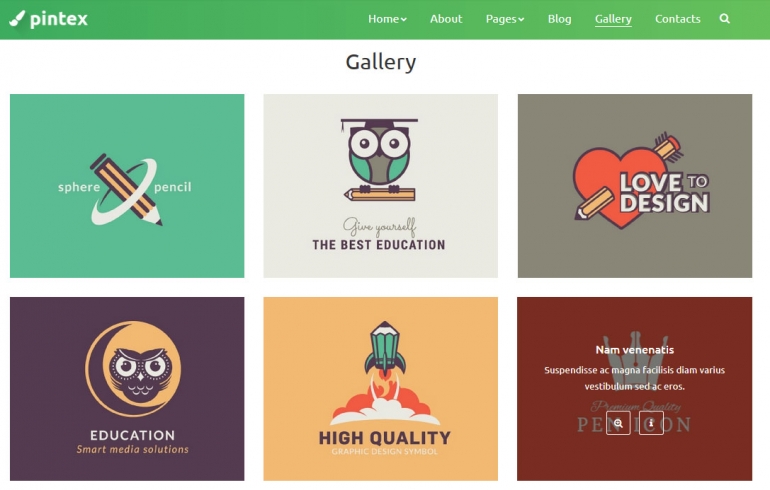 Another cool module you'll be amazed with is Acymailing. It helps you run better email campaigns: create subscribers lists, newsletters, manage newsletter templates and users notifications, integrate your articles into newsletters and more.
In case you wanna know how to create better emails check out The Basic Guide on How to Create Better Emails.
Pintex allows your audience to follow you on social media platforms. Its Social Media Modules provide Facebook Like Box, Pinterest Board Widget, Twitter and instagram Widgets.
In case you are interested in social optimized templates,take a look at our Free Social WordPress template. It is filled with different social widgets, share buttons, tweetable quotes and so on. You can download this free theme via the form below:
You can also use WordPress and learn how to start a blog at misshowtostartablog.com. Miss how to start a blog will teach you how to start your own WordPress blog.
Other Pintex features: lazy load effect, mega menu, back-to-top button, Komento (joomla extension for advanced commenting system),TM AddThis, different elements (such as lists, tags, block quotes, tabs, accordions & toggles, pricing table, counters) etc.
Overall - Pintex combines the coolest functionality with the perfect design.
So, are you as amazed by our new Pintex template as I am? Wanna have it all to yourself? Well, enjoy!