Saint Patrick's Day is one of the funniest and most popular holidays. Green color covers the world as if celebrating absolute victory of spring. Happy smiles, music, parades - everyone is eager to be lost in this green revel decorated with little symbol of luck - clover. The historical background of this holiday is almost lost for the majority and a new magic aura covers the 17th of March, carefully woven by leprechauns and elves. Perhaps, being tired of winter we are looking forward to new warm days and this green color has some special charming meaning for us in early spring days.
Related Posts:
As for me, this fairy holiday was always associated with something full of magic and kindness. Being a child I have never thought about those events and reasons that made people celebrate it, but I was absolutely happy to feel its green spirit in the air. And today I would like to offer you to plunge down into Saint Patrick's Day celebration, enjoying the holiday in the way you like - learning more about its history or just making a great party, or maybe to design a great green composition that will reflect your holiday mood. The main idea I want to propose you is to do it right now and all together!! And I will share with you my Internet godsends, hoping that I will manage to inspire you for a real masterpiece :) Nice photos, illustrations, wallpapers and Photoshop brushes will be certainly of a great use.
Some Curious Information About Saint Patrick
St. Patrick's Day 2011: Facts, Myths, and Traditions

Do you know who was Saint Patrick? This article will help you to discover lots of interesting facts concerning the holiday. I am sure, you have some questions that can find necessary answers thanks to the proposed material. So, who was Saint Patrick and what were the reasons of the 17th of March celebration? You have a pretty chance to learn more.
Saint Patrick's Photoshop Tutorials
I am sure you are eager to start your creativity. And I offer you some nice Saint Patrick's tutorials. They will help you to learn some useful tricks and will become your reliable guides and assistants. They differ because of their complicity and the proposed material, but, lest there be any doubt, you will find them of a great practical value.

Nice greeting cards, creative compositions, original Saint Patrick's congratulations will be easily created following these tutorials that will manage to surround you with this merry green holiday atmosphere. Participate in the process of coloring the world and these tutorials will show you the way how to do it properly! Discover how to be original and unique! Open new sides of your creativity!
St. Patrick's Day Tutorial - Create a Nice Shamrock (Exclusive Tutorial)
Creative clover that consists of small images and symbols will be a perfect reflection of the Saint Patrick's holiday spirit. Very creative step-by-step tutorial. It will help you to clarify lots of working aspects.
Create a St. Patrick's Day Postcard in Adobe Illustrator
Hmm... It seems to me a leprechaun visited us some minutes ago! Don't you agree with me, looking at this hat and golden coins? Learn more how to create such a composition, following the proposed tutorial.
Create your own Leprechaun for St. Patrick's Day!
And this tutorial is devoted to the leprechaun creation. The main character of our holiday.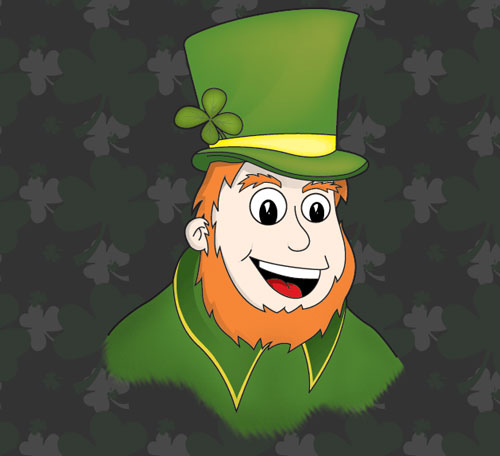 How to create a Leprechaun's shoe in Adobe Illustrator CS4
If you want to create such a nice little green shoe then, of course, you will like the proposed tutorial that will manage to explain you all the necessary working aspects.
Clover, clover, clover- symbol of luck and Saint Patrick's day. Looks rather pretty, isn't it?
And this tutorial will be a real godsend for treasure hunters :) These golden coins will be yours if you will follow the tutorial and will learn how to do them yourself.
Charming Saint Patrick's Wallpapers to Make You Smile
Wallpaper for your desktop will help you to feel all the positive and merry atmosphere of the holiday. Green color is pleasant for eyes and you will notice how your everyday life is changing, becoming more and more absorbing and interesting. Let this miracle enter your reality. Invite it by means of your ability to open yourself for it.
Smiling leprechaun is wishing you a good mood and invites you to start the celebration.
Be lucky and rich! Our thoughts can become real! Look at this wallpaper and perhaps you will materialize them!
One more version of clover beauty.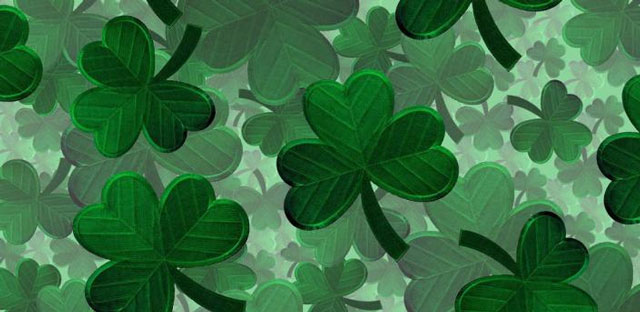 Nice Saint Patrick's holiday motif will warm you with its originality and special charisma.
Nice Saint Patrick's Photoshop Brushes
These brushes will help you to create awesome compositions, easily decorating them with green elements and turning your work into one more incarnation of the holiday. Look through and choose those that will be the most suitable ones for your creative plans.
Creative Saint Patrick's Illustrations
Let me also offer you some useful images that you can use for your compositions. They are bright and very attractive. You can combine them with your creative vision of this holiday and the result will be, no doubt, a great one.
A big pot with lots of golden coins - we are rich!!!
Green color is in fashion today, so this hat will be a popular one.
And one more pot with gold. What a great day :)
Clover - there can not be a real Saint Patrick's composition without it.
A charming little leprechaun for your inspiration and creativity.
This set of images proposes you a big choice of pictures that you can use in your creative work. Perhaps, some of them may also become your inspiring resource.
Saint Patrick's Presents and Creativity
It is the high time to realize all your creative potential and here you will find plenty of original inspiring ideas.
These nice little cookies will add sweet and delicious minutes to your holiday. They will easily become perfect decorations and one more possibility to make your mood better.
In Order to Inspire You
Inspiration - it is what helps us to breath, smile, wake up, live. It is a special incredible manner to perceive the reality, enriching it with new bright colors and feelings. It doesn't matter what can cause such a huge positive stream, the most important thing is that it explores in our hearts, changing everything and everyone, changing our personality and our ability to look around in order to reply this unique, magnificent world with bright sparks of our creativity. I want to show you some nice, charming and original pictures that have already reflected someone's creative urge in order to inspire you for opening yourself to this holiday spirit and new horizons of your artistic vision.
I am sure, you will appreciate this simple amulet - a piece of inspiration and good mood.
If you are looking for a miracle that will become your real luck, then look here. Do you see this clover?! What would you like to wish today?
Nice present ideas. Sometimes small elements, that may seem to be of no value from the first sight, can create any holiday atmosphere better than all previous preparations. Don't underestimate details - they are the basic elements of our life.
This cake is looking delicious, isn't it? Besides, this cake is a real masterpiece - creative and original. Would like to taste it ?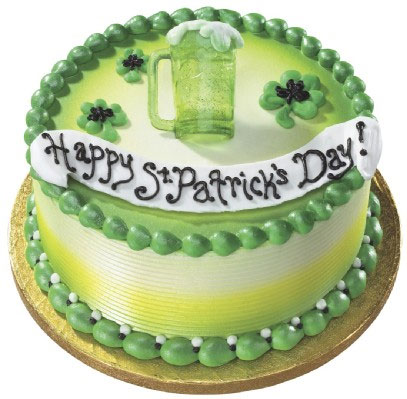 Nature is awaking from a long-lasting sleep. It inspires us with its ability to leave far behind all the negative experience of the previous cold days and its unique ability of being reborn with new power and beauty.
This leprechaun photo will inspire anybody!
Digital Art
Some examples of digital art for you: these leprechauns are so charming! Little symbols of the holiday and a huge creative inspiration.
It would be a perfect illustration to any fairy tale. A classical leprechaun, drawn in the best traditions.
And this leprechaun invites you to start the celebration. Would you keep her a company?
I suppose this woman knows a secret. May be, she is aware where the pot with gold coins is hidden. Let's ask her.

Oh, she is real beauty! Green eyes, red hair...the most attractive leprechaun I have ever seen!
One more fairy tale illustration. Magic surrounds every element used in this picture. Forget your boring reality! Try to enter this new green world!
Or may be you want some beer? Here you are :) Help yourself.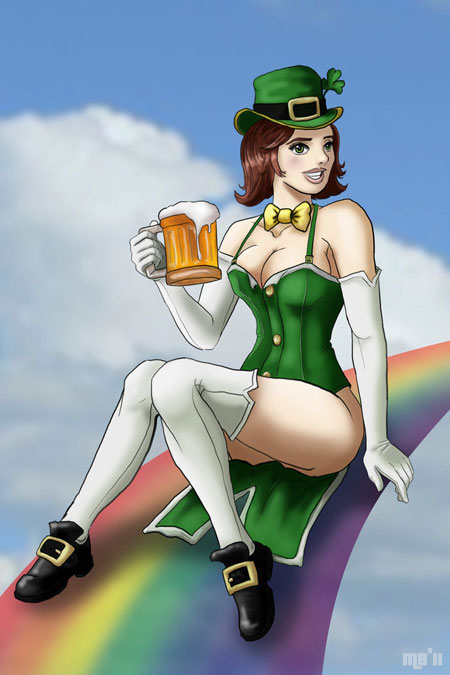 Charming princess Aurora also celebrates with us. This green dress perfectly suits her.
Well, this Patrick can also be a nice symbol of the day. This composition looks very creative and funny.
I think we are ready to start our celebration of this wonderful magic holiday. As I have already written - details are the basic elements of our life and we have already a lot of pretty and inspiring details that can be gathered in a whole, creating absorbing and unique atmosphere of this dazzlingly green spring holiday. My kindest and best wishes! Happy Saint Patrick's Day!!!