Among Google Analytics metrics, bounce rate is the most misunderstood term. It is the percentage of single page visits or the percentage of web sessions. In layman's terms, it means the total number of visits in which a user leaves your site straight from the landing page without even browsing through any other webpage. Google analytics computes and reports the bounce rate of a particular webpage and also the bounce rate of the entire website. There are website owners who often overlook the importance of bounce rates and the other metrics while measuring the general appeal of any site. But it is seen that this principle is applied to all websites.
Bounce Rates - A Closer Look at What They Are
Bounce rates will inform you about the percentage of users who have left a particular page of your website without going through any other webpages of your site. However you shouldn't confuse this term with exit rates as they inform you about the percentage of visitors which left the website from a particular page. You should also be aware of the fact that users could easily spend 10 minutes on your webpage before they decide to leave the site. In such cases, you might say that the page has well fulfilled its purposes.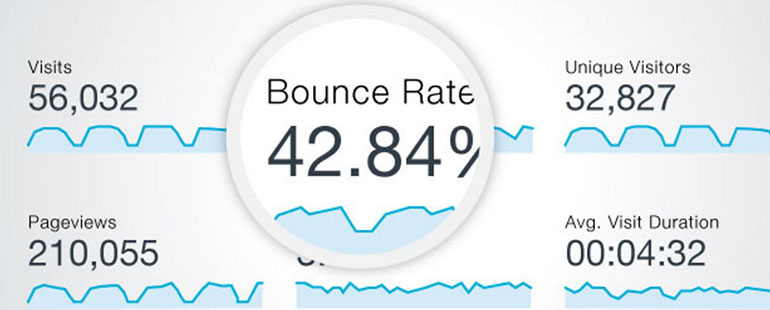 Is it Extremely Bad to Have a High Bounce Rate Website?
Well, not always! This depends entirely on the purpose of the website. Your website might contain a list of contact information which people might reach out to very fast and hence they might leave the page soon after their work is done. If the site allows them to find the intended information fast, they will leave faster, thereby increasing the bounce rates. Here the users play a very small part of increasing the bounce rates of your site. On the other hand if you stay on a page for long time and decide not to go through an article, then that may clearly mean that it hasn't delivered your anticipations. In such cases, higher bounce rates can be damaging.
Improving Your Bounce Rate and Helping Users
So, now that you're aware of what bounce rate is, you should know how to improve it in case you have a history of high bounce rates. Check out some great ideas from SEO experts.
Add more links to pages within your site in the content: Jot down all those pages which people who are interested in a particular piece of content would wish to see and you can link to that throughout the entire content. At the end of the content, you may add "if you liked this, you'll probably also love this" kind of content to redirect people. This will decrease the bounce rate of your webpages.
Adjust the bounce rate of your site: The easiest way in which you can reduce the bounce rate of your site is by computing the time that the users spend on your page. This is the way in which you can calculate the true bounce rate. There are many situations where you can get increased conversions through bounced visitors. These are common in case of news publishing sites for those who come and immediately leave from the main home page instead of browsing anylonger. But as the visits are single page ones, Google Analytics will show 100% bounce rate.
Offer visitors all data that they might need: This is a point which is more applicable to the ecommerce websites. If you're visiting any site from the travel sector and you;re looking for hotels to stay, then it;s pretty obvious that the users will definitely use TripAdvisor. There they can easily find reviews on the hotel which is necessary to read before booking a hotel. However, if you have personal reviews on the site or you might have incorporated TripAdvisor reviews on your page, then you may find a reason to head off somewhere else.
Stop targeting keywords which are sending low traffic: In case your website gets enough traffic which has nothing much to do with various services and products which you sell, then the visitors will definitely leave your website soon after arriving. Hence you should analyze the traffic sources which send poor traffic quality and then change the target the perfect landing pages.
The tips mentioned above are the strategies of persuading the users to stay for some more time on your site and to explore your website further. If you think that your users don't stay for a long time on your site, you need not worry as you can simply follow the above mentioned SEO tips to improve the bounce rate of your website.