It is quite common to come across a question such as this: 'How can domain names affect SEO?' Although domain names are among the least significant aspects for a top SEO ranking, there are certain things you ought to be aware of.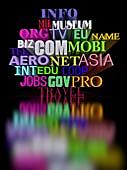 What about Buying a Domain Name that Incorporates a Keyword?
Keywords integration into a domain name will only influence your website SEO if your domain name reflects the precise-match keyphrase or keyword which you desire to rank high, and at the same time matches the local.com version or the .com version of the keyphrase. A typical instance is travelinsurance.com.au; this and other similar domain names rank top on Google search result for exactly those keyphrases which are searched for very often. 
It is very crucial to bear in mind that employing any other keyphrases in the domain name would negatively affect the ranking benefit obtainable in integrating the keyword-phrase in the domain name. This is an instance; for the purpose of travel insurance, domain name like mytravelinsurance.com.au will differ in ranking from travelinsurance.com.au
Also, if you have a .biz or .net or similar extension that differs from the .com version or the local.com version, you are not likely to rank high. 
At What Stage is it Helpful to Have a Keyword Phrase in a Domain Name for SEO Purpose?
Having a keyword phrase in a domain name becomes helpful only when such domain name exactly matches the .com.au or.com version of the keyword you desire to achieve a high rank with. Also, the keyword needs to feature substantial and precise match search size to necessitate the use of key-phrase in your domain name instead of your business name. 
Is it Ideal to Use a Business Name in Domain Name? 
Certainly, most times, the perfect keyword to use in your domain name is your business name since you cannot forget it easily; also, establishing credibility and trust are achieved easily when using your business name. Again, using your business name as a domain name makes it easier to type it directly to the address bar in order to go straight to your site. 
What about Varying a Competitor's Domain Name and Using it as a New Domain Name?
This is highly discouraged. Besides likely trademark violations, your online credibility as well as integrity will be punctured when you cyber-squat on a variation of your competitor's business domain name. Don't forget that integrity and credibility are among the most essential features in any business online marketing performance. 
How Suitable are Different Domain Extensions?
Don't use domain extensions such as .biz, .cc or .net. The most valuable extensions are the .com or the localized version such as .com.au. Tried and proven SEO techniques have shown that other domain extensions outside the .com or localized version would not assist directly when it comes to achieving SEO rankings. 
How about Incorporating Dashes in Domain Name?
It is highly discouraged to use dashes in domain name; rather, let your domain name be such that it can be remembered and typed in easily. Using dashes does not play any
SEO
 role but would impact your branding negatively when your business expands.