It is often a scary and uncertain prospect for bloggers, entrepreneurs and business owners when it comes to launching a new website. This is most often due to unanswered doubts and insufficient knowledge of what kind of questions to ask. As the importance for launching a website for entrepreneurs becomes all the more evident, prospective entrepreneurs are all looking forward to a guide which can help them with launching a killer website. You also need to know the details from a metrics and marketing setup perspective. That would not only help with SEO but also with generation of traffic, increased accessibility and the capability to improve and measure everything about your website.
After launching your website, it is crucial enough to monitor your online marketing performance to track your ROI (return on investment). But the million-dollar question is which metrics matter? What does it mean and how do you get it? There are marketing analytics tools like Google Analytics and the different data offered by platforms like Facebook, YouTube and Twitter which are some great places to start. From views and traffics to followers and likes, these tools will help you understand the secret of online marketing in a better way. According to one SCORE, all those businesses which don't use marketing analytics are the ones which suffer in the long run.
Vital essentials on metrics and marketing - Stay aware if you're launching a new site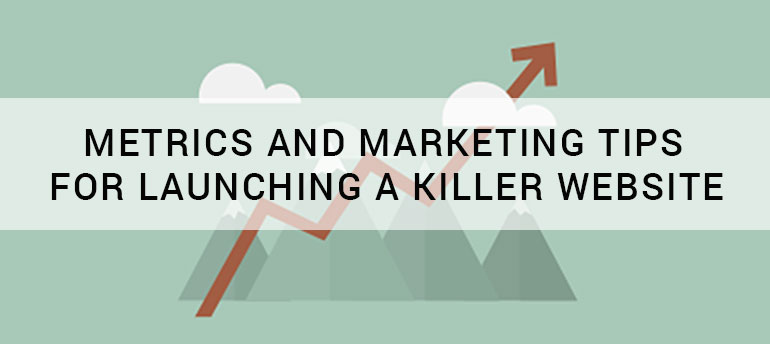 Here go the steps to take into account if you're eager to launch a killer website for your company which will turn out to be a huge success.
Install Visitor Analytics
It is said that something that can't be tracked, can't be improved. You should keep this noble words of wisdom in mind and get your pages firing analytics code before your first-ever visitor. The obvious choice is Google Analytics and customer choices abound. You have to place either Google Analytics or any other effective package on every page of your site and verify it. Install it in a template file so that you can be sure that it has been included in every page. GA will instruct you to place the code at the top of the page.
Run a crawl simulation of your website
Irrespective of how perfect your developers and you are, there are some problems which you will definitely face during the launch. Improper redirects, broken links, missing title pages, blocked files by robots.txt are some issues that you may face. If you can run a crawl test with some free tools like GSite Crawler, Xenu or Custom Crawl, you can be sure about your website's accessibility and also make sure that the search engines and the visitors can reach out to your webpages successfully.
Open Google & Bing Webmaster Tools Accounts
Both Bing and Google own webmaster tools programs which monitor and supervise data regarding your website and message it to you through various online interfaces. This is probably the heartbeat of your site from the perspective of the search engine and for this reason it is better to stay on top of the data which you share. The numbers within the tools aren't always perfect and they have got some serious errors.
Similarly, spidering and indexation, crawl data is not always correct either. But if you set up accounts in both Bing and Google webmaster tools, you may get to know the new features with enough accuracy.
Test design with browser emulators
Apart from testing for visitor and search engine accessibility, you would also want to ensure that the gorgeous graphics and the layout which you've prepared are all working in all types of browsers. You may follow the rule of testing anything which has market share that is higher than 2%, which currently means Internet Explorer, Chrome, Firefox, Opera and Safari. If you're wondering about browser testing options, you need not fret as there is a growing list that you'll get online. A designer of Shutterfly recently said that before getting concerned about the Shutterfly special offer, one should first test whether or not such e-commerce platforms are being accessible on various browser platforms.
Conduct an online branding test
Before you launch your site formally, it is helpful if you can get a sense of what users see and experience and when they're about to take an action on your site. You can use software like Clue App to conduct such online branding tests. The Clue App test will test your homepage in about 30 seconds and give you the required responses when necessary.
Therefore, if you're an entrepreneur or a designer who is all set to launch a new website with high hopes of creating a niche of your own, you should consider the above mentioned tips. Seek help of an expert for obtaining best results.