Everyone understands the importance of great web design and user navigation, but not enough emphasis is placed on the quality and file formats used. This is something web designers will understand more than the average site owner or blogger, but there are more than enough resources on the internet today to help us all better understand why and how such elements are important.
Today we will be looking at some of these resources, while also documenting how to make your site and brand look better, while also giving your audience the best viewing experience possible.
What are Vector Images and Why are they Important?
Before we get started with some of the best practices and tips to follow, we should first cover the basics of what vector images are. With so many different graphic and file formats being used on the internet today, its important to make sure the correct ones are being used not only to display quality, but also loading and performance issues as well.
In this vector logos reference guide, we can see a visual on the difference between various vector images, raster files, and also getting a better understanding of why such file type differences are important to follow.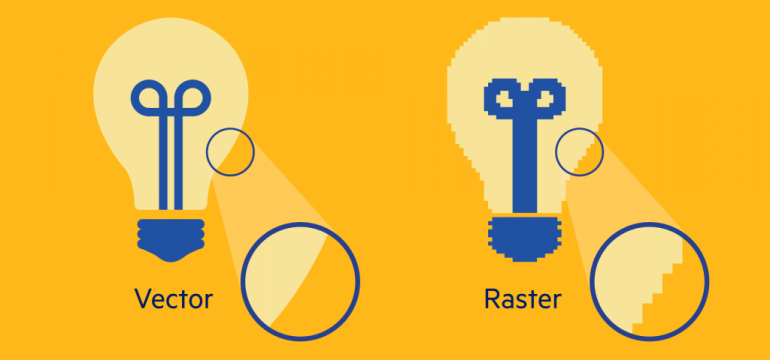 The main difference between regular GIF and JPG files versus Vector images, is that they are commonly used in printing and web design. This allows for a much higher-quality image, no matter what size they might need to be -- or how they transition through the use of responsive site design and mobile/desktop viewing. It's also important to note that unlike a raster image, a vector image is not made up of pixels, which gives it several advantages (which can be seen in the example above.).
It's not enough to simply know the differences between vector files and other formats, it's also important to know when, where, and why they might be used over other options as well. This is something Logaster also highlights within the article.
The popularity of the vector format is explained by the number of advantages it offers:
Vector image (or any part of it) can easily be edited. To do this, the image is split into the simplest geometric shapes that can be tweaked without loss of quality.
Vector logos and other graphic images are perfectly scalable, i.e., they retain their quality during editing (drawing, rotation, compression, etc.).
Vector images occupy very little disk space.
Modern graphic editors are skilled at combining graphic elements and text, which is particularly important when designing vector logos or printed materials.
The key takeaway here is that vector images can perfectly adapt to the resolution of your screen or printing device to ensure the highest quality of the end product. This is extremely important for any business or brand that has a site design that is fully responsive and adapts accordingly to mobile, tablet, and desktop viewing -- while also using such image files for printing as well.
Vector vs Raster — Vector-Based Images
As pointed out in the reference above, vector and raster images are two of them most common types of images to create and use when working with site or logo design. At the same time, there are also many different types of image files that can be selected when using vector images as well.
This reference guide does a good job of documenting the different options available, while also showcasing why you might want to choose one format or file type over the other. As you can see, some of the most popular options are JPG, GIF, PNG, AI, PDF, and EPS. If you were to higher a logo design or image agency to create an identity for your business or brand, they would likely provide the completed work in a variation of files like the ones shown below.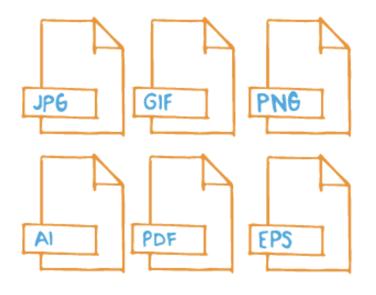 It's up to you or the site design to decide on which files you would like to use, and where. The most common placements for internet usage are JPG, GIF, and PNG, while other file formats like AI and EPS are more commonly used for graphic image editing.
A recommended tip in this article is to "Always save your original logo file in a relatively large size, like 1000 pixels or more, so you can easily implement it in other promotional materials down the road.".
Using Vector Images within WordPress
With WordPress being the most popular CMS on the internet today, it's likely there will be a lot of discussion and research on how to use vector images within WP sites as well. This is something ThemeIsle has created a comprehensive guide on as well -- more specifically SVG images.
It's likely you've already heard of and seen SVG files, but might not be aware of why or when they are recommended for usage over other files like JPG or PNG. The article goes on to highlight the following reasons:
They take up less space. Instead of pixels, SVGs are composed of vectors. So your images will weigh less, which should help your site load faster.
You can scale them easily. As you may know, there are limits to how far you can scale up regular images before they start looking terrible. That isn't the case with SVGs, as vectors can be scaled upwards or downwards without any loss in quality (or change in file size).
You can animate SVGs with CSS. Vectors can be animated using CSS, which can make for some unique effects (we'll talk more about this later).
While there are plenty of resources out there for image formatting and which types are best to use, it's often recommended to leave file creation and implementation to design experts. This is especially true if you are a marketer, blogger, or site owner and want to provide your audience with the best navigational and viewing experience possible. Some site builders like Wix will also allow for the usage of SVG files and may even set this up automatically through their drag and drop site builders.
No matter if you are using WordPress or any of the top site builders, it's important to make sure you are taking advantage of the best files types and having them display in the highest quality possible. Be sure to read through each of the resources above, even if you aren't a designer or graphic artist. It's always a great benefit to understand the many different components of online images and the actual makeup of your sites.