In the design-to-code process, one of the most basic things you'll eventually come across is PSD to HTML. Essentially, it is the journey of taking your Photoshop design files (hence, PSD) and then coding them into HTML. Photoshop files possess a default file extension of .PSD. If you want to get totally technical about it, it really stands for Photoshop Document.
Of course, HTML stands for HyperText Markup Language. Essentially, this is the code that will cause your design to function as a website.
So the next time you want to create your very own website from just a PSD, what do you do? Why, you start looking around for the most popular PSD to HTML serviceson the Internet, silly! Here they are, in no particular order.
Xhtmlchop provides the state-of-the-art PSD to HTML conversion services. They handle PSD to XHTML conversions for individual designers, and also for web design companies that would like to outsource their PSD to XHTML conversions.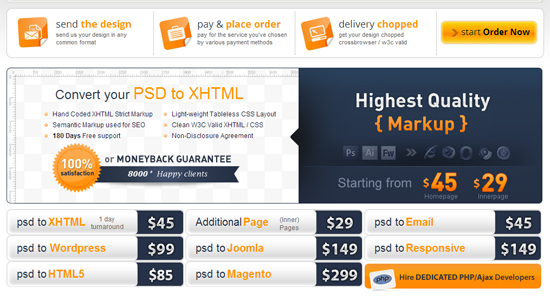 With a name like CSS Chopper, this PSD to HTML service has got to be good. From India, CSS Chopper has a talent pool of more than 200 skilled professionals and features more than just PSD to HTML services. It's also a provider of CSS-conversion and CMS-implementation services.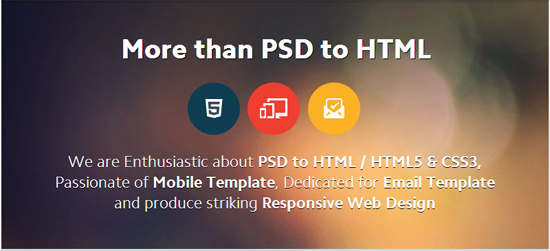 Some of the key aspects of this company make it stand out from its competitors. For instance, everything it does is hand-coded, 100% guaranteed. It provides quality-rich and pixel-perfect work, in addition to SEO semantic HTML coding. Rounding out the list of standout features are cross-browser compatible services and well-commented coding.
Sounding more like a horror movie than a PSD to HTML service, Bloody Hell is nonetheless heavenly when it comes to satisfying clients. It features a very efficient and quick turnaround time of just one day, beating many other services in this respect. The starting price for HTML is $189 for the first page and $95 for any subsequent pages. Bloody Hell currently supports the following platforms: Drupal, WordPress, Joomla, email and Magento.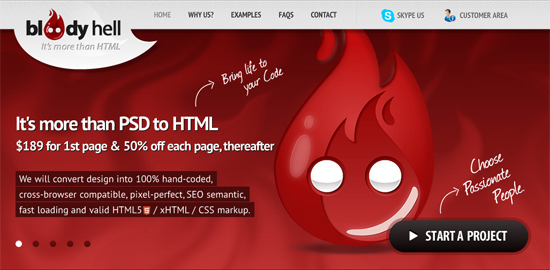 To say that this service is very well-rounded is obviously a huge understatement! Accepted file types, though, may be somewhat limited, with only PNG and PSD being permitted. Payment is only through PayPal, so you better have a PayPal email address!
Billing itself as the "kick-ass" PSD to HTML service, PSD2HTMLPros also has another hook that makes prospective clients not think twice about choosing it. Ready for it? The company is so confident in its ability to provide exactly what clients want that it offers them a money-back guarantee, no questions asked. Now, that's bordering on cocky. The company will refund 100% of your money if you're not happy with your order, and it can't address your dissatisfaction.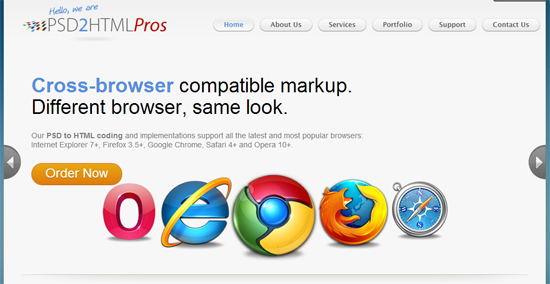 PSD2HTMLPros charges $97 for the first page and $49 for any subsequent pages. It supports a whole bunch of file types, everything from PSD (naturally) to PNG, AI, PDF, JPG, GIF and PNG.
While the turnaround time is a little slower than some of the other services at two days' time, Markupcloud makes up for it with a very reasonable payment scheme. For the first page, clients can expect to pay $99 and thereafter only $40 for any subsequent pages. Markupcloud supports platforms like Magento, Joomla, Drupal and WordPress.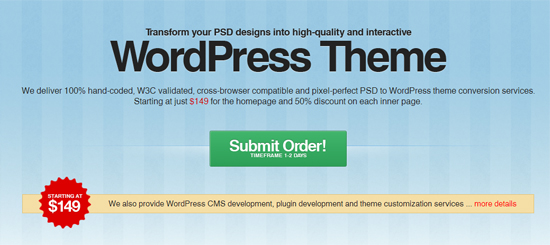 It supports the following browsers: Safari, Firefox, Chrome and Internet Explorer 7 and above. The service accepts PSD, AI, JPG and PNG file types. Payment options include PayPal, Discover, American Express, Mastercard, Visa and 2Co.
Calling itself the number one PSD to HTML service anywhere (you be the judge of that!), Markup Box has already served more than 4000 satisfied clients. That's a huge and significant number that other PSD to HTML services can only dream of! It features PSD to HTML, email, Joomla, Magento, Drupal and WordPress conversions.
PSD to HMTL will cost you only $49; PSD to email will cost you $66; PSD to Joomla will run you $186; PSD to Magento costs $299; PSD to Drupal costs $224; and PSD to WordPress services cost $89. Usually, the company will take only a day to deliver your first page, but subsequent pages will take between four and six hours.
PSD to HTML Services: Good to Have
There...you have it! These are the very best PSD to HTML services in the whole world. You know, sometimes, no matter how much you just want to, you really don't have time to do all of your HTML coding and theming procedures on your own. These services understand that precisely, which is why they're such big sticklers on providing value, but at a fair and reasonable price.
The next time you have some interesting Photoshop Documents, just send them in to the above service you choose. It'll do the rest for you quickly, efficiently and hassle-free. Doing everything from scratch and also hand-coding are two highly important factors when choosing a service, so do be selective about which one you end up picking!