Registering a domain name that works for you these days can be an uphill climb. After all, by some estimates, there are actually more than 10,000 domain name registrations a day! Needless to say, finding that perfect domain name can be even more elusive than Apple embracing skeuomorphic design again anytime soon.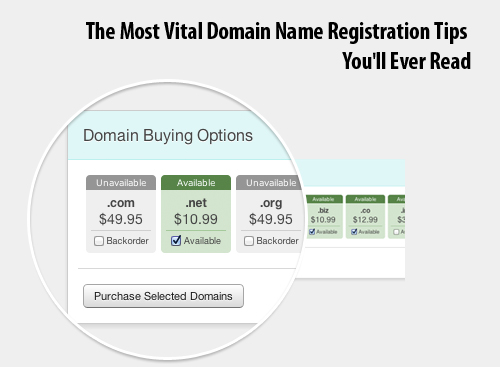 Picking the right domain name can be a crucial factor in making or breaking your brand or business. Your domain name is just as vital as the name of your company, its actual website and even any social-media accounts you have set up in support of it. If you choose a very suitable domain name, it'll greatly help your business since it'll drive in more site traffic and be easier for visitors to remember.
A lot of domain names have already been snatched up by companies or people looking to make a personal profit. However, with the mainstream Internet still being just a teenager, you have many opportune chances out there to register the domain name that's perfect for you, your brand and your business.
Make It Your Website Name (Make It Memorable)
While this may seem a no-brainer for most of us, you just can't ever underestimate how thoughtless some people can be. Before you register your domain name, you should be sure that it's the same name as your website, if at all possible. You see, that makes it easier to remember for site visitors, and if they can easily remember your domain name...then they'll be likelier to visit your site more frequently. This is not rocket science, folks!
Let's look at the case of Photodoto, for instance. It's a website geared toward covering all the latest and greatest from the niche of photography. Guess what its domain name is. Is it..."thebestphotographywebsiteever.com?" No. Or how about "thephotozone.com?" Of course not! Maybe..."photographydotoforever?" Now, you're just being silly.
It's short and sweet; it's photodoto.com! So when people think of Photodoto and want to go there, they don't have to think about what the URL is. They can just type photodoto.com right into their browser's address bar and get there in 2 seconds. Awesome!
Think Carefully About Extensions
You know extensions better as the .com, .net and .org after the actual domain name. While there are other domain extensions, these three are the most popular in the whole world. As such, it's advisable to use one of these three extensions after you've picked your domain name. .com is the most popular extension, so try that one first.
The thing is that many site visitors aren't too knowledgeable or have a good memory, to boot! If they're trying to remember the name of your website-and succeed!-they'll likely try to slap on the .com, .net or .org extension after your domain name in the address bar of their browser. Heck, many of them probably don't even realize that there are other domain names in addition to .com! So why not make it simpler for you and for your site visitors as well?
Consider the Use of Hacks
Hacks are a cool strategy to help you register a domain name that might otherwise and conventionally not be available for you to use. Essentially, hacks are a way for you to integrate your extension into the actual domain name. Not only does this look clever and sharp, but it is also practical if you are so close to getting the domain name you want, but can't succeed ordinarily.
Let's take a look at the Delicious website, which is a social-bookmarking website. Formerly, it was known by the domain-name hack ofdel.icio.us. Here, del.icio.us was a third-level domain that used a second-level domain (.icio) and the top-level domain (.us). If you can't find the domain name you want at the moment, you should consider spelling it out in its entirety in this way, by the use of hacks.
Since everything you can virtually think of has exploded on the Internet like wildfire, it should be no surprise that there are even tools on the Internet that help you in this endeavor. For instance, Domai.nr is one of the easiest to utilize for this purpose. Whether you want a short or long URL, it's got you covered.
Don't Waste Your Time
When it comes to domain name registration, it's self-destructive and foolish to waste your time. Start by only checking with the specific registrar from which you want to buy your domain name. This alone will spare you the risk of being victimized by domain name front running. If you discover that your chosen domain name is available-then don't waste another second! Buy it from the registrar at once!
The good news is that, today, you can get away with buying a domain for a relatively cheap price. In general, most domain names will be priced at just between $10 and $35, and you'll have the rights to that name for a year. Then, you'll usually have to renew it for the same amount of money.
Here is a list of the best domain name registrars around. Their common bonds include awesome customer service, site design, product variety and, of course, low prices!
Don't Be Naive
Naivety is a trap that many people who register their first domain name always fall into. Don't be one of those suckers! One of the commonest mistakes that first-timers make is to actually ask other people their opinion about the domain name they're considering. Making matters worse is that this opinion is then asked in a place as public and as perilous as an online forum! If you do this, you run the risk of anybody snatching up that domain name you're considering from right under your nose!
Sure, sometimes, you want to bounce your idea for a domain name off of somebody, so that they can give you feedback. Just be sure to only ask an individual with whom you share a personal relationship and trust. If you have the discipline, it's much more advisable to only ask an opinion after you have already bought and registered your domain name.
Be Smart About Domain Name Registration
Registering your domain name is trickier than you might expect, as you just read. It's not just that you pick the domain name of your choice, buy it and then officially register it just like that! That would be a miracle! That would be amazing! That, unfortunately, is just too good to be true.
There's so much to remember before you even register your domain name, such as making sure that you settle on a name that's memorable and, for all practical purposes, actually matches the name of your website. As you settle on a specific domain name, you should keep in mind that extensions can make or break your process, so use hacks if you think you must! Finally, when you're registering your domain name, remember not to waste time and only to look for registrars that combine value with great service.
What say you? Agree or disagree? If you have any additional domain name registration tips, we'd love to hear them in the comments section below!