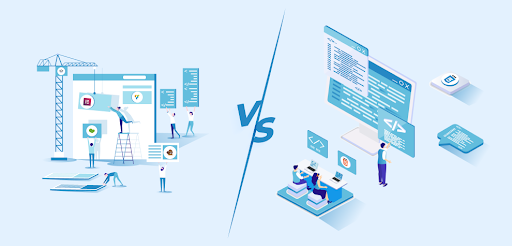 Designing and creating a website is not an easy task. There are tons of lines of code to be written for a custom website design, and lots to do before and after that too! On the other hand, today, there exists a range of tools that can make the task of constructing a website quick and easy. Ergo, you have two choices to create your own website. Either, you can manually write the entire code for a custom website design, or you can use website builders offering pre-made website designs, such as Fabrx, for making one! So, which one shall it be?
Let's look at the Pros and Cons of website builders versus custom website design methods!
Firstly, let's understand what 'website builders' are. Consider this as an automated application, software, or a platform, which helps you create a website, without needing to write a single line of code. Not until, you need to add something specific, like a unique shade of color for the theme, or a particular element such as a clickable button or link or a form field.
Most website builders work through a wizard-styled interface, offering a pre-designed theme or template for portraying your information or content. You simply select the theme, style, and design, add some text or content you want to display, and Viola! You're done creating your own website!
Whereas going through the 'create your own website' route, you need different apps for creating the image & picture elements, colors, and shading throughout the website. It also needs work using image editing apps, and the website needs to be built manually, writing thousands of lines of code for everything.
Now that we've got on track with the basic difference, let us look at the pros and cons of each, to understand which one best suits your needs for building your own website!
1. Approaches of Website Builders vs. Custom Web Design
Using a website builder tool, you can visualize, design, and create a website in a much shorter time and effort than doing manual coding for custom web designs. Using pre-made templates and drag-and-drop features, website builders are best suited for beginners or designing, publishing, and building websites quickly!
On the other hand, A custom website is created from the ground up completely, requiring very good website coding skills, image editing expertise, or dedicated personnel for that, and requires much technical experience and expertise in several software programming languages, and of course a larger budget!
2. Ease of Implementation, Use, and Deployment
Since, a website builder offers a drag-and-drop interface, (just like Microsoft Word), you simply have to place the images, pictures, headers, footers, styles, banners, etc., just where you want them, and how you want them on your web page! The platform takes care of writing the 'behind the scenes' code for you!
In custom web design, you need absolute software development experience in creating websites, for writing codes to get everything just where you want it. This takes trial and error, patience, frequent testing, and tons of patience to get the final look for your website. Furthermore, you need certain software to create a website. That's some cost, as well as whilst you are creating your website, there would be some updates released, which might need you to re-write some of the code of your website.
On the other hand, website builders are much quicker, easier, and economical to use. They take care of any such updates, and improvise the code in the background without you being required to dig deep into lines of HTML code!
3. Depends on the Nature of Your Business
Most types of businesses and industries, such as blogs, smaller online stores, promotional websites, business projects, landing pages, portfolios, etc., are good to go with creating a website using a website builder.
Whereas, certain kinds of businesses, large-sized e-commerce websites, multi-faculty portals, schools, colleges, and universities, medical institutions, etc., require manual intervention when designing the layout, themes, and images, as well as various functionalities that need intricate web programming skills to create your own website.
4. Quick & Time-Saver Website Builders
If you are time-bound and need a website in a jiffy, then nothing compares to website builders! They help you save time, by guiding you to create your own website in just a few clicks.
If you need certain (and multiple) functionalities, unique styles of presentation of information about your products and/or services, custom theme, colors, backgrounds, and images, then custom web designs and website development is the way to go!
5. Cost-Effective Advantages of Website Builders
There are free as well as paid website builders. Some offer ease of use; others offer a wide array of themes and designs to pick from. Your expense is limited up to selecting this only. Period. If you're savvy with a wizard interface, you're in for huge savings.
On the contrary, for a custom website design, you will need to hire or recruit a dedicated or freelance web developer, and a digital image artist at the minimum. Alternatively, you might go with a web development agency, which will have different slabs for creating websites.
Thus, cost is a factor determined by your requirements incumbent on the nature of your business, and the kind of website you desire or need to serve specific purposes.
6. Create your own website, Novices
Since, any website builder guides you through the website design, theme, colors, placement of different elements on the page, the formatting, backgrounds, fonts, and choosing various elements you want to include on a particular page, literally, anyone without web development expertise can create their own website! Furthermore, you can go back to adding additional web pages and modifying existing ones by adding, removing, or editing anything on the page.
A custom web design requires re-employing the same resources you hired when creating the website in the beginning. If your website was built on certain conditions, as we discussed above, these sequences would be unavoidable.
7. Not Without Its Limitations
Nevertheless, there are certain limitations to using website builders. Some of them are listed below:
You can't move to a different platform, or migrate your website as it is created by a particular website builder only!
Most website builders will have a limited number of pages or limited styles for various kinds of pages to choose from. This limits your options for different styles, themes, or colored pages.
Limited functionalities such as plugins, analytics, access to an online store, or an SSL certificate. Also, you can't add your own custom page, or different templates for specific pages to the theme you have selected during the first step of the wizard.
Search Engine rankings, such as Google Rankings, and various other SEO aspects are severely affected negatively to a certain extent.
Professional features like SEO coding and quality design are missing since most themes and templates are too generic, and lack professional finesse and appeal.
Website performance is comparatively slower than custom design websites, as the underlying code has too many unnecessary lines of code.
Missing integration with third-party apps, wholesale pricing, local delivery, advanced shipping, etc.
Conclusion
If you want to create a website by yourself in a minimum time frame without investing much and showcase only products or services, then a website builder is the best option.
If your business needs specific unique features, customizability, hand-picked themes, colors, images, etc., then you need to hire web development experts offering custom web design services. They will help you create a beautiful custom-design website!