There are so many shopping sites now that you can't afford to lose customers because of usability issues on your site. While there are hundreds of tips how to improve the usability of your shopping site, not to mention general usability best practices, and not all of them can be included in this article, here are 10 suggestions you might find useful.
1. Write Detailed Descriptions
This tip is not an invention of the wheel but when I see so many shopping sites the product descriptions of which consist of 1 to 3 words only, I guess it makes sense to repeat over and over again that even if you have perfect photos of the product, detailed descriptions are a must. It's a no brainer that a detailed description must include info about all the important features of the product size, material, basic functionality, etc.
If you make your detailed descriptions unique instead of just copying what the manufacturer of the product wrote, this is even better for SEO purposes. You won't have the same description as dozens of other sites, therefore no duplicate content penalty. When you rewrite the descriptions to make them unique, don't forget to stay factually correct. Otherwise, the descriptions become misleading and practically useless.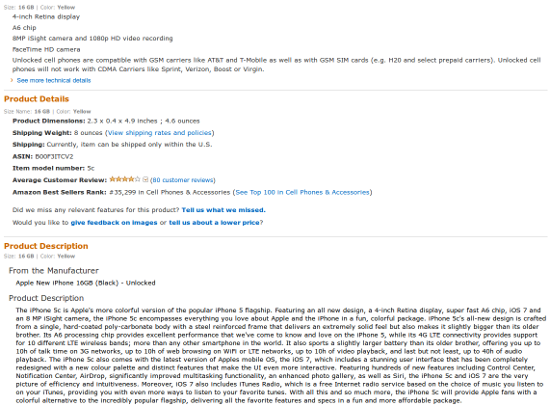 2. Make the Search Box Visible
A typical shopping site has thousands of products and even if the navigation of your site is straightforward and your categories are perfect, it's still hard for users to find directly what they want. A search box helps a lot, so it's a must to have it. However, if this search box is hard to find, then it's no use.
There are many visible places where you can put your search box but a standard convention is to put it either in the top center or in the top right corner. Many sites do it and shoppers are used to finding it there, so unless you have a good reason to put the search box elsewhere, place it either in the top center, or in the top right corner.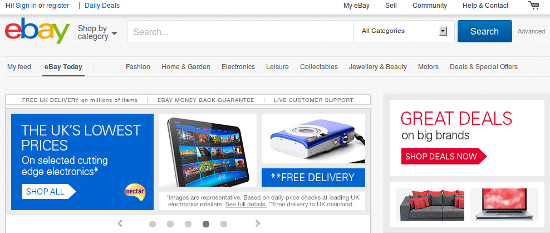 3. Use Mega Menus and Bread Crumbs to Simplify Navigation
With large shopping sites that have thousands of products navigation is also a problem. To make it easier for your visitors, you could use mega menus. These unfold over the whole page and show all the categories and subcategories at a glance. You have only the main menu items (i.e. electronics, household appliances, apparel, etc.) visible at all times and when the user clicks or hovers over them, the mega menu expands. In any case, even if you use mega menus, avoid deep nesting (i.e. more than 2 or 3 subcategory levels per category) because this also gets confusing.
Bread crumbs are another trick to simplify navigation. Include them on every page this way the user will always know which category and subcategory he or she is currently browsing.
4. Show Multiple Photos of the Product from a Different Angle
Needless to say, in addition to a detailed description you need to include photos of the product. However, very often a single photo might not suffice. For instance with clothes, shoes, and any other product that has two or more different sides, you need to shoot the front and back. Even if your product doesn't have two distinct sides, it's always better if visitors can see it from multiple angles i.e. top, bottom, left, right, etc.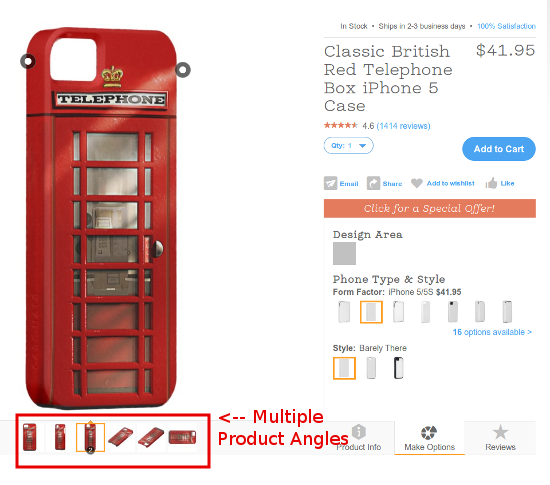 5. Show Related Products
Related Products help users find products they might be interested in and it makes sense to show these on every product page. However, don't show products that fall into the users who have purchased this product have also bought ..." group because they might be very irrelevant. Instead, show real related products " i.e. if a shopper is browsing T-shirts, show him or her similar T-shirts but with a different print or color. By showing really related products you give exposure to similar products the user might have not noticed, thus making your users happy and increasing your sales.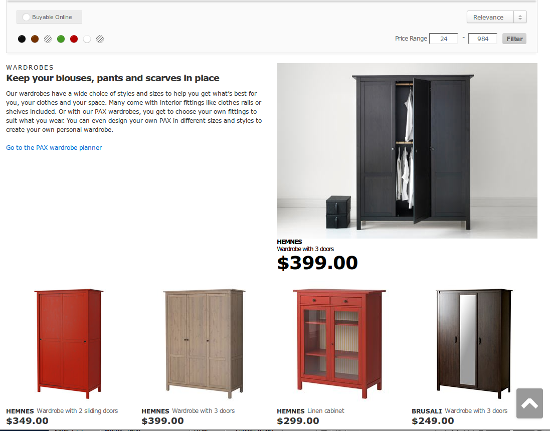 6. Make the Purchase Process as Straightforward as Possible
While an experienced online shopper will survive even the most tedious purchase process, this isn't the way to go. The basic rule is that the more complicated the purchase process, the higher the rate of users who give up.
Some of the approaches you can take in order to simplify the purchase process are to consider the option to be able to buy without the need to register and to make mandatory only the fields you really need to. You can stress that registration has its benefits but you may want to also allow a quick purchase that requires nothing but the buyer's address and payment options.
The approach with mandatory fields is similar. You might be tempted to get as much info about your buyers but even if this is not illegal, it's certainly tedious when there are dozens of mandatory fields. This is why you'd better keep them to a minimum. For instance, you might make the address of the buyer a mandatory field because without it you can't deliver the goods but don't make his or her year, month, day of birth (unless you are not selling to a 18+ audience when you legally have to include this) a mandatory field.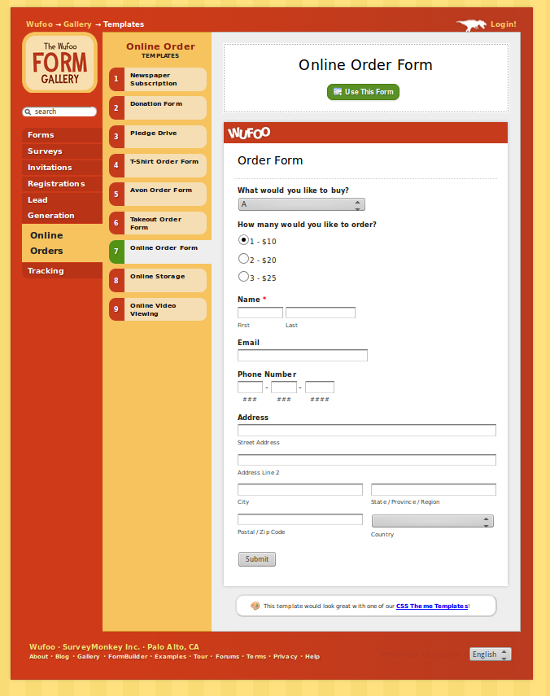 7. Keep the Selected Products in the Cart Across Sessions
This is a small tip I personally find very handy, especially when I add products not at once but in the course of a week or so. It's very handy to be able to add a product when you want to (or when the product becomes available for products that are temporarily unavailable), not to be forced to add them all right before you buy. For instance, there are cases when a user's computer freezes or his or her Net goes down before he or she finalizes the purchase and it's very frustrating to have to start shopping all over again. In fact, many shoppers will just walk away instead of going through the shopping process all over again.
8. Provide Live Chat
One of the disadvantages of online shopping compared to traditional live shopping is the lack of human contact. You can compensate for this, if you add a live chat functionality. If this is not possible, consider adding any other way to be contacted, for instance via a free phone number or email. This way when a potential buyer has a question, he or she can contact you for answers rather than abandon your store and go somewhere else.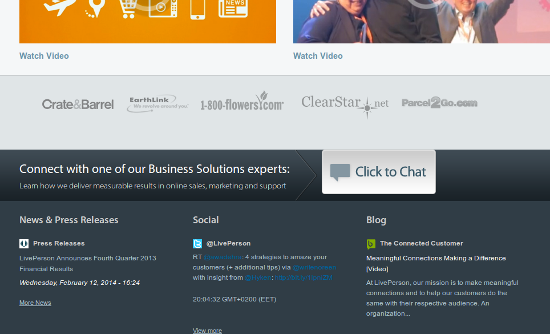 9. Include a Notes Box in the Order Form
A Notes text box in the order form is one more way for the user to tell you something, if he or she needs to. You might call the person for order confirmation but very often users might have questions or remarks about the purchase and if there is no Notes box in the order form, they might not make the purchase at all, especially if there is no other way to contact you.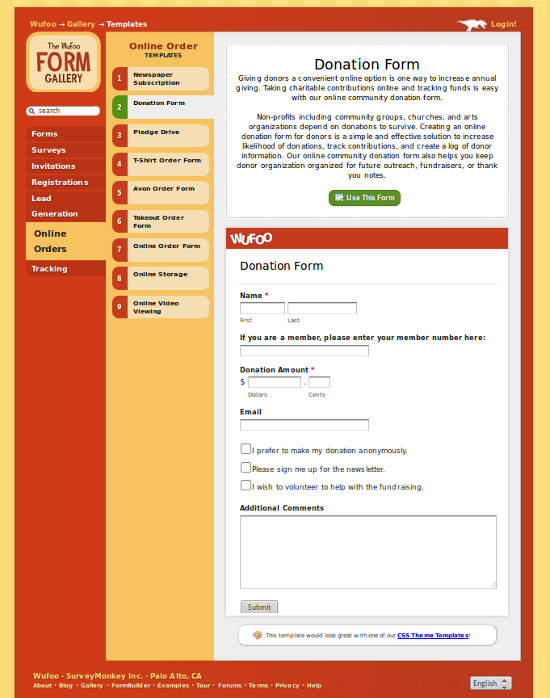 10. Show Product Variations and Customization Options Clearly
Product variations and customization options could be tricky to show but these can drastically improve sales. For instance, I've seen sites where all variations are listed as separate products. This could work, if you have just a couple of variations but if you have dozens of variations, this doesn't work. Imagine, you have the same shoes in 15+ different colors. If I don't like the model itself, then all these 15+ variations I have to scroll through are just annoying.
Probably the best approach to variations is to include them as options on the product page itself. You list only one variation on the products category page, mention there are more of them and list them all on the product description page. For instance, this is what Zazzle does: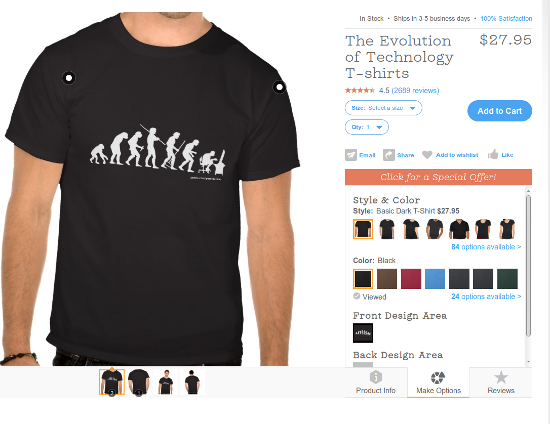 The risk with this approach is that if users don't know there are variations and they don't like the main model, you might be losing sales, so make sure you mention variations exist.
Not all of these tips are applicable to every shopping site and of course, there are many more tips that aren't included here but if you want to make your shopping site more user-friendly, any of these tips will certainly help.
E-commerce Templates for your shop website:
Some Magento Themes:
Natural Hair Extensions Magento Theme
Some PrestaShop Themes:
DVD Store Responsive PrestaShop Theme
Some osCommerce Themes:
Asian Restaurant OsCommerce Template
Some Jigoshop Themes:
Spice Shop Responsive Jigoshop Theme
Some OpenCart Themes:
Spice Shop Responsive OpenCart Template