Content theft or Content piracy has become such a common issue for all the content creators out there. For all the bloggers and other content creators who put in ideas, thoughts, and so much hard work into creating their original content, finding that their content has been copied or replicated can be a very frustrating experience. For the inexperienced or the budding bloggers/website owners, the lack of appropriate knowledge around content theft and protection can end up compromising the integrity of their original content.
The reasons that make content theft so common are the lack of credibility and accountability, content rewriting tools, affiliate marketing, and mostly the nature of the fast-moving social media channels. With everyone wanting to push out the trending or the hot topic at the earliest, most of the website owners end up plagiarizing the content of the leading ones. Well, there is always a solution to every problem. Whether you're using popular website builders or CMSs, there are ways and means that can be used to stop content theft for your website as well. Here's how you can stop content theft for your WordPress site and if at all your content is stolen, here's what you can do about it.
Add a Copyright notice
One of the most primary moves regarding content theft is to put up a Copyright notice on your WordPress website. Adding a Copyright notice is basically a scare tactic that manages to discourage novice users from copying your content. So, adding a copyright notice in a footer file can at least help you scare away the basic content-stealing eagles that are looking to copy your content and use for their own websites or other purposes. All you have to do is add an HTML code to the footer file of your website:
< p >© 2009-2016 domainname.com< /p >
Just add your website's domain name in the part of the code above. This HTML code added to the footer file of your website is to be updated every year. If you don't want to go through this process, you can add the following code to your theme's functions.php file.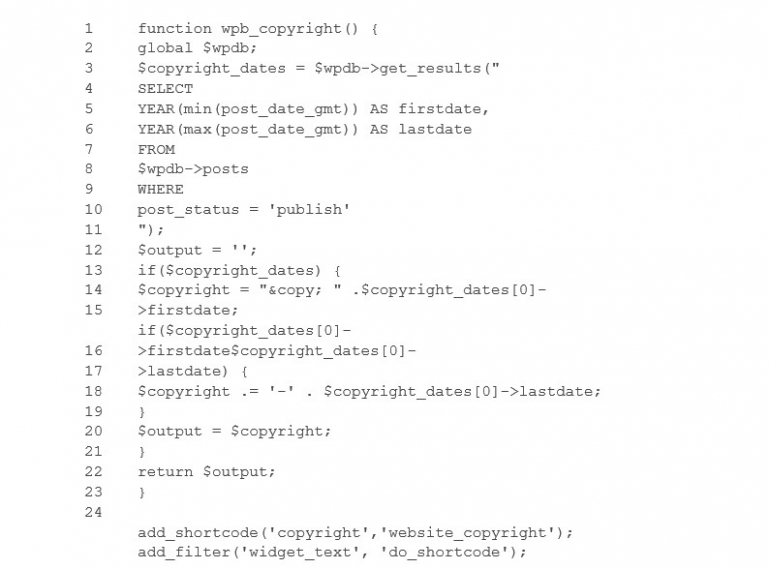 Disable right-click on your WordPress site using plugins
An average internet user is well aware of the fact that right-clicking or selecting text and right-clicking on a website can help them copy content or images instantly. So, how about you disable the right-click on your WordPress website? This will be especially helpful if you own a portfolio or photography website and find that many people illegally downloading and suing your content.
You can easily disable the right-click on your WordPress website by using the WP Content Copy Protection & No Right Click Plugin. The plugin uses techniques (JavaScript + CSS) to protect the content on your website. It also lets you disable keys such as CTRL+A, CTRL+C, CTRL+X, CTRL+S, and CTRL+V.
Stop image theft with the use of Watermarks
A lot of times, the images on the website are the main target when it comes to content theft. So, if your website is image-specific, you can use Watermarks to protect your images and discourage their theft. For your WordPress image-specif websites, you can use plugins such as Image Watermark and Easy Watermark to automatically add watermark while you upload them to your site. You can also manually watermark the existing images on your WordPress website. Through these plugins, you can also remove the watermark and choose the watermark position.
Disable hotlinking of images
A lot of people steal the content from other's websites by loading them from the original source. This not only leads to the theft of your images but also causes the bandwidth consumption of your website to go up and affect the overall website performance. To get rid of this, disabling the hotlinking of the images can be a great option.
In order to disable hotlinking of images from your WordPress site, all you have to do is visit the root directory of your site, access the .htaccess file, and add a simple code.

Just make sure that you replace xyz.com with the name of your WordPress website.
DMCA Badge to your rescue
There's yet another way to protect the website's content from theft i.e. by adding a DMCA Badge to your site. This seal of protection is available as free and you can also have a paid version. With a registered DMCA badge on your website, if any website steals your content and puts it out on their website, you will be able to take down that particular website. Hence, your website will be safe from content theft.
Use Copyscape to find your content that has been plagiarised
Getting a paid Copyscape subscription will help you get notified of any content on your website that has been reproduced by any other website. All you have to do is type in the URL of your original content, and Copyscape will find any instances of plagiarized results for you.
Discourage your content writers from practicing Plagiarism
At last, you must never engage in or get involved with writers that practice plagiarism or create work that is copied from other websites. You/they should always believe in creating original content and creating custom/original images for use on the website. In this manner, if everyone around us contributes to this honest move, content piracy and content theft will be highly reduced.
Prevention is better than cure, as it is said. By keeping the right measures in place and by adopting the practices above, one can reduce the many ways in which the content of their website can get plagiarized or compromised.