There are numerous options to create your own website. The new softwares, online site builders, and free options out there allow for newbies and even advanced marketers to achieve beautifully crafted sites without much work. It's difficult at times to know what is currently worth using and what can be best for your site. This wide variety of options makes it tough to decide. Joomla is probably one of the best places to get a website because of their unique features and top-notch site designing options.
Joomla owns two separate websites: one focuses on creating your site fast and the other one focuses on providing content management systems to create online web applications and websites. With a focus on site development and growth, their dynamic approach to site building has catapulted their brand to become the industry standard in the world of online site design.
Features Of Joomla.com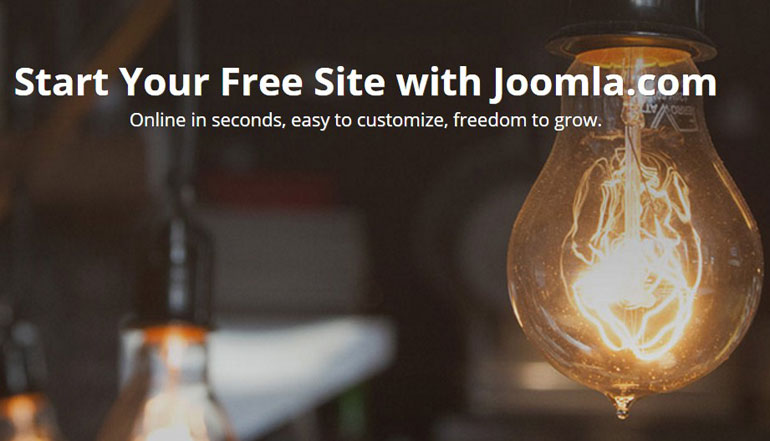 Joomla is home to numerous features that makes it a thousand times easier to get online in mere seconds. Here's just a quick look at what Joomla offers:
Thousands Of Free Templates
When you join and your website is ready to launch, you have more than a couple thousand free templates to use for your website. Not only is that amazingly beneficial for you as a website owner, but they make it easy on you to design your site. Just fill in the blanks as you go along. Choose the template, add in your photos, type in your content, and your site is ready to be launched to the world. It's fast, quick, and their beautiful designs are home to the most intricate and nicely crafted templates online right now. No need to pay any extra for their templates the way WordPress does for their Premium themes. The numerous free templates make it easier on you to get your site designed, especially if you don't have much design skills.
Mobile Ready
Every template is prepared to be more compact and easier on the eyes no matter what kind of device the site is being viewed on. Whether you are viewing the website from your smartphone, laptop, or a tablet, the templates are prepared to make the necessary adjustments to make it easy to read on all devices no matter how big or small. Going mobile is always so much more convenient for the long run because you want people from any location using any device to read the content and browse the site without having any issues.
Takes Seconds To Get Started
The Joomla web hosting provider makes it easy to host a site using their free subdomains, and all it takes is just a few clicks here and there to get your site running. Getting a design has never been easier with their countless designs, and the way they crafted the process for users makes it easy to get the site launched without any technical problems. Their fast editor also allows you to make edits, add content, add photos, and do whatever you need to almost within seconds.
Joomla!
Joomla! is their second platform that takes their original idea of site building to a whole new level to achieve massive growth. Their Joomla web hosting provider allows for people like you to craft top of the line corporate sites and portals, online magazines, e-commerce stores, government applications, small business sites, online publications and newspapers, and all kinds of corporate or smaller scaled websites. Using this can allow you to craft a site for any individual, company, or organization.
Features of Joomla!
Some of the world's top companies and brands use this online software to create only the most beautiful sites in the world. With companies like McDonald's, IKEA, Harvard University, and countless other schools and companies using Joomla! as their platform to create their online web presence, it's very clear that this online system knows what to do to perform and provide only the best hosting in the world.
The entire platform is a widely supported open source CMS platform that is entirely multilingual. With more than 64 languages to choose from, nearly anybody of dozens of languages can use the CMS software to create their content. There are hundreds upon hundreds of people online who help support the users of this entire software. World-class business consultants and developers are actively providing free help throughout their forums once you join.
The amazing search functions on your site will allow for visitors to quickly find the right information on your site within seconds. You have the option to add advanced search options, auto suggest searches, among other features to make it easier on your users. Content management has never been easier with their top notch WYSIWYG editor.
Customization is ultimately the main goal you want to achieve. There are more than 8,000 extensions available which can allow you to broaden your website and add more functionality. The amazing Extensions Directory makes it so hard to find tons of great extensions to add right in to your website to better enhance performance and quality of your site. With these extensions, you can practically craft your site and customize to fit the needs of your website. You can add new features, search functions, video, contact pages, mobile friendly options, and a variety of features to truly customize your site. You also have the option to mix and match different templates to fit your site so that one page uses one template and the other page uses another.
Joomla is known for being the one stop source for any person looking for a website, whether they want a basic free subdomain or a complete site from top to bottom. There is no better place to get your site crafted than their platforms online. If the top companies know that Joomla is the site to use to get their website built upon, you can be sure they are among the best in the business.