Growing popularity of remote work made us think about implementing methods that worked well offline into "work from home" format. Brainstorming and whiteboard modelling are among such methods, and Miro is a perfect platform to maintain effective teamwork while working on your website.
Sitemap Template
One of the most convenient instruments that Miro suggests is the Sitemap Template, which lets you visualize your future website while designing elements for its pages. If you're a freelancer, it's a wonderful tool to write down your creative thoughts and track your working progress. In case you're a part of a team, this tool will let you take stock of your website's visual content from different angles.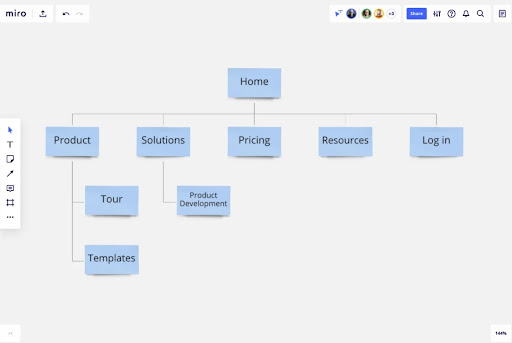 You'll see that it'll be significantly easier just to show your ideas visually in real time than to try to explain things that sometimes can't even be put into words. I personally tried Miro for web designing and here is what I can say about it.
Main Perks
What's really convenient is that you can work with Miro on each stage of your website's construction. Each member of your team can write down any thoughts about their vision, and then you can easily structure this chaos and have a clear picture of what you want to achieve. And this virtual board can change during the whole working process until it turns into a real model of your website. The main part is that you don't need tons of papers that can easily get lost exactly when you need them the most.
If you've already worked on any kind of project at least once, you probably remember how frustrating communication processes can be. Millions of group and private chats, lots of forwarded messages - and the most important ones start to hide when you need them the most. There is a simpler way - just sketch out the information on your map in Miro. That's how all the things concerning your website will be structured and can be found quickly in a relevant piece of a map.
When using Sitemap Template, it's possible to choose how exactly you want to represent your website's layout. If your team is more comfortable with visualizing information through flowcharts - you can easily arrange that, in case you like structuring the results of your work in blocks - it's also not a problem at all. Moreover, you can combine different ways to represent the results of your work.
Tips For You
1. If you have some data stored in Excel, but you want to move it to Miro, you can do it without any effort by copying the necessary text and it will automatically be structured into stickers. It can be useful if you need to transfer big amounts of data.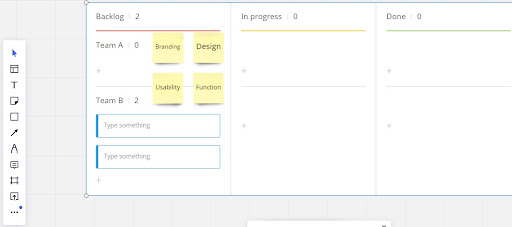 2. While reading this article, a thought must have crossed your mind: "if everyone from my team has access to the boards, it will be such a mess!". Well, probably, but you can handle this chaos - just click a sticker you don't want to be touched with the right button of your mouse and choose the Lock option in the context menu.
3. Miro's space is endless, so it's quite easy to get lost there. If someone from your team went too far from your board and can't find a way back, they can be summoned through the feature called Bring to me… In case you have something to show to your whole crew, there's an option Bring everyone to me as well. All you have to do is to click on your profile picture on the top right.

App Wireframe Template
If you're working on a new application, App Wireframe Template will definitely come in handy. This instrument will let you plan how your app will be structured, which functions it will have and how users are going to interact with it. But you can use this tool for creating website layouts as well.
Miro lets you highlight main things about your app, that's how you can make sure that everything will work smoothly. It's a good idea to check your application this way before you start to put tons of money and effort into it on the production stage.
Main perks
You can use various mockups from Miro to create your own app's interface. In addition, you can make a layout for low-fidelity, mid-fidelity and high-fidelity apps, which is very convenient.
It's not difficult to check how your app will look from different devices - just find the Wireframe Library in the context menu (you can find it in the left part of your screen). All components that can be useful are there as well. Here is a wireframe I created by using just present templates:
It takes some time to create a decent mockup for a website. But there are plenty of wireframing templates like this available in Miro. They're completely free and enough to show your website's prototype to stakeholders.
Tips For You
1. If you want to add colors to your wireframe, highlight the screen like you highlight a text when you want to copy a text. Then a color panel will appear and you can choose any of them.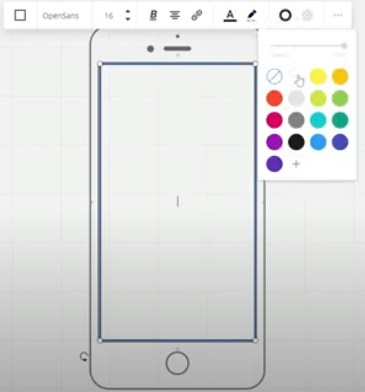 2. If you want to transfer an element from one screen to another, just highlight it and drag where you want.
3. Remember that simplicity is key. You don't need to add plenty of elements to your wireframe, keep in mind that it's a schematic representation of your future site.
Final Words
If I had to write about all the tricks in Miro that will ease your life, I would have to write a book. Besides, its developers created a wonderful community where tons of tutorials are available. I'm not a professional web designer, but with these guides it wasn't tough for me to understand how Miro works. So, I suggest you to discover and adapt this tool according to your needs and preferences - it's totally worth it!