Basics
CMS
Tutorials
Typography
Responsive Design
Exclusive interview with Robert Hodgin
| | |
| --- | --- |
| When Volkswagen needed an interactive site for its new "Turbo Beetle", they hired Boston's Arnold Communications, who in turn called on a creative team that included freshly graduated sculptor masquerading as commercial designer Robert Hodgin. Though Volkswagen's order was beyond his skills at the time, he met the three-week deadline, and the site went on to win numerous major awards. The resultant success launched Robert into a new trajectory that would irrevocably take him out of the subdued world of Noguchi and Turrell and into the rollicking universe of freelance commercial design. Besides having won the Grand Clio, multiple Gold and Silver Pencils, and several Hatch Awards, Robert has worked with Macromedia. Also, he has established his own business - the Barbarian Group - and has created his own highly acclaimed website: flight404.com. But where did it all begin? And why? | Robert Hodgin |
WDL: Drop us a couple of words about yourself. What brought you to the Internet?
Robert Hodgin: Sadly enough, the siren song of big cash payoffs brought me to the Internet. I graduated from Rhode Island School of Design with a degree in Sculpture and a high 5-figure debt. Sculpture just wasn't going to help me pay that off and since I didn't want to become a career waiter to supplement my sculptural side, I downloaded the trial version of the Flash 3 and spent several days making letters move and blink. The rest is history.
WDL: What inspires you the most?
Robert Hodgin: Conversation with enthusiastic optimists tends to get my juices flowing. Something about their inability to say 'no' to themselves and self-edit makes me long to be a little more exploratory. However, really slick motion graphics tends to have the opposite effect. Some of the stuff coming out of MK12 and Psyop and the like makes me want to throw my hands up and scream 'I give up!!! You have beaten me!!!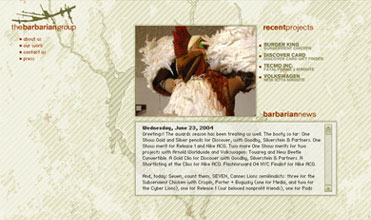 The Barbarian Group
WDL: In the beginning of your career did you try to copy the techniques of some famous web designers? Who was your example?
Robert Hodgin: When I started, Gabocorp had just been launched with big spherical countdown preloaders and huge sweeping transitions. How could you not instantly fall in love with that? But he was more of an executionist (is that a word) rather than a designer. For design influence, I still fell back on my sculpture degree, trying to translate my love of Noguchi and Turrell into a flat medium.
WDL: Please rate the top 5 designers or web design studios.
Robert Hodgin: Hmmm, not sure that is something I could rate. I think Erik Natzke is one of the most well-rounded Internet developers I know. He has the ability to design, code, three dimensionalize, set up back-end servers, the whole package. He is a one-man design studio who constantly churns out amazing work. Alex Chen is also very high on my list. He is also a triple threat... strong coding skills, great design sensibilities, and a fantastic musician. Hi-Res makes some wonderful Web experiences as do WDDG. I look forward to most of their releases.


Fatal Frame II
WDL: What are your current projects?
Robert Hodgin: I have been spending a lot of time lately building up my coding skills. Processing is my current love. Working on a lot of cellular automata simulations and trying to translate that over to a physical presence. Still in the beginning stages so the idea is rather vague, but I am trying to make an installation using hardware that people can touch and interact with in order to create an audio response.
WDL: Which project are you proudest of doing?
Robert Hodgin: I think my favorite project would have to be Flight404 version 6. There was an ongoing journal that started on a whim... I was trying to figure out why a plane (FLT404) disappeared over the Atlantic on route to Gatwick airport. Pure fiction, but rooted in as many detailed facts as I could scrounge up. But the thing that made it exciting was that I asked the public to help with the investigation so much of the plot twists and leads came from strangers that wanted to become a part of the story. People sent in photos and audio files and I would try to find a way to incorporate them into the journal. It ended up being a bizarre collaboration and I think this idea might be worth exploring further. I ended up writing myself into a corner and client work picked up so I eventually stopped the updates. I still miss having something like that to update. I never wrote much prose before but got a kick out of trying to entertain people with writing instead of visuals.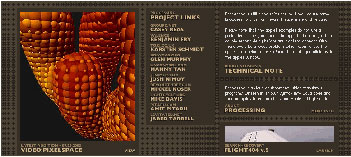 Flight404 version 6
WDL: You've learned many Flash techniques. Can you offer a couple of tips to beginners?
Robert Hodgin: The main tip I would offer to those using Flash is to not limit yourself to just using Flash. My actionscript skills became much more refined and elegant after learning how to code in Processing. Because of this, my Flash files have become more streamlined and my code has much better structure than it used to.
WDL: What awards did you receive?
Robert Hodgin: I have gotten a few awards here and there. The one that I am most proud of is getting Honorable Mention at Ars Electronica this year.
WDL: What are the core web design principles we should know about?
Robert Hodgin: I am not convinced there is a core set of principles. I find that the sites that intrigue me the most are the ones that break with tradition and find new and interesting ways to solve problems.
WDL: Imagine that you have a chance to make a homepage for a famous person. Who would you choose and why?
Robert Hodgin: Well, this is something that is bound to change. I am nothing if not fickle. I would want to make the homepage for Augusten Burroughs. I just finished a couple of his novels. I was moved. I am a real sucker for a person with a good story to tell and he seems to have an endless supply.
WDL:
Thank you for your time.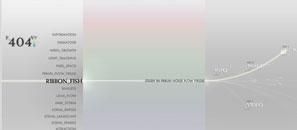 Flight404 version 7