Basics
CMS
Tutorials
Typography
Responsive Design
Folding Paper
Step1:
Create a New Image File > New or (ctrl +n) set the width and height to:
Width =800
Height = 600
Change the background color to white (#5b7c90)
Step2:
Create a new Layer, Layer>New>layer or (Shift+Ctrl+N). Use the Rectangular Marquee Tool (M)

to create a rectangle and enter the setting below.

Now you have a rectangular selection in your work space. Use the Paint Bucket Tool

and fill your selection with this color #e0e0e0. You should have something like I have below. Step3:
Press CTRL+J to duplicate your layer. Click on the Gradient Tool (G)

its usually hiding behind the paint bucket tool. I used the Gradient called Steel Bar, click here to download. After selecting your gradient enter the setting below.

Hold CTRL and click on your layer to select it, Draw your gradient going from Left to Right to have the effect I have below.
Step4:
Now to add the folding effect, click on the Chop Tool (C)

. Right click on your image with the chop tool and select Free Transform as shown below.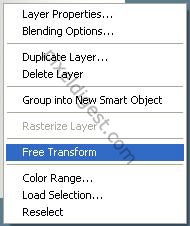 After you click on Free Transform, right click again on your image and the menu below will come up click on Warp.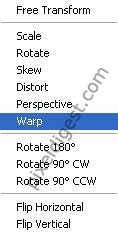 Click on the lower right hand corner and drag your selection to the middle of your page as shown below. When you are satisfied with the folding press enter.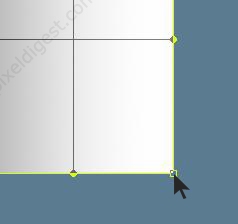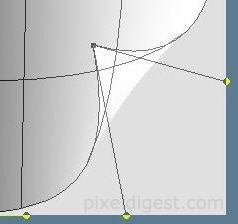 Step5:
That's it you are finished, if you followed the instruction you should have something like I have below.