The choice of web building tools is pretty extensive nowadays. There are myriads of decent services, which come up to the needs of different user categories. Professional web designers are not an exception. They are usually involved in the development of client projects and, thus, need advanced web building solutions to complete their projects successfully.
At the same time, they often have many clients and lack time to apply complex web design tools. The projects they work on have to feature decent quality as this is exactly what their customers expect from them. In such situations, professional website builders may be of great help. They offer a broad range of web design features that can enhance the design and performance of any website. If you are a professional web designer looking for a simple yet functional website builder, then consider one of the services reviewed below.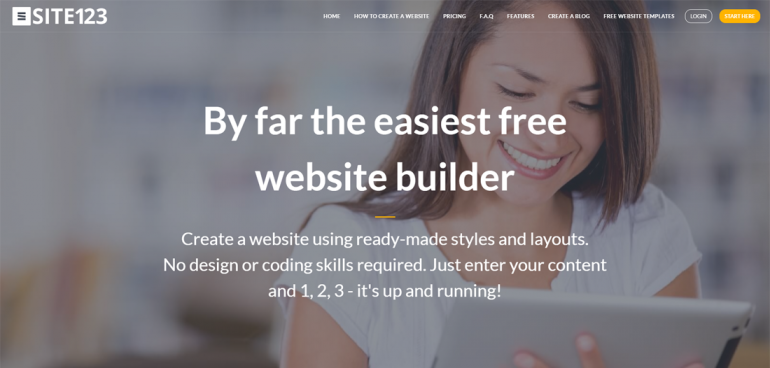 SITE123 is a cloud website builder, which allows creating websites out of modules filled with ready-made content. The system enjoys popularity due to its advanced web design features, which perfectly combine with ease-of-use and convenience. The website builder allows building different types of projects. The most popular of them include business websites, blogs, web stores.
The platform comes with 15 localization options and advanced multilingual feature. This allows building websites in different languages in no time. It also offers dozens of quality templates, each of which is responsive and easy to customize.
SITE123 has a WYSIWYG editor as all the changes you make are reflected in the real-time mode. This allows controlling the web building process, making it more convenient. What you can do in the dashboard is to add and manage new pages, set up domain names and SEO parameters, choose and integrate website plugins, edit the website in general. This involves adjusting header elements, selecting web page display format, changing background, layout, fonts and styles etc. All in all, SITE123 features excellent combination of simplicity and convenience that merges with impressive functionality.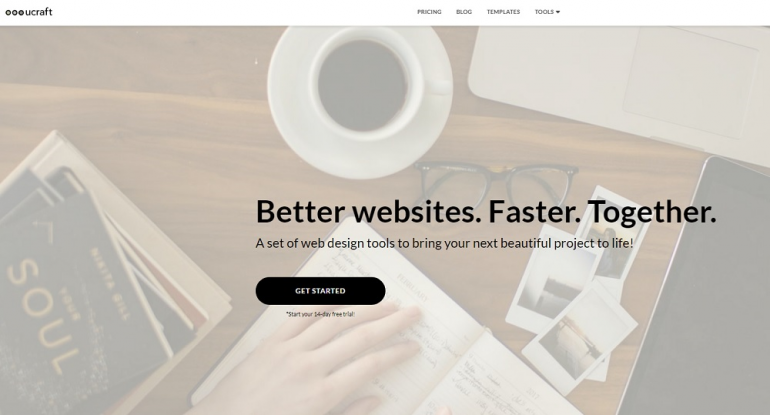 Ucraft is a professional website builder, which enjoys the utmost popularity not only with non-techies but with web design pros as well. The system will be of great help to web design experts, who are involved in the development of landing pages, eCommerce and business websites. The set of features it offers allows customizing website design with maximum efficacy.
The website builder can boast a collection of responsive templates, which are sorted by industry. If you are pressed for time and need quick but quality result, you can just select the required theme and replace the ready-made content with your own info. At the same time, it is also possible to give your project personalized design by using the code integration option. Among other features that make Ucraft a decent choice for advanced web designers, it makes sense to mention the availability of a multilingual app, a Logo Maker, a Landing Page Creator, an Articles App. You can also make use of Designer Tools (Typography, Layout and UIKit). They make it possible to set up website design and style to meet customers' needs. Ucraft White Label solution allows using the system strong points for professional web building purposes.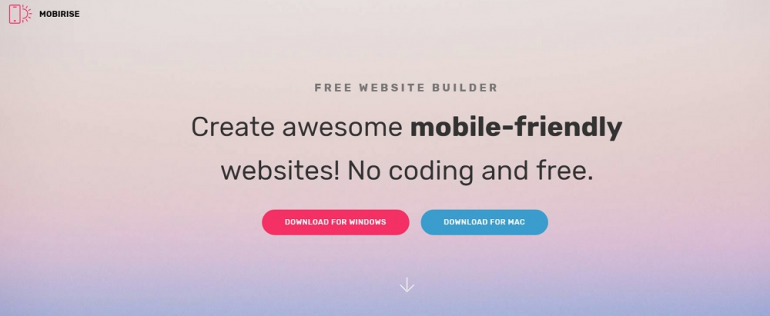 Mobirise is a free web building software, which stands out from the crowd because of its nature. To use it, you need to download and install it first. This is a convenient service for individual web designers and web studios, which develop client projects and don't wish to depend on the Internet connection. You can use the system to create business websites, landing pages and portfolios. The website builder comes with minimalistic interface and allows launching mobile-friendly websites. The web creation process is simple and intuitive here. The system offers a set of content blocks (there are over 600 of them here), the combination and arrangement of which lets you develop any website structure of your choice.
The platform ensures splendid mobile browsing experience by offering the advanced AMP Website Builder tool. It makes the loading of mobile website pages quicker, which results in boosting website traffic. Mobirise offers an opportunity of free website hosting with Github Pages. This is an extra bonus for web designers, working on multiple projects.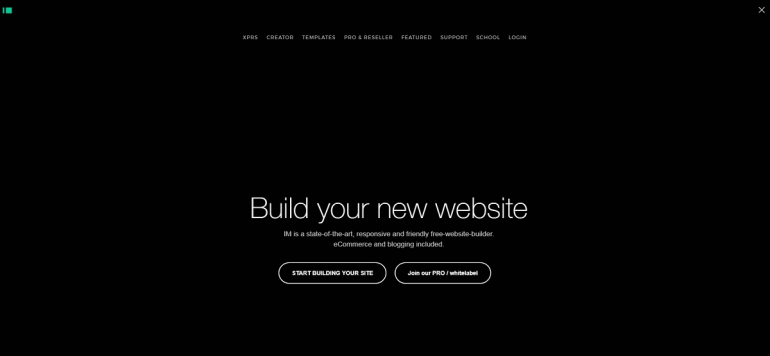 IM Creator is a professional full-featured website builder, which works great for the development of business websites, creative projects, portfolios and landing pages. The system also comes with powerful eCommerce and blogging engines. Building websites with IM Creator is super easy as the system uses the Stripes and Polydoms technology. It implies the choice and combination of content blocks - Stripes - and their proper arrangement in the process of website creation. The system also has responsive templates, customization of which is easy, quick and convenient. This is because the service offers a set of design customization tools, which involve animation options, image settings, gallery and slideshow creation, extensive choice of fonts and icons, development of website layout etc.
The website builder is free for non-commercial organizations and creatives. Professional web designers, however, can make use of its White Label solution, when launching multiple serious projects. This is a surefire way to use the entire powerful feature set of the website builder for your own web building purposes.
uKit is a user-friendly, convenient and very affordable small business website builder. Apart from business and promo websites, you can effectively use the system to launch blogs and landing pages. It's super simple to work with it, while the result is always on the top notch level. This is what professional web designers value most about the system. uKit features are centered around the only goal - development of quality websites with stunning performance.
The website builder offers a set of responsive templates, which fit desktop and mobile screens (designs can be changed any time of the day). It is also possible to make use of a rich widget collection. Their integration can give your website stunning performance, depending upon your needs. By integrating an Ecwid plugin, for example, you can set up a professional web store in a couple of minutes only. Another way to do that is to connect an eCommerce plugin to a website. Creation of image galleries and slideshows, video integration, font and style selection, layout development are other benefits you can make use of. What's important, the website builder allows connecting SSL certificates to all the websites created with the system. Clients will certainly value this option to the advantage as it boosts your website safety and protects it from unauthorized third-party access.
Bottom Line
When it comes to website creation, the choice of the web building software matters a lot. This is especially true, when it comes to professional web design. Specialists, who are involved in the development of client projects, need reliable, safe and decent web building tools to successfully complete their tasks, especially when they plan switching from Wordpress or any other CMS. Website builders reviewed in the article are trustworthy and professional. They encompass ease of use, convenience and extensive feature sets, which come up to multiple web design tasks. They also allow using coding skills to avail the top notch result clients will be satisfied with.
*****
ABOUT THE AUTHOR
Howard Steele is an Internet marketing specialist, aspiring web designer and the author of informative niche articles. He specializes in reviewing website builders and publishing posts about them at https://superbwebsitebuilders.com/. During his free time, Howard enjoys hiking, traveling and scuba diving. He has many friends, who share his passion for these occupations.