"Remote work is the future of work." — Alexis Ohanian
With the ongoing Covid-19 pandemic, this is going to turn into a reality sooner than expected. According to Upwork's Future Workforce report, 73% of all teams will have remote workers by 2028. Going remote is the way forward, and it can become a game-changer for your startup.
High-performance teams don't happen by chance – you build them with motivation and a pinch of creativity. The modern-day remote marketing team is much more than SEO and cold calling. It's an umbrella for a slew of activities resulting in a successful business. The growth of your startup, to a great extent, depends upon the marketing team's performance.
Establishing a high-performance remote marketing team will help you find the top-tier talent from across the world, drastically reduce the burn rate, and lower the stress level of the employees. Advantages tagged with remote working are so overwhelming that 99% of employees surveyed wanted to work remotely for some time for the rest of their careers.
However, there's a remarkable difference between building a team hastily and truly top-notch remote working teams. Lack of proper workflow, communication, culture, and procedure can result in lower productivity. Also, differences in time zones, location, and culture create barriers resulting in unprecedented delays, and unavoidable errors.
Your startup ends up on a time bomb ready to explode anytime.
If you're considering building a remote work environment for your marketing team, take these six steps.
Hire the Right People
Do you remember the first day at university? Did you interact with everyone across? You took the time to understand who could become a good friend and with whom you can ensure a long-term relationship.
Same way, before hiring, you should understand who can work in line with your company's culture and vision. Though they're not going to work under you directly, they are the voice of your brand and its ideology. Therefore, you need to hire the right people who are culturally fit.
For example, suppose you sell traditional Indian clothes. In that case, it's useless hiring Japanese or an American because they will be clueless about the culture and the importance of traditional attire in India. They'll not be able to promote your brand. What you need is someone with deep roots and a connection to India.
A highly productive marketing team requires people who understand the customer's persona in-depth and can communicate with the target audience to generate sales.
Conduct video interviews to evaluate the personality of every team member. After hiring, ensure to share your employee manual, which gives a holistic overview of the critical procedures, policies, and outlines the cultural expectation from the employees.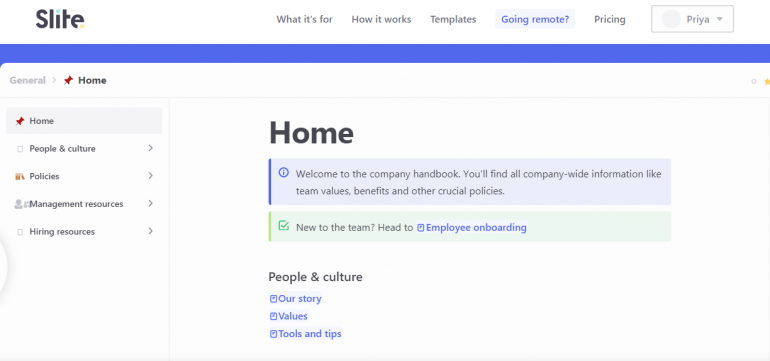 Additional tip: Use online tests to evaluate the level of motivation and personality. It ensures you hire the right people for the right job profile.
Create a Remote Working Policy
The paradigm shift toward remote working requires different security stances. The marketing team is generally busy with acquiring leads and creating creative campaigns that they tend to overlook the data security aspect.
While working from home, 41% of employees use personal apps to access sensitive company data.
A simple slip-up could expose the customer's data resulting in non-compliance to laws like GDPR.
GDPR proposes that companies should protect personal information and reduce the number of data breaches. The law enforces that companies should keep personal data private and secure.
Therefore, your startup must put a strong remote work policy to guide the employees on what can lead to potential cyber-attacks and data compliance issues. Ensure that no remote working employee has complete access to the server or files that they don't require for their everyday job.
Additional tip: A remote working policy is a dark horse in building a high-performance marketing team. Putting a policy in place is essential not only for compliance but also for preventing security loopholes.
Increase Communication with the Remote Team
Who said that building a healthy work culture with remote teams is impossible?
Maybe five or ten years back, it wasn't easy, but today it's a myth.
Communication is the key to building a strong and performing remote team. Group video calls on work, and off-work topics will help you connect and engage with the team. Ask your team to share their experiences outside of work to build a strong bond.

Furthermore, when working from a home office, the team might feel disconnected from the co-workers. They might feel that their work is going unacknowledged. This feeling of isolation is imperative but preventable. Take efforts to recognize each team member's performance and celebrate their success – even if it's a quick email or shout-out on a messaging app.
Additional tip: Use emojis to clarify, humanize, and lighten up the conversation. The more you communicate and celebrate, the better will be your productivity.
Switch to Remote-Friendly Tools and Technologies
The digital collaboration of a remote team using the right tools and technologies ensures a productive and collaborative work environment. However, to prevent limitations of remote operations, it's critical to choose cloud-based products. Some tools which come handy to a remote marketing team includes:
Project management tool – Helps in managing product launches, content planning, event planning, etc.
Design prototyping tool – A great design is intrinsic to a great product. A design prototype tool helps in discussing a potential design before it becomes a final product.
File management tool – Helps in sharing, storing, and organizing files of all types.
Marketing automation tool – Automatically manage the marketing processes across multiple channels.
Customer relationship management tool – Helps different stakeholders in the marketing or sales process to collaborate their work in a single place.
Collaboration in a remote team is a necessary ingredient for your startup's success.
Additional tip: The right tool and technologies help your teamwork collectively and increase productivity.
Prioritize Accountability
One of the most common concerns of a remote team is accountability. When building a remote team from scratch, it's imperative to prioritize accountability. Accountability is not taking the blame when something goes wrong. Instead, it's delivering to a commitment. Rather than coming up with an excuse for the delay in work, your employees should find a solution to completing the work on time.
From ensuring timely project completion to tracking employee hours, you will come across a bouquet of accountability issues that will put your business at risk. It can happen even after you have set clear goals at the time of on-boarding.
To overcome accountability issues, it's essential to set clear and achievable goals. Furthermore, you can use time clock calculator to ensure that every hour billed is an hour worked. Many tools take a screenshot of what your staff is doing during the day. You can trace down the honest employees and efficiently manage the payrolls.
To build trust with your remote marketing team, you need to invest in building an accountability framework.
Additional tip: To build an environment of trust and accountability, break the unspoken rule. Unspoken rules plague remote workers and exacerbate feelings of isolation and loneliness.
Focus on Remote Project Management
Once you have chosen the right people and the right tools, it's time to manage the remote working team. Managing a remote project is one of the most crucial parts of building a top-performing remote marketing team. The secret ingredient of remote management is trust. If you don't trust your team members, the concept of remote work is likely to collapse in your startup.
Remote team management is challenging and tricky, but you need to find ways to understand your team, personal struggles, and motivations.
Additional tip: When leaders or managers understand their team, employee satisfaction remains sky-high.
Conclusion
Building a remote marketing team is both challenging and rewarding. However, the benefits far outweigh the potential complications.
Remote employees are not only more productive, but they are more motivated to produce the best results, remain efficient with their time, and are likely to stick to your startup. Allowing your employees to work virtually pushes them to thrive, which subsequently pushes your startup in the right direction.
Remember that you cannot build a virtual team culture in a day; it takes time – a lot of time! And, there is no one-size-fits formula for building a perfect remote team.
What may work for your startup may prove a dud for another one. Apart from hiring the right people, the right tool, and streamlining workflow, you need to track every individual's performance. It allows you to implement changes in the processes and provide appropriate training to the employees.
When your virtual teams perform as per expectation, operate efficiently, and communicate seamlessly, you can leverage the virtual workforce to enhance your bottom line.
Having a distributed or remote team is as effective as having an in-house marketing team. Such a team is guaranteed to pay dividends for a long time.