A toolkit for a graphic designer is a set of the necessary go-to links that always should be along. Here we have collected 15 online graphic design tools of key importance for most graphic designers. It is helpful anyway, whether you're an expert or only start your career. These tools are saving time and bringing inspiration.
1. Ultimate Offer: Adobe Photoshop
Nothing has been able to surpass Adobe Photoshop ever since its implementation in 1988. Photoshop, together with another Adobe product, has always dominated in the graphic designing landscape. The tool can help graphic designers with pictures editing, website design, creating project layout, working with graphics, and animation. Thanks to Adobe's products high popularity, it is easy to find a lot of free tutorials (online educational courses, books, technical manuals, etc.) and tips of the experienced users on how to apply for the program.
2. Free stock Images: Depositphotos photo collections
Working as a designer, you will always need high-quality images to blend with your graphics and bring them to perfection. Depositphotos is one of the best and vast libraries to visit for an incredible choice of royalty-free stock images to select from. The site offers over 100 million high-quality stock images in a broad range of categories. Another benefit of the site is that here one can find accurate hand-selected collections of images for every imaginable topic.
3. Free Fonts: Google Fonts
To refresh things, you have to try various fonts if they that can sync with your design. Google Fonts offers to designers over 800 font families, which can be easily customized according to their visions. It's undoubtedly one of the best free online graphics tools if you are looking for free fonts. Furthermore, this massive library is open-source. Thus, you can make downloads which suit all your needs.
4. The search for Inspiration: Adobe Creative Cloud
One more Adobe product on this list. If you have difficulties defining palettes or color schemes for your designs, or you just want to optimize the project, Adobe CC will be a suitable addition to your online graphic design tools. Many visitors are looking for inspiration here, using photography and color themes. Adobes CC allows you to create your color schemes or to explore color combos, shades, and swatches produced by other professionals. This website is one of the greatest free graphic resources for designers.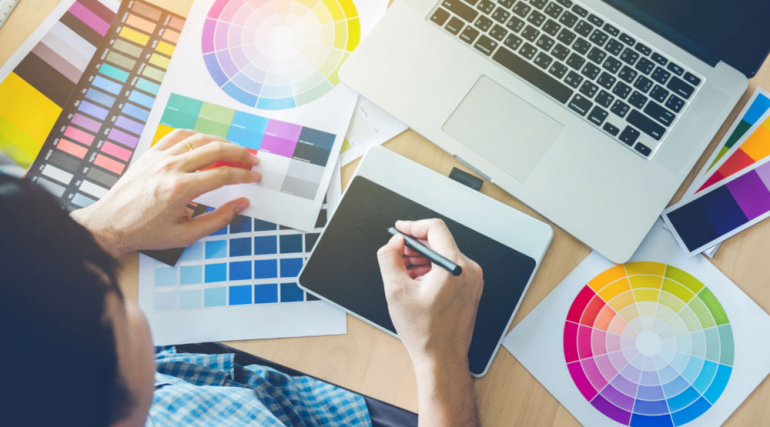 5. Time Saving Tool: Crello
Even if you are a geek of graphic design, sometimes you need a fast graphics solution, you can create based on some precast elements for a particular task. This is what for Crello exist. The site is easily used, and the user can create some design product any level of skills in a short time. You can select among thousands of free templates by professionals and customize them according to your needs, as well as upload your own products: pictures, images, fonts, etc.
6. Graphic Design Manuals: Envato Tuts+
Unlike other online tutorial sites, Envato Tuts focuses on Creative Arts Tutorials and now places over 20,000 video tutorials on design topics. Whether you are just a beginner or you want to expand your professional skills and knowledge, you will definitely get some advantages from Envato Tuts+ mega resource.
7. Browser Extension: Muzli 2
Inspiration should be continuous, and Muzli 2 can be very helpful to get access to a bigger pool of ideas. Muzli 2 is an amazing free online graphic design tool, and you should definitely take advantage of it. This browser extension functions on Safari and Chrome. It's literally a treasury of inspiration, surprises, gorgeous and frequently updated content, which is delivered to you at your wish. Here you can find new UI/UX designs, interactive news, and works of other professionals all around the world.
8. Brushes: Brusheezy
Brushes are making a difference in Photoshop. With the right set of them, you can create amazing visual effects, create unique backgrounds, portrait designs, and even more. It is one of the best sites where you can find a vast majority of brushes. The site works as a search engine, allowing graphic designers to access a vast collection of Photoshop brushes easily.
9. Free Icons: Freepik
Only a few specialists create their icons from scratch because it is easy to find free graphics online. There are tools offering vast libraries of various icons. Freepik stands for "the leading search engine for free vectors" with its huge collection of more than 815,100 mostly free pictures. Also, it offers and some premium carriers. FreePik's quality is better than the majority of other Icon resources, allowing downloads of AI, EPS, or SVG formats. All the icons come in line, vector, 2D, and 3D style available only in black and white.
10. Vectors: Vecteezy
Vecteezy is one of the resources you can visit for high-quality vector art. The project is positioning itself as the "largest vector graphics community in the world." Over the years, Vecteezy has collected quite a vast library full of free downloadable vector images accessible for free download, making the great site source of royalty-free prints for everyone. Recently the editor tool was added allowing graphic designers to edit their designs before downloading them. It is an important thing to know, that Vecteezy is not fully free online graphic design tools bank. Therefore, to get the full range experience, you have to subscribe to its premium account.
11. Proofing Tool: ProofHub
Sometimes communication can become difficult if you have to add adjustments according to customer's wishes. Proofhub is one of the best tools intended to facilitate communication problems between designers, their customers, and partners. Proofhub helps its users to record changes within the design projects, by adding comments and highlight failures. It also allows the specialist to add changes immediately after receiving the feedback from the customer or team members. This tool gives teams and their customer's full control over the actual tasks and lifts up the level of communication skills within the project.
12. Inspiration and Portfolio of a Designer: Behance
Running a prominent project in modern, highly competitive design environment is quite a challenge. An effective strategy you can apply is staying beyond the game by taking part in social communities of so-called creative people or even creative class. Behance is one of the largest online communities for designers and artists. The site allows graphic artists to create, showcase, and discuss their works while expanding the network of followers and colleagues.
13. Editing Images: Pixelmator
Any toolbox for a designer seems incomplete without an image editor tool. There is a whole abundance of them on the web, but finding the proper one is not an easy task. If you are looking for an image editor tool, Pixelmator is the best offer in this field. It looks like a single-window interface which simplifies life for newcomers and big dogs of design. This makes it the tool of choice for designers who wish for multiple projects with the ability to resize, move, and arrange their layers. It also possesses a huge collection of unique handmade brushes to realize the dreams of painting lovers.
14. Mockups: Mockup World
We all need mockups to raise our mood. Mockup World is one of those online graphic design tools for getting mockups. It brings an array of high-quality graphic elements collected from the Internet. Except for web design mockups, you will also find their templates for tees, tote bags, unique types of packaging, print templates, and plastic wraps. The website is exceedingly quick and user-friendly. The visitors can easily browse through the freshest templates or search for the desired element specifically.
15. Sketching: Inkscape
As you may know from practice, that inspiration can hit you unexpectedly. In the modern world, no graphics designer had to hang around with a bag full of sketches. Inkscape is one of the best online tools that you can apply to realize your potential sketches anywhere and anytime.
This sketching tool is very much suitable for experienced graphic designers and amateurs.
It's an alternative to Adobe Illustrator. Except for sketching, Inkscape is also a great resource to apply for creating illustrations or coloring. This tool can be applied by vector lovers and graphic designers working with SVG file formats. Moreover, the site is quite usable and comes with a Ghostscript extension making it easily readable. The best is that all these elements are for free, unlike in Adobe Illustrator, where you should pay to get the full package.
The TakeAway
Design is a very interesting area, but not an easy job to do. You always have to meet all the specifications by the client and sometimes even repel your creativity to comply with these ideas and wishes. You need to learn and improve your skills daily to grow and become better. The 15 tools listed in this article might be very good for your projects. They will save your time, they will bring you inspiration, and will be your inexhaustible treasury of new creative ideas.