Are you looking for an automated web accessibility platform to safeguard your business against ADA compliance-related lawsuits? Are you a web designer or developer that wants to deliver websites that are section 508 compliant to your clients?
If you answered with a "yes," then you're in the right place.
Also, with how costly and unreliable manual accessibility solutions are, you've certainly made the right decision to look for a solution that automates your website compliance with the WCAG 2.1.
accessiBe can help you with just that.
With the platform being an AI-powered automatic web accessibility solution, you can protect your company against compliance-related lawsuits round the clock. accessiBe is also collaborating with the biggest companies to make sure their technology is at its peak; companies like Google and Clarifai.
Let's give accessiBe a closer look to see how its features and functionalities can help you.
Automation and Artificial Intelligence
Compared to its competitors, accessiBe is the first and only AI-powered and fully automated web accessibility solutions.
Once you've integrated accessiBe, it will keep on scanning your website automatically every 24 hours to check for new or revised/updated content. This ensures that your website is always compliant.
The platform doesn't rely on humans to comb through and analyze your website, its Artificial Intelligence does just that. The technology scans, analyzes, and deciphers the elements of your website and then adjusts them to make sure they comply with the WCAG 2.1 standards.
accessiBe's ability to check a website automatically every 24 hours is important because it's common for most sites to be updated every couple of months — weeks, even. For instance, if you use a manual solution, you should realize that if you implement a pop-up for example your website is not accessible anymore.
So if accessibility adjustments are made manually, there are going to be compliance gaps when new content, widgets, or pages are added. That is why choosing an automated web accessibility solution that is constantly scanning your website every single day is better than setting up your web accessibility compliance manually.
accessiBe also leverages Machine Learning technology. The more websites accessiBe is integrated on, the more it learns, and the more accurate it becomes.
User Interface
Because accessiBe's creators are committed to helping people with disabilities navigate the internet better, they've made their user interface easily navigable and intuitive.
The users only need to click the PWD icon on the website to see accessiBe's interface.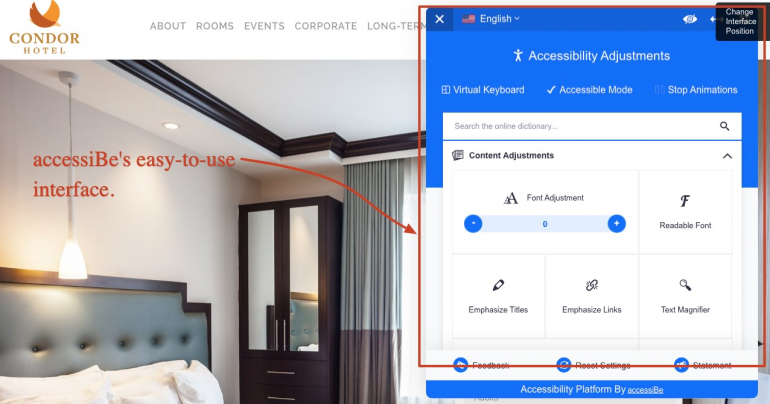 From there, the users can make countless adjustments to your website to make it easier for them to browse your pages.
They can enlarge the text on your website by changing the font size adjustment setup. They can change their cursor size to make it bigger. If they find your words or letters to be too close, your users can also add the spacing between them.
Also, the users can even change the colors of your website to monochrome (among other color schemes) by going to the colors and Adjustment section.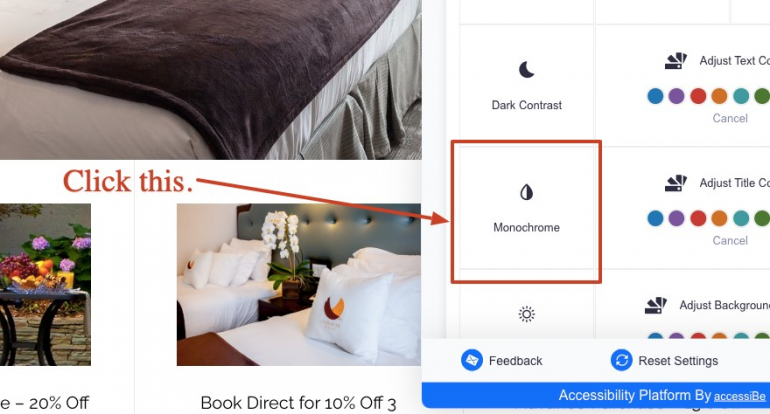 Here's how a website will look once the Monochrome feature is switched on.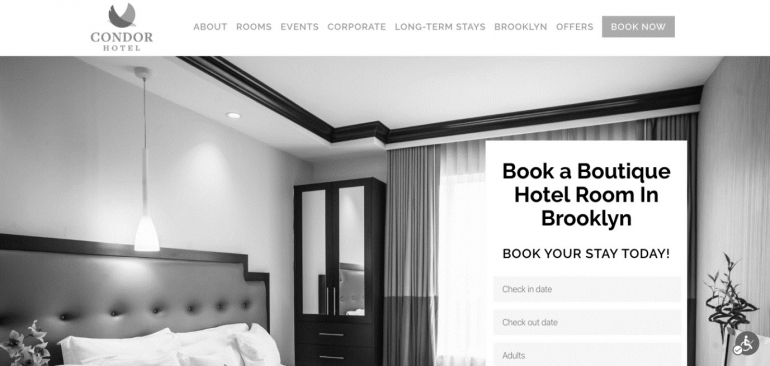 These are just some of the many accessibility adjustment functionalities of accessiBe.
With the help of these functionalities, website owners can service their PWD web visitors better. This, of course, can bring all sorts of opportunities to website owners like increasing their engagement, leads and sales acquired, and establishing their brand image as a company that cares.
It's also worth mentioning that accessiBe can easily adapt to any website design or template, and it's fully customizable. In less than a minute, you can completely adapt accessiBe into your website template.
Image Recognition Technology
For those who are visually impaired, accessiBe's AI can provide alternative text descriptions for images through using OCR and IRIS technologies.
The AI is capable of doing this because the technology can scan, analyze, and understand forms, element roles, and website structure (among other things).
Installation
Despite all of accessiBe's heavy-duty functionality and value-packed features, integrating the platform into your website is very easy to pull off.
You can install accessiBe in as quick as 5 minutes or less.
Suppose you're using a Wordpress website, here are the steps for integrating accessiBe:
Step 1: Get the script to embed on your website. Follow the 3-step guide here.
Step 2: Log into your Wordpress website then go to "Plugins," then click "Add New."
Step 3: Search for "Insert Header and Footer" in the Search Plugins Screen then click "Install Now."
Here's how this looks.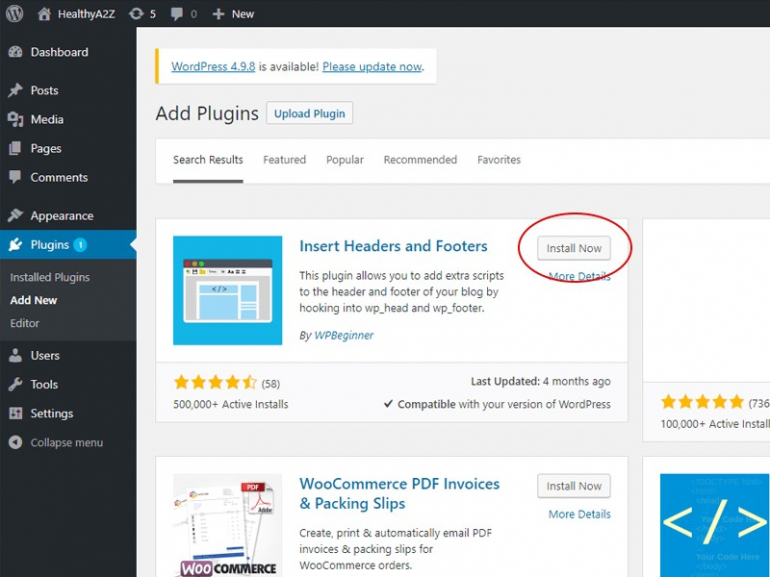 Step 4: Go to the main menu, Settings, then click "Insert Headers and Footers."
Step 5: From the main field, insert the script that you obtained from Step 1, then click "Save."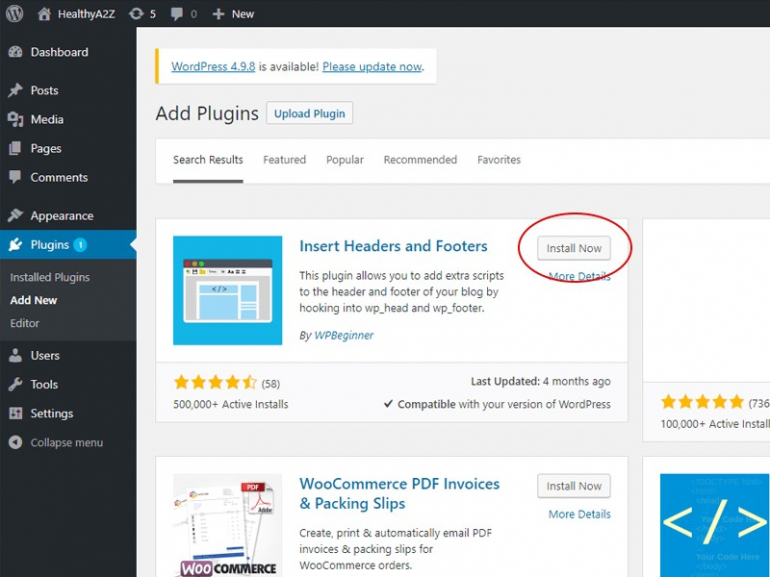 At this point, you're pretty much good to go. accessiBe is already at work to make your site accessible based on the regulations.
The installation process is so easy to follow that website owners with a basic understanding of how Wordpress works can follow the steps.
If your website isn't powered by Wordpress, you can visit this page to find your content management platform.
From your initial installation, your website should become fully compliant within 48 hours — something that manual accessibility solutions provider would often take months to accomplish.
Pricing
Just by paying $490 (annually), the website owners can start using accessiBe and have the peace of mind knowing that they are safe from any ADA compliance-related lawsuits.
Considering how these lawsuits could translate to thousands of dollars worth of loss for the website owners, the $490 fee is a more than reasonable amount to pay. The platform also has a 7-day free trial that you can use to test the platform. (No credit card required.)
Another perspective worth considering is how website owners would pay about $10,000 (depending on the complexity of the site) to make their website fully accessible when working with manual web accessibility services.
What's Next?
Don't wait before you are hit with an ADA compliance-related lawsuit.
If an established company like Domino's Pizza lost during its hearing at the U.S. Court of Appeals for the Ninth Circuit due to a website accessibility issue, what do you think are your chances of winning against a lawsuit of the same nature?