Today, in the time of active development of Internet technologies, web design courses are one of the best investments in your future. The ability to work remotely as a freelancer or in a web studio on serious and interesting projects and be financially independent are the main reasons to immediately start your training in web design.
It's no secret that web design training is one of the most popular areas in modern education. Moreover, it is not only students who want to learn how to create websites - people of all ages and professions strive to learn as much as possible about web technologies. Everyone has different motives: someone needs a website for their business or a personal blog, someone wants to become a successful freelancer, and others want to get a dream job in a large IT company. However, the way to achieve all of these goals is the same - learn, learn and learn again!
Fortunately, you don't have to spend time attending classes or paying for expensive study materials to gain new knowledge and skills. The required courses can be easily taken on the Internet. Online courses practically do not differ from traditional ones: you listen to lectures or read educational materials in the same way, ask questions to the teacher, communicate with classmates, do homework, and take tests. In some cases, at the end of the training, you can even get a certificate. But online learning has one undeniable advantage: you study at a convenient time and place.
Today there are many different learning formats. Most of them can be divided into independent study and training with professionals in this field. Whatever option you choose, the following list of online web design courses should come in handy for you. So, let's take a look at the 5 best online web design courses for learning web designing.
Best Online Web Design Courses Worth to Enroll in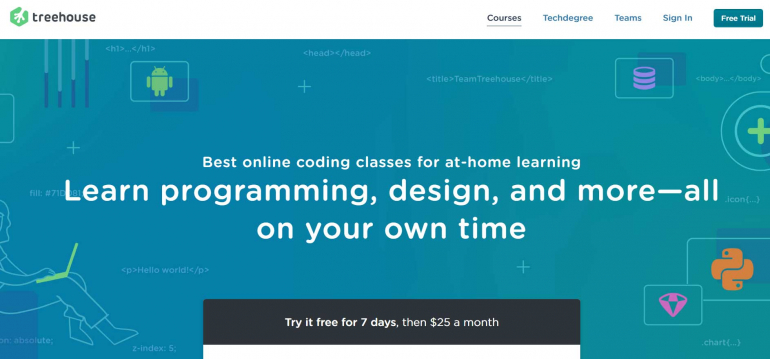 About the platform?
No matter how old you are, when you decide to learn from home - TreeHouse can be the best choice to give you the needed knowledge and inspiration. Initially, it was presented as a service offering tutorials, which later on evolved in the platform offering professional IT courses for beginners and experts looking for a new job. Even if you have never tried your hand at coding, TreeHouse has courses that will meet your needs. Are you an experienced web developer? The platform has enough lectures to meet all needs. Besides, they offer online certification for all levels and courses they provide. Thus, you can learn something new and confirm your knowledge with a degree in the web design field.
What you get
The platform offers easy-to-follow courses and video tutorials that will come in handy to you while working on your own projects.
Price
You may start with a free trial version that lasts for 7 days. If you realize that the service offers what you are looking for, you may subscribe to the premium packages starting at $25/mo.
Pros
Affordable
The free trial period is available
Wide choice of pricing plans for different needs
Cons
Some courses could have better quality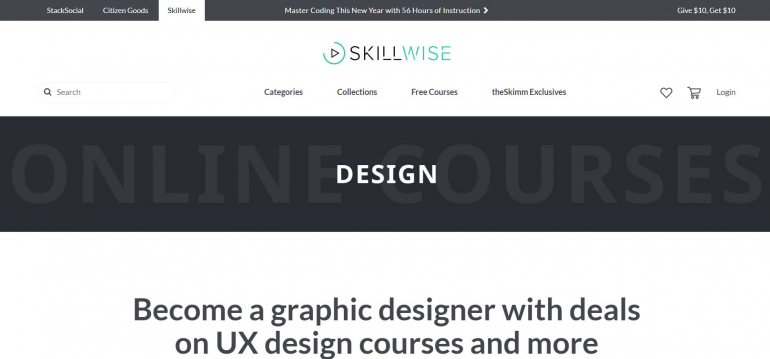 About the Platform?
Skillwise will be especially useful for amateurs and masters searching for motivation in the field of visual communication. There are bunches of UX courses featuring useful information and skills needed to become an expert UX/UI designer.
What you get
The platform features a wide choice of courses suited for web designers, IT specialists, business, photography, and personal purposes.
Price
The courses are affordably priced. Each course is available at its own price tag. Some solutions cost as low as $1.
Pros
Affordable pricing
Wide range of courses for beginners and pros
Free courses are also available
Cons
The platform could have better search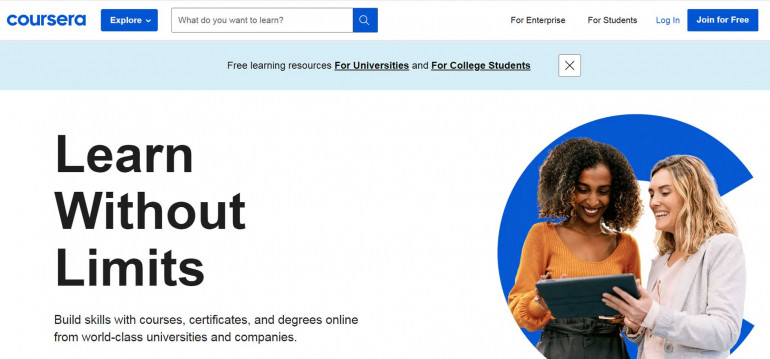 About the Platform?
This is one of the first platforms that come to mind when we talk about the best web design course online. It was established in 2012. Since then, it has gained a reputation as the premier forum of specialist courses offered by leading professors and universities in the world. Coursera has courses for a variety of purposes, though the sections are smaller than ADX. It's easy because it's good, but not so good for the person who wants to prepare for exams.
What you get
Coursera offers the following course types:
Open registration courses that welcome anyone can register and attend for self-improvement or professional development reasons.
Specialization courses are useful for those seeking a specific career as well as professional development goals.
Online Diplomas, which include Master of Business, Data Science, and Computer Science.
Price
Each course has a different price. The courses can cost anywhere from $ 15 to $ 25,000, with some of them being paid monthly and some others being available at a fixed price. The price range for Open Access courses varies between $29 and $99 per course. A specialized course will cost you $39 - $79/mo.
Pros
You can enroll in free courses
Courses are available in the offline mode
Courses are of the top quality conducted by world-class tutors and universities
Cons
Pricing can be somewhat confusing
Some courses may require you to have some prior knowledge before enrolling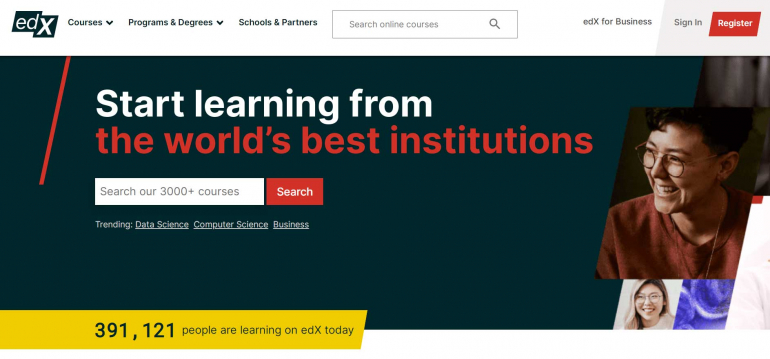 About the platform?
EDX was launched in 2012. It cooperates with colleges and famous teachers to offer master curated courses in an assortment of subjects. More than 1,700 tutors instruct more than 650 courses. EdX has around 7 million students. Around 580,000 accreditations have effectively been given.
What you get
EdX offers five types of courses:
Proven EdX Courses in various subjects that give you proof of completion.
XSeries Programs are taught by professors from leading universities and also give you a certificate of completion.
High school courses for college students.
Courses eligible for credit were created through partnerships with various universities and colleges to obtain credit for their degree.
Professional Development Courses made to hone your professional skills. They offer hands-on and experiential learning.
Price
There are many free courses, and there are paid ones. Non-credit courses, including XSeries, are free in most cases. Credit program certification courses vary in price but are readily available. If a particular course is "featured," it will have a price tag.
There is no fixed price for the courses. Some may cost $50 per certificate. Courses included in a college degree or credit program cost several hundred.
Pros
Famous platform in the industry
Wide range of features
University-level courses
Cons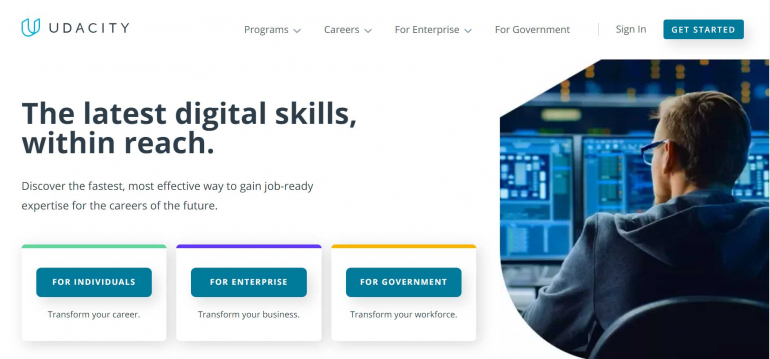 About the Platform?
Udacity is a private educational organization founded by Sebastian Tran, David Stavens and Mike Sokolsky to democratize education. The company sprang from an expansion of Stanford's computer science program. Distance courses are available free of charge on the Internet. Anyone can listen to them. Initially, six courses were offered.
What you get
You can filter Udacity's list of courses by class, ability level, and support. In spite of the fact that there were around two dozen courses, separately, for programming improvement and web advancement.
Price
Be ready to pay per every course to which you enroll. The platform also offers four-month access priced at $1356.
Pros
Courses include top-quality content delivered by the industry-leading partners like Google, Amazon, Mercedes or Nvidia.
Free courses are also available.
You get a certificate upon a completion.
Thanks to its high reputation, Udacity can help you climb professionally. Career advisors are also offered to help you find and improve your professional path.
Cons
It may be expensive to enroll to some courses.
There are no mobile applications of the platform available.
The choice of topics could be improved.
The platform is available for English-speaking users only.
Final words
By choosing the best website composition and improvement course, you can get proof of completion. You get an opportunity to get new information, discover new abilities, improve your CV, and come out better as an expert in your field. We believe that you will discover this assortment of online web design courses helpful and there is a solution that will give you the information and expertise you are searching for.