Social media marketing has become the first choice of marketers to increase brand identity and build sales funnels.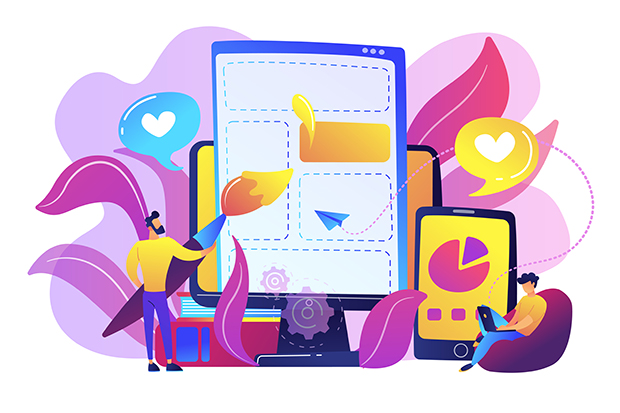 But to succeed in this job, you have to be skillful and use many tools to outperform your competitors.
One of the most important matter you need to focus on is the graphic design of your content on social media. As you know, multi-media content including images, videos, info-graphs, memes, etc, are really popular and without them you can't win the competition.
According to Social Tradia, Instagram accounts that have better graphic designs can be sold at higher prices in the market.
That's why many influencers and businesses spend tons of money on graphic design tools. So you also have to equip your marketing team with such tools.
Here we have gathered a list of top social media graphic tools to help you improve your visual appearance.
Canva
This is a comprehensive graphic design tool, which is ideal for non-designers.
Canva is a well-known graphic design application that makes it simple to create pictures. It's ideal for non-designers, with a variety of premade templates to meet every image-capturing need.
Using a social media name checker tool, you may discover a brandable moniker that fits your company's design style and color palette by simply plugging into Canva to generate cool logo ideas.
You may also alter the dimensions of pictures for various social media networks, and there's a drag-and-drop interface that lets you adjust fonts, colors, styles, and more.
In addition, there are many chilly animations and millions of stock images to choose from. In summary, this is one of the greatest free social media graphics creation tools available.
Visme
Visme is another well-known name in the realm of social media graphic design.
Visme is a web-based design application that lets you create infographics, charts, animations, and other visually stunning things. You'll be able to produce Impactful Presentations, which can be beneficial if you host webinars on a regular basis, in addition to producing visually appealing social media posts.
You may simplify your job by utilizing the charts feature's numerous pre-built chart templates. This platform can generate an entire range of charts from pie graphs to maps.
You may also generate engaging social media updates that captivate consumers' attention. This feature is especially beneficial for those in the B2B industry, and it's completely free to use.
Adobe Spark
Best for social media graphics design that is collaborative. The capacity to blur backgrounds, allowing you to focus on the important components of your picture, whether it's people, logos, or products, is one of this platform's most popular features.
For free, you may use this functionality on Adobe Spark. Just choose an image from your collection, one of the premade themes, or from stock photos. You may enhance the picture's uniqueness by utilizing the blur option, which allows you to soften it as much as you want and include animation, text, borders, or effects.
With additional features like typography designs, iconic images, and simple sharing, Adobe Spark is an excellent tool for producing successful social media graphics.
Photovisi
For creating stunning collages, try this best graphic design tool. For social media, picture collages are a great idea. If you want to utilize these powerful marketing tools on Instagram and other social networks, you'll need a platform like Photovisi. Twitter and Facebook have built-in collage capabilities, however they are limited.
Register for free and choose from a variety of professionally designed templates that you may personalize by editing photos, text, colors, backgrounds, and other elements.
No coding or graphic design expertise is needed since everything is done using a drag-and-drop editor.
Infogram
For social media charts and graphs, I was named the best graphics designer. In minutes, you can build engaging reports and infographics with Infogram, an intuitive graphic design tool.
With a variety of designer templates on the platform, you'll be able to save time and money while staying consistent with your brand. Every of your clean templates is ready to go and will help you engage with your audience more effectively.
This tool is especially beneficial for social media users who distribute data-dense or research-backed posts. To make it simpler for your followers to consume and understand the information, you'll be able to share your data as an picture.
Remember that charts and graphs are among the most typical ways for others to provide you backlinks, even though this is beneficial for social media. If you want to develop your website using a blog, keep in mind that it's one of the most likely methods.
Quozio
For creating quotations, this is the best graphic design tool. Quotes are another kind of graphic that performs especially well on social media. With a platform like Quozio, you can produce stunning quotes. These are great for passing along helpful, share-worthy statements you discover online.
Just fill in your quote and click "Build my quote" to get started for free. You might examine a variety of random quotations on the website to see how others go about it for motivation. All of the templates are totally customizable, allowing you to develop distinct quote-based pictures for your social media efforts, and this is the quickest way to generate, store, and share quotations.
Snagit
For Windows, the best screen capture program is TechSmith's Snagit is a well-known screen capture and recording program. It works with both Windows and Mac, despite the fact that it was originally intended for Windows users.
You may take and alter pictures on the platform's desktop app. Selectively capture the whole or a portion of the screen. You may also capture a lengthy web page or scroll downwards to view chat history.
Add lines, arrows, and callouts to annotate screenshots by adding text. Without having to redo the entire picture, you may also replace any of the words or alter the color, font, and size of it.
PicMonkey
For consistent branding, this is the best graphic design tool. Shutterstock's PicMonkey software provides a photography-editing and design tool that helps you create stunning photos for social media.
Advertisements, logos, flyers, banners, thumbnails, Instagram highlight covers and other creations are also possible. There are hundreds of gorgeous designs to pick from, and they're all fully customizable so you can always stay on brand.
For fast and simple graphic design, try this photo editor. You may utilize your photographs or pick from the library's millions of stock photos. On the website, you can get a free trial to experience the picture editor at your leisure. Premium plans are $7.99 per month, and paying yearly provides significant savings.
Placeit
Inside Stock Images, Integrate Your App or Site. Use this tool to create stunning social media pictures featuring your website's home page, blog, app, or company. There are several easy-to-use integrations that allow you to share your pictures.
It's easy to use and navigate the platform. Just pick a background from the library, add a screenshot, or enter a website URL to get your website inserted into the picture.
Placeit will then do the rest and you'll be able to download or embed your newly created graphic anywhere.
The interactive video feature, which embeds your whole website inside the window and allows users to browse through it as if they were visiting that page in their browser, is the greatest feature on the platform.