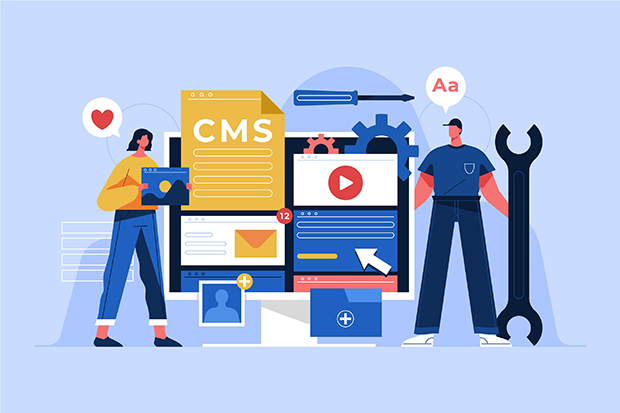 The number of people who bought goods and services through the Internet in 2020 exceeded two billion. In the same year, e-retail sales worldwide reached over 4.2 billion US dollars.
Maintaining an online presence is thus essential for businesses in the digital age. Many consumers prefer shopping or doing their research for goods and services online. This is why a website is vital for your business's success.
It is also critical to have the proper content management system (CMS). Read on to learn more about this and how to choose the proper one for your business.
What is a CMS?
A content management system is a platform for creating and managing digital content. Many businesses use them as the backbone for their websites.
Their most significant functions include:
Allowing users to create content
Storing content in a secure database
Publishing content
Managing user roles and permissions
A CMS helps simplify the establishment and maintenance of your website. Yes, you will need an information technology (IT) expert to keep it running and conduct maintenance. But, team members can do less techy tasks, especially if you're using a user-friendly CMS.
What You Need to Consider
There are a lot of CMSs in the market, and some businesses can even choose to have theirs custom-built. All of them work towards supporting a functioning website. But, they don't all have the same features.
Selecting the suitable CMS for your business requires careful assessment and consideration. Below are several questions that might help you get started.
What's your budget?
Content management systems come in different budget ranges, though they differ in functionality. You can go the open-source route with CMSs like WordPress and Joomla, among others.
Open-source software won't cost anything by itself, and they are flexible and allow deep customization. But, you will need to pay for website hosting and SSL certification.
Bigger businesses with bigger budgets might prefer enterprise content management systems. These might be a lot more expensive, but they also have features that suit many large companies.
Prices of CMSs can range from tens to hundreds to thousands of dollars per month. This depends on their features and functionality. So, it's best to get one that fits both your needs and your budget.
How big is your website/business?
The scale of your business could dictate whatever features you may need from your CMS.
Smaller businesses often have smaller budgets and limited staff members. A cheaper and less complicated CMS may likely serve them better. It wouldn't take up too much staffing to maintain and fit within the budget.
Bigger businesses, especially multinationals, may have stricter requirements. Big companies often have hundreds of employees across different locations, if not thousands.
With such a large team, small-scale CMSs might not suffice. Aside from content production, they might need project management and communication features.
Larger companies would benefit better from enterprise content management systems. These platforms can handle larger workloads. They might cost a bit (or a lot) more than other CMSs, but big businesses could most likely afford the monthly fees.
As much as possible, it's best to plan for the future. With your current business plans, would your CMS be able to support your growth? You can always change your CMS once it no longer serves you, but the process will involve a lot of readjustments as the team at Solitaired.com found.
Is it easy to use?
Aside from your web development team, your content and marketing teams will also use the CMS. Thus, it is imperative to have a user-friendly platform.
Sure, you can train employees to use more complicated systems. But, you'll have to weigh your costs and options in that case.
User-friendly systems can help with work efficiency. Having easier workflows helps employees quickly go through their tasks with fewer errors. Not everyone knows how to code. So, it's often easier to work with people's strengths than to thrust them into unfamiliar tasks.
Do you have a support network?
Your CMS isn't an infallible platform. Encountering bugs and issues is inevitable. Before you get to this point, it's best to plan for when you do meet these issues.
A critical factor to think about when choosing your CMS is the support system you'll get. More well-known CMSs such as WordPress often have large communities dedicated to them. They provide an abundance of information and resources for when you encounter any issues.
The Internet can be a valuable space where you can find many people willing to lend their expertise. It can be the best resource partner for small businesses that might not have a lot of resources at hand. Take advantage of these communities, and contribute when you can.
Bottomline
Every business has different needs and capabilities. Your content management system should complement yours. It's best to take your time and weigh your options carefully before deciding which one to get. You might have to spend some time to find one that works best. But once you do, your careful consideration will pay off.