Hey there, you have spent days trying to design a graphic, you discovered that you are not creative enough so you decided to outsource the design to a professional, you spent days before you found someone professional enough, he charged you an exaggerated amount but you negotiated and at the end you are paying but still paying big, you and your designer agreed on the delivery date but few days after the delivery date you are still waiting for your design, he finally delivered and the design did not even worth the money you paid talk less of time wasted.
The above paragraph is a common occurrence; in this digital world we all need some graphics to present our information better, and not all of us have the time and resources to go through graphic design training, this makes us fall victim to so-called professional graphic designers, even those that are capable of delivering very good graphics will charge a fortune. There is a still an option that is as efficient as getting help from a professional, your graphic designs will be done by yourself and at any preferred time of the day, you can design your graphic from anywhere where internet access is available.
Crello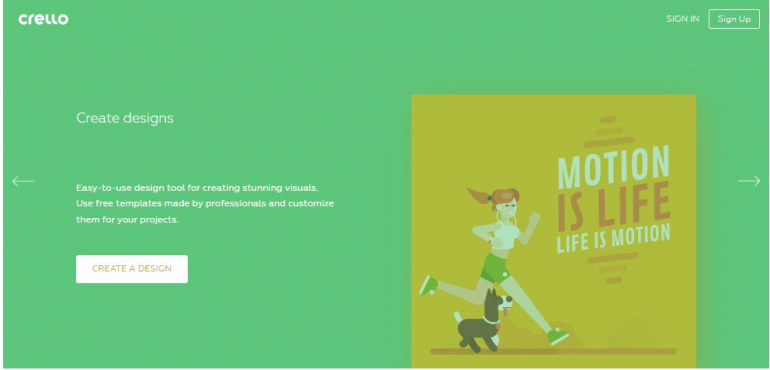 Crello is online (web-based) software that let you do amazing graphic designs, ranging from animations to posters to social media designs and lot more; with Crello you can do them all. Using Crello, even with little to no graphic design skills, you don't have to be afraid of how to get started, Crello features about 30 different formats and 10,000 free and ready-to-use templates. You have all it takes to design something amazing when you are using Crello.
About Crello
There are many options to design graphic online, tools like Crello are numerous on the internet, but not all have got all you need in one place, explore Crello's feature:
Multi-platform: Crello is web-based, it is hosted on the internet and can be accessed with any internet enabled device that has a web browser installed. Mobile phone, tablet, iPads, consoles, and PCs can all access Crello.
Large image database: when you are designing with Crello, you may not have to look for needed images elsewhere, Crello has got over 65 million stock images for you, just search and you will find a suitable image in few minutes.
10,000+ free templates: sometimes the hardest part of designing is starting from an idea, Crello has prepared over ten thousand templates for you to start with, all templates are totally free.
11,000+ design elements: you may be needing other elements such as shape, font style etc. Crello knows that and has already provided for it, all you need to do is locate the one you need from the 10,000+ available.
What you see is what you get workspace (WYSIWYG): Crello's interface is like working with a native PC editors like Photoshop, drag and drop your elements exactly where you want them to be and then save the design as it is, that's all you have to do to design an amazing graphic with Crello.
Standard graphics quality and resolution: all templates are standardized for their individual usage, Crello also knows what social media and other websites requires in terms of graphic colors and resolutions, their designers have taken care of all these standard issues.
Unlimited storage: not only can you design with Crello, you can also store your finished design for safekeeping, you can create folders and organize your designs inside them, you can share the link to a specific folder with friends.
Image and font upload: Crello understands that the vast number of images provided or number of font style available, you still may not find what you need, or in a case where you have to use your own image in your design, thus they allow image and font upload.
Multiple output formats: what will be a disappointment is not to be able to download your amazing design in your desired format, with Crello, you can output your design as JPG, PNG or PDF.
No hidden charges: what you may be paying for on Crello are the premium elements you used and you will only be required to pay when you are about to download your finished design.
The features mentioned above are just an abstract of the features possessed by Crello, feel free to explore the full power of Crello on Crello.com