No matter if you are a newbie in the world of drawing or your talent has been already appreciated, you most likely heard about Moleskine notebooks and drawings created in them. Moleskine sketches occupy an emerita place in the word of contemporary art. So let's look at them closer.
As we know Moleskine is the legendary sketchbook. Its pages are masterpieces by themeselves which can unlock your creativity and release the stress. I fell in love with them at first sight.
Walking through collections of Moleskine drawings at Deviantart.com, Behance.net and Flickr.com you'll learn something more about these hand drawing illustrations. When I saw them my first feeling was "WOW!". These superb illustrations blew my mind, sparked the muse and inspired my thoughts. I still can't believe that all of them were created with the help of pencil only. So today I've decided to share some memorable and outstanding artworks. Just scroll down.
Subscribe to our newsletter and get a huge bundle with freebies and inspirational stuff once in two weeks:
Black and White Moleskine Illustrations
Despite that fact that there are lots of varieties of colors which are available online, the black and white illustration still take a place of the most inspiring and traditional way of conveying messages to the visitors. Handmade drawings bring some personalized feeling and atmosphere to your work.
Here's looking at you kid is a cool realistic drawing, undoubtedly the queen of crosshatch.
In the twist of separation. I really like the simplicity of this composition! The minimalist style is popular in hand drawing art too!
This awesome Moleskine madness is called Girl's keys. Looks like a real :)
Crossroad blues. The great focus and the good executed depth of the field make this drawing awesome.
Collarbone. It is a hard task to draw a woman's neck well. But the author coped with it!
Sexy, well-defined collarbone.
Cry for a shadow. The wood texture and neat lines are incredible! This would look perfect in any kitchen.
Smells like teen spirit. This black and white illustration has a good looking 3D style.
Strike a pose is an amazing illustration of a cat toy.
Sketchbook 16. This Sketch was created with the help of Micron pens.
Taliesin City. The best weapon of a good artist is a mechanical pencil and a kneaded eraser.
Push it along. The blue biro creates a really fresh look and the perspective and variation in tone is simply marvellous.
Mona lisa is a cool example of travel Moleskine. Take this super sketchbook with you in a trip!
Wise. Mix the pencil with the acrylic medium to make it sort of like watercolour.
Think i'll pack it in. A fantastic rendition of a classic vehicle. Love this style :)
Sketchbook 10. Moleskine, pencil, white acrylic... combine all these ingredients with talent and you'll get such an amazing result.
Pussycat. Moleskine, the rollerball pen and the restless cat.
The adorable illustration of a woman's face. It seems that she is looking deep into your soul.
Towneater sketch. The Moleskine sheets is good to draw on it. It is a perfect solution.
Let's close our eyes and pretend everything's okay.
Isobel and Daphne. Strange Tales From Little Black Book #11
The absolutely beautiful illustration. The hair, eyes, lips.. everything is so wonderfully drawn!
All we need is love...is that right?
Javan Rhino Moleskine wrap
Moleskine sketch 1 is an example of the first work in Moleskine too. Gorgeous sketches!
Take a look at these surreal illustrations. The imagination of the author is impressing!
Moleskine Sketch. I like fingerprints on this drawing ). This is the first page of the author's Moleskine )
Do you know what to do? Awesome and creative sketch! It keeps me in a good mood :)
Weird architecture. Remarkable details of this fairy tale castle make this drawing so adorable!
Ruby and Tatoo. The fantastic and very detailed work!
The mad hatter and Lady Gaga.The range of pencils is 6b - 2h
A distant hellp. This perfect scenery cityscape with the good composition and the shading.
Hand-Colored Moleskine Illustrations
But the Moleskine art it is not only black and white or monochrome illustrations. Scroll down to see how color pencils and watercolor can add emotions and depth into your drawing. Colored illustrations are full of life and form.
Dancing across the water. The attention to details is impressive. The same we can say about the tone choice and the shading.
Celestial sheep. I think that this attempt to work with color pencils is successful.
Moleskine, Micron pens. I love the red color accent and details in the threading of the headgear! This simple design conveys depth and emotions.
This is a wonderful Moleskine drawing by Lady Orlando. The boy from the sketch looks like the little prince by Antoine de Saint Exupery.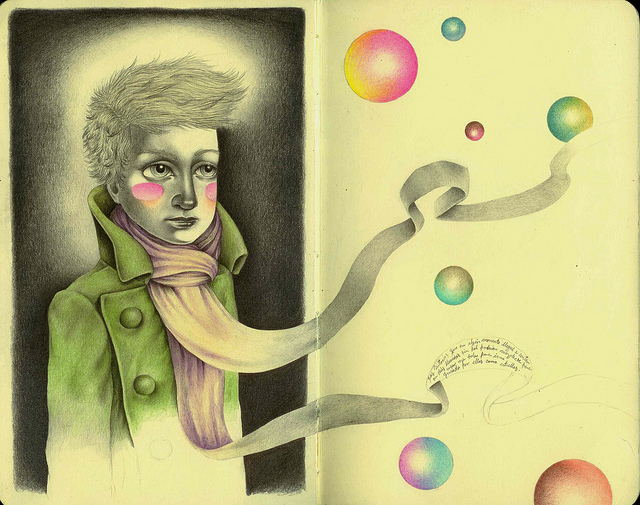 Quails_+_Dragons. I really like the bright pinks and greens on the right, it brings out a lot of life and form.
Daydream. One more incredible drawing from Lady Orlando. Lips look like flower petals.
You know that we belong. Nice composition and attractive colors make this illustration so inspiring.
Moleskine 01. This is the first sketch in evalovinlucy's Moleskine. Not bad, huh?
Somebody may think that to create such illustration is an impossible task without some LSD.
Nutslo. The wonderful squirrel and the cool story :)
JulietWW. I love the way the complicated shapes are created. Also the way of getting perfect light and shadows with just a few lines is cool!
7dollarlo The funny and witty Moleskine drawing.
Rhinolo. Excellent crosshatching and cool background texture.
Gwenlo. This is a clever and funny drawing, but at the same time it well done.
Snowy Owl. Look at this great background swirling effect and professional way to sketch the eyes.
Moleskine Daily. Personal Moleskine Project.
In conclusion I'd like to introduce you one Brazilian graphic designer . Maykel Nunes is a Moleskine contributor on the moleskine.com website. In 2011, the Moleskine selected him to join Moleskine Cover Art Collection stamping his art in a special notebook. Scroll down to see his adorable sketches.
The time of delicious ice cream, gentle sun and warm sea is coming soon. Why not to take your notebook and sketch all summer impressions? This is a cool idea how to improve your drawing skills during the summer vacation. Maybe one your Moleskine doodles would become a famous painting.
More inspirational posts:
Tasty Typography Examples for Your Inspiration
Smarty Wallpapers to Free Your Creativity
How to Add Retro Look to Your Photo
30+ Websites with Large Background to Skyrocket Your Creativity
50 Mind-Blowing Artworks Where PinUp Art Meets Typography
15 WP Themes With Amazing Video Backgrounds