Are you ready to celebrate Father's day? This bright holiday is knocking on our doors and it is time to create a card for your father. I think that the handmade card is the best present for your father because you will make it with all your love and warm. The handmade card helps you to share love, gratitude, and respect.
Father is the main person in our life. He helps us to make the first step. He teaches us to play football, fishing, skiing... he teaches us to do all the things which make our childhood happy. Father helps us to do our homework. He kills all spiders and monsters. He is the best!
You may design the card for your father in any way you like. It can be humorous or serious, monochromatic or colorful. Everything depends on your taste. Below I've showcased some examples of Father's day cards. Scroll down to get a piece of inspiration and create your own cool design.
Hallmark ecards can also give you some great ideas.
iDad
If your father is an Apple fan, this design is the best choice! iDad card will impress your father. Under every icon, you can write a few words to make this card more personal.
As far as fathers go, I could have done a lot worse.
One more example of a card's design for a geek :). If your father is fond of Star Wars, make something like this for him!
Thanks for teaching me all the manly stuff.
Father teaches us to use all manly stuff, such as a screwdriver, a chisel, and a hammer.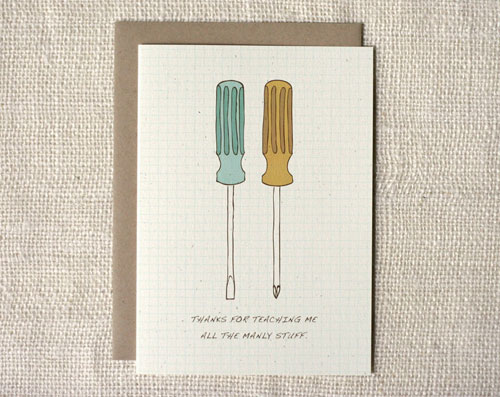 Way to have strong swimmers
This fun example of a Father's day card is not for everybody. But if your father has a good sense of humor, you may try to make it.
I'm so glad you're the one who knocked Mom up and made me!
One more example of fun father's day card.
You're a damn cool dude
Take a look at the design of this card! It's awesome. The modern trend in web design (the ribbons) are present here!
Star Wars
Cute design for Star Wars lovers. I'm sure, your father will love it.
QR code greeting card
One more example of a geek related card. A QR Code Greeting Card designed by Jane Cameron .
Father's day chemistry card. Big geek gold by Shop Gibberish
Homemade Father's day card
The best present for an SEO father! Cute handmade SEO card.
Aqua blue and grey Elephants on 100% Recycled Paper
The stunning design of this card doesn't let you stay indifferent.
Nautical neckties
If your father likes neckties, this card will be of a great use :)
You're a little vintage and I like you ,cassette tape, hand illustrated card
Magic moments
The greeting card to remember magic moments of your life.
Simply stach'ing
Old School
Fatherhood
Printable Fathers day card frameable 5x7 artwork with Alphabet Letter Photos
Happy Father's day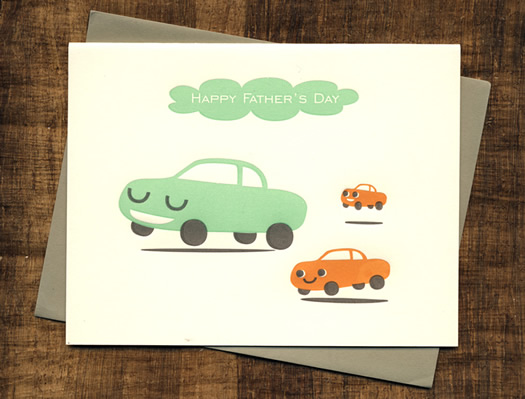 I've googled
Happy Father's Day!
Awesome gift for awesome Dad !
The Best card
What is done in love is done well
Heartfelt Father's day cards
Go on, relax!
Make this day enjoyable for your father. He deserved it.
This is not a Father's day card
Retro is a trend and retro-designed card is a cool solution.
Retro card. The best dad
One more retro card for father's day. Cool typography and colors.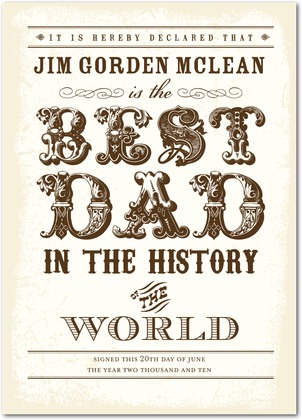 Some creative ideas for Father's Day:
Father's Day Scrapbooking and Paper Crafting Ideas
Creative food for Father's Day and a Great Freebie!
28 Father's Day Activities and Homemade Gift Ideas