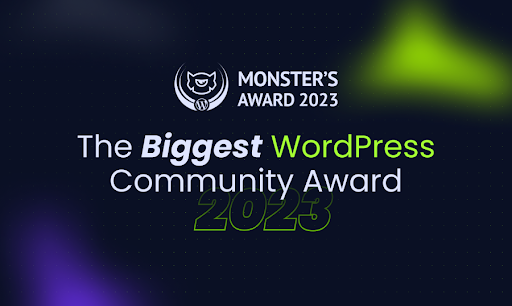 The 2023 Monster's Award is come! This one-of-a-kind event, hosted by TemplateMonster from September 11th to December 11th, is ideal for organizations looking to exhibit their WordPress development achievements. Now is the time, whether you have decades of expertise or are just getting started. Our awards provide you with the opportunity to be recognized as a high performer and increase brand recognition in the worldwide business industry!
What You Should Know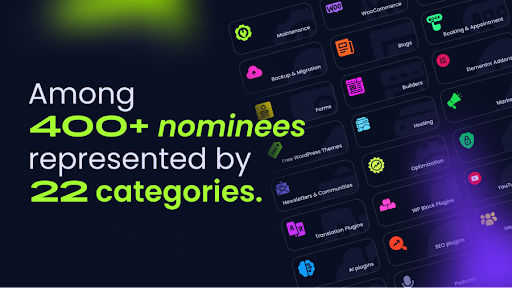 The Monsters Awards, the finest WordPress event, returns in 2023 and will be bigger than ever. This year, 22 categories are dedicated to the best themes, plugins, and services. Awards are given in a variety of fields, including:
Maintenance
WooCommerce
Dynamic Plugins
Backup and migration
Blogs
Booking & Appointment
Forms
Builders
Elementor Extensions
WP Themes for Free
Hosting
Marketing
Newsletters and online communities
Optimization
Security
Translation
YouTube Accounts
AI Extensions
SEO
Membership
Design
Podcasts
Because of this broad scope, developers and designers from many sectors and skill levels may be acknowledged.
Apply today if you want to be a part of one of these fantastic award presentations!
Outstanding Impartiality in Award Selection
The Monsters Award 2023 recognizes marketing leaders who inspire the next generation of marketers and employ innovation to generate value for customers. We take satisfaction in being open and honest while bestowing this coveted award each year. We do, indeed, value fairness, and the selection process is quite clear.
Our principles:
Voting has no fees associated with it.
Votes are cast by actual clients of the candidates' products or services.
To maintain fairness and honesty in award judging, paid marketing is forbidden during and after nominations.
We also employ anti-manipulation safeguards to guarantee that all entries are considered exclusively on merit rather than third-party prejudice or outside influence.
All of this contributes to our aim of providing an equal solution that incorporates everyone's voice in the business. As a result, everyone gets an equal opportunity to be recognized for their efforts!
Advantages of Entering the Competition
Regardless of who wins, the contest benefits everyone. Participants in the Monster's Award receive: Recognition: The winner's outstanding effort will gain him or her long-term esteem from colleagues and industry leaders.
Fame: Recognition and contributions to the field lead to professional success and financial stability.
Awareness: Winning such a prestigious award broadens one's worldwide visibility and professional impact.
Badge of Honor: Finally, the winning product receives the Monster's Award badge, which represents top-tier accomplishment and is the ultimate mark of respect among competitors and colleagues!
Last Words
The Monsters Award 2023 celebrates both WordPress pros and fans, providing them with a once-in-a-lifetime opportunity to demonstrate their skills throughout the world. It also recognizes previous professional pioneers and innovators. As a consequence, others are inspired by the idea that greatness is within grasp, regardless of where they begin on their journey to success!