With so many podcasts competing for listener attention, mistakes could cost you subscribers and relegate your podcast into obscurity. Therefore, podcasting requires considerable time and effort but is worth it when your listenership increases after each episode.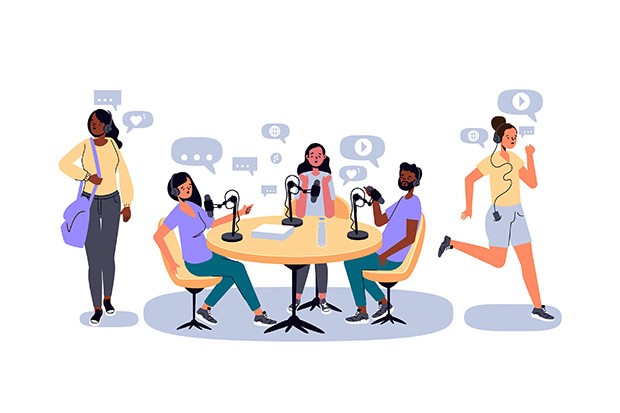 Mistakes during podcasting happen more frequently than you might think. It may seem like a simple enough process, but the podcasts you listen to have been subjected to scrutiny and editing to ensure perfection. Here are common mistakes podcasters make that could lose them their audience:
Choosing a host
Your podcast hosting software is where you upload the MP3 file to various platforms for users to access. Consider using podcast hosting software from Melon as it offers superior quality that enhances the listener experience. Many people choose hosting services that do not allow audiences to download episodes to consume offline. It is an essential podcast feature that will make listeners more loyal.
When you upload a podcast video to popular streaming apps, you are bound by their terms and conditions of use. Your subscribers are not yours as they belong to the service. One violation and you could be kicked out, losing all your followers in the process. It is preferable to choose a host, create a domain name, and operate your podcast independently.
Poorly written content
Audiences will not return weekly for new content when the delivery is poor due to low-quality scriptwriting. Do not assume that you can write a word-perfect podcast script in a single sitting. Scriptwriting takes several drafts, editing, and cutting before it is ready for recording.
Some things to consider when revising a podcast script include grammatical conventions, as not using them correctly makes you sound like less of an expert in your topic. Look for words that are used repeatedly and substitute them with synonyms. Eliminate wordy phrases and restructure rambling sentences that lose their meaning. Remember that audiences do not need to be told the same thing in half a dozen different ways and may find this approach patronizing. Eliminate content where you are repeating yourself.
Recording quality
Many podcasters start without recording their scripts in a professional studio. While some have had success with this, it has many limitations. Interference from background noise can make it hard for audiences to hear what you are saying.
Professional recording allows audio engineers to stabilize sound levels, which is impossible on a cellphone or amateur endeavor. If your listeners struggle to hear what you are saying, they are unlikely to enjoy the episode and will not return for future content.
Editing
Umming and aahing during a podcast become frustrating for listeners, as does hearing you repeat yourself or correct errors. While no podcaster gets their script perfect each time, the advantage of editing is that they can splice pieces together with no mistakes and overly long pauses.
Editing creates a completed product that audiences will enjoy listening to. It creates a more professional finish that makes the podcaster sound more believable and authoritative.
Copyright infringement
Nobody likes someone who passes off another person's work as theirs. Podcasters should be careful about plagiarizing other people's work as it casts them in a poor light. Listeners will lose respect for the podcaster and wonder if they know as much about a topic as they claim to.
Avoid using intellectual property that belongs to someone else, such as music and sound effects. If you must quote someone's words during your podcast episode, always acknowledge who it is and where you got the information. Listeners appreciate a podcast where you get the facts straight but expect podcasters to create content using a unique approach.