Earning passive income online is now a huge industry – and anyone can do it. Wouldn't you like to be able to earn money simply by kicking back and doing nothing at all? Well, thanks to the power of the internet and advancements in how we make websites, it's now totally possible. There are a whole host of different ways that you can gain money from your website without lifting (much of) a finger.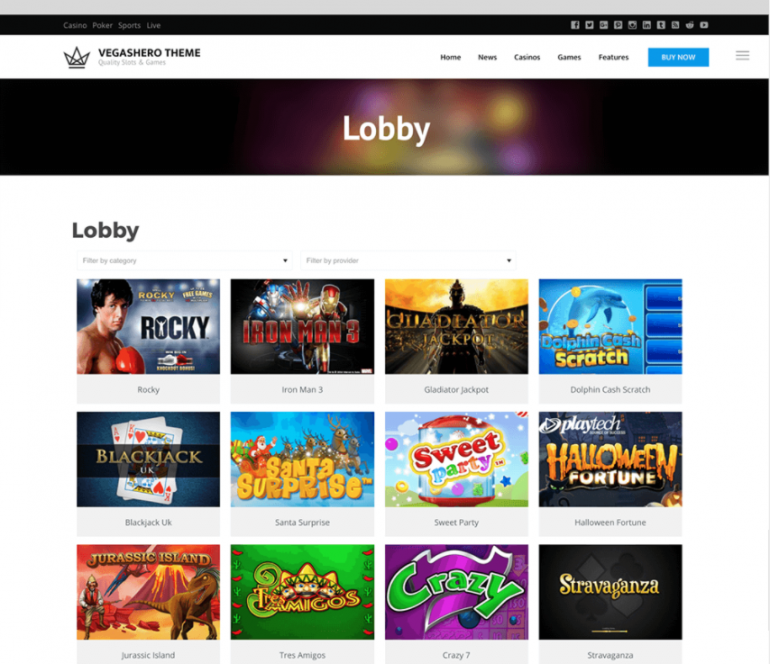 life just got a whole lot easier
You'll probably know by now that you can generate income through advertisements on your WordPress website, or by affiliate marketing. However, there are now more strategic avenues you can employ that can help you earn more in a passive manner than ever before. One of the most lucrative streams of affiliate marketing is through online casinos – generally, the more a player bets through your links, the more income that you'll earn.
It doesn't matter whether you already have a website or are building a whole new one from scratch. The VegasHero WordPress plugin for casino affiliate websites can be a nice little earner for you – and pay way more than simply sticking a few ads on your site.
Today, we take an in depth look at the VegasHero plugin and how it can help to generate more income for your website.
What is the VegasHero WordPress plugin?
The VegasHero WordPress plugin is one of a number of casino import plugins that can be added to almost any WordPress site. The VegasHero plugin comes with a range of demo games that you can easily add to your website so that visitors can get a taste of the action before visiting an online casino that hosts the game.
The plugin automatically updates your demo games, as well as allows you to pick and choose which demo games you'll incorporate into your site. There are over 1700 different games that you select from so there really is something for everyone!
VegasHero also offers WordPress themes for newbies in the iGaming world, so you can build your site easily from scratch and start making money quickly all in a casino-designed package. Their themes are geared towards online casino affiliate marketing, so you can be assured that they are designed to help towards making your visitors convert.
Both the VegasHero plugins and themes are designed to be SEO optimized – just fill in your fields and go.
Which websites are best suited for the VegasHero plugin?
To convert the most visitors from your plugin, it is recommended that your website is aimed at the online casino market audience, although it may just be online gaming or gaming in general. If a visitor lands on your site they are more likely to follow up with casino games if they came there for that purpose, as opposed to if they were, for instance, looking for recipes.
This is why it is best to pick up the plugin if you are currently thinking about making a money-spinning WordPress website, or you have an idea to purchase an established WordPress gaming website and build it up. If you already have a WordPress website that isn't in the gaming sphere that you would like to add the plugin to that's fine as well - however it may not be as lucrative as a targeted website.
How does the VegasHero WordPress plugin work?
The VegasHero WordPress plugin allows you to insert into a page demo casino games from a large library of games available. Each game has an associated list of casino providers that visitors to your website can choose to play at. VegasHero supplies all the casino providers that offer the full game through a handy plugin table, complete with the provider name, bonus for playing through that particular casino, the devices the game is available on (desktop, mobile, and/or tablet), and a clickable button to play.
You can insert your own affiliate links to casino websites to get the most from this plugin. Each casino has different deals at different times that they make with affiliate marketers. Shop around to see who's giving you the best returns and recommend them first!
The plugin includes access to a games "Lobby", a grid layout of games for visitors to select from. From the Lobby, they can click through to the selected game, which may appear something like a review page. You can play around with this landing review style page to suit what content you'd like to appear on the page.
If you've developed affiliate casino websites before, then VegasHero is a no brainer. Francis Beckenhoff, a senior developer at nodepositfriend.com says that "We used to have to source the game code ourselves which was very time consuming and now it is all in one place – saving us time and money. Plus, it's just so darn easy to use."
Is the VegasHero plugin good value for money?
As with any other plugin or monetization strategy, you need to think carefully about how you can make your website reach a greater audience – and convert. It's all well and good to create a new casino games review website that looks amazing and has great content, but what good is it if you don't have any visitors passing through your site and visiting the casino providers?
Currently, the VegasHero plugin is $79 per year for use on 1 site, $199 for use on 3 sites, and $349 for use on 100 sites. You can purchase the plugin and theme combo for $119 for one site, $219 for 3 sites, and $349 for 100 sites. This makes the plugin/theme combo quite a bargain if you are adept at spinning up multiple versions of revenue raising website.
If you want to recoup the costs of your outlay, then you will need to think about specific SEO and marketing strategies to help put you in front of more customers. You need your CTAs to be compelling and irresistible. You need to help place your website as an authority in the market. All these things are possible with the right strategies in place – it just takes some finessing to get them right. While these strategies are beyond the scope of this review, if you're not already familiar with them then it's suggested you bone up before diving into the world of casino affiliate marketing.
Conclusion: A nice little earner for those in the know
The VegasHero plugin is a good way to start getting in on the action of the increasingly popular online casino trend. While it's very hard to start up your own online casino, due to regulations and whatnot, this plugin lets certified casinos take care of that side of the business, while you just design a really good website. With online gambling on the rise, it's definitely a revenue stream that you should consider jumping on at this point in time.
If you understand a little bit about how to spin up websites quickly to start capitalizing on SEO strategies, the VegasHero plugin can become a nice little money earner. It also has a particularly good price point if you are in the business of starting up multiple near-clone websites at once. It's also a very good way for people just starting out in passive money making to get a foothold into this fun industry. With the right strategies in place, content, and configuration, using the VegasHero plugin in your WordPress site can yield relatively high gains as compared to other website monetization strategies. It's inexpensive for a yearly subscription, so why not give it a go to see how well it works for you?