SpringBuilder is a website builder that allows creating various web-based projects to users with diverse experience level. Being a product of BetConstruct (an award-winning developer of land-based and online gaming solutions), SpringBuilder ensures freedom of choice, when it comes to launching different types of quality and functional websites. SpringBuilder mostly works for the development of gaming and gambling websites, but you can also consider starting other multiple projects with the system. Wish to find out more about the feature set and flexibility of the service? Then let's have a look at what's under the hood there to make a deliberate decision.
Features
The system provides multiple functions that make it a decent choice both for beginners and experienced web designers. The control panel of the service is simple and understandable form the very first sight. It consists of three major sections, namely the dashboard, blocks and elements. Speaking about special SpringBuilder features, the following ones should be the first to mention: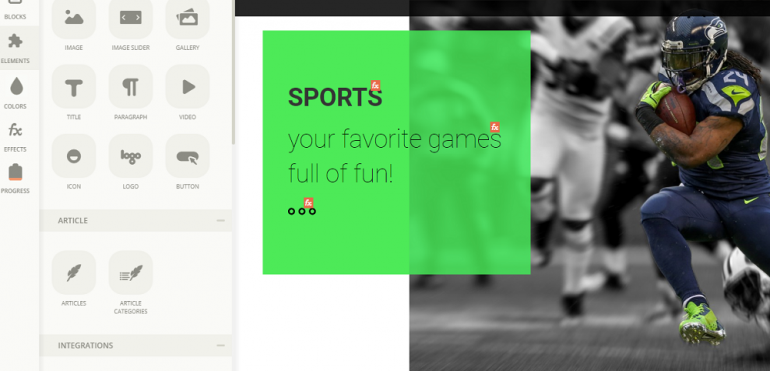 Drag-and-Drop Editor
Building a website with SpringBuilder has become simpler due to the integrated drag-and-drop technology. It doesn't require any coding skills from you, making the web building process intuitive, fast and simple.
Powerful Applications and Integration with External Services
For users willing to enhance the design and performance of their websites, SpringBuilder offers a set of applications and over 15 integrations with external services. Some of the add-ons that can help kickstart your web-based projects are Domains app, SEO app, Domain Manager, Casino app, Sportsbook Design app, Articles app, Spring app etc.
Multi Language Support
If you have an intention to build a website for long-term use and cooperation with foreign clients or customers, using the multi language support from SpringBuilder will certainly be a handy tool.
Team Management
With SpringBuilder, you can grant website management rights to several team members. This is a nice feature for teams working on common projects. Multiple contributors will be able to edit a website when required without the loss of time and effort.
Page Types
As far as SpringBuilder mostly focuses on the development of gaming and betting websites, you can create and add specific pages to your project. Each page comes with niche features and parameters, which help boost your website performance and enhance its design. As of today, the website builder makes it possible to create 4 types of web pages. These are:
Sportsbook: Live and PreMatch. This is the place, where you can start your own Sportsbook website. It comes with a rich set of design customization tools, due to which your website will adhere to all the needs of gamers. It is possible to design and edit the web page in a team by assigning access right to all the members. Sportsbook is currently available in two modes - Live and PreMatch. To enable them, you'll need to access the dashboard, reach the Pages App and choose the preferred option. It's also possible to activate both versions at a time. Whatever mode you will go for, your Sportsbook page will have several sections (Sports List, Search, Betslip and Live Match). Go ahead to customize them as you need!
Casino Page. SpringBuilder excels at building casino web pages. With this option, you can design and customize a casino website, creating a perfect place for all the fans of casino games. Your casino page will come with the list of games, settings, categories etc. You can choose between multiple casino backgrounds, templates and design customization tools.
Sportsbook Calendar. If you wish to give your gaming website enhanced functionality and design, adding a Sportsbook Calendar to it is a nice solution. This is the top notch destination for users, who wish to find out the schedules of their long-awaited games and check the available changes.
Other Page Types. The dashboard of the website builder makes it possible to select multiple web pages based on your web design needs and types of websites you work on. Some of the most popular pages include Virtual Sports, Live Games, Pools Betting, Games, FinBet and more. They offer decent functionality and a broad range of tools to give your gaming or betting website advanced look.
Specialized Website Gaming Elements
SpringBuilder provides a broad range of web design options and features, which can give any page outstanding appeal. This is important for user attraction, considering strong niche competition. The website builder makes it possible to choose between multiple elements you can integrate into any page of your gaming or betting website. Each element is available in the dashboard of the system and you can customize it by using the tools you can find in the control panel.
Among the most popular and functional SpringBuilder elements, it makes sense to mention Winners Chart, Selected Sports Games, Betslip, Events, User Account, Fantasy Sports and Mini Games. If you are right about to create and set up a casino web page, you will certainly benefit from integrating such elements as Casino Games, Casino Favorites, Casino Games Category and Casino Favorites into it. Whatever element you will select, it will definitely have positive impact upon the way your website looks and functions as well as on user engagement.
An advanced Casino App is worth mentioning as well. The application is one of the major gaming features of the website builder, due to which you can set up and manage your casino website with minimum time and effort investment. What you have to do for this purpose is to reach the Dashboard to make the required settings in each of four app tabs, namely Games, Categories, Types and Providers. That's easier than you could imagine.
eCommerce
SpringBuilder comes with a decent eCommerce engine. Launching a website doesn't take much effort and time. The dashboard of the platform looks quite intuitive and has an integrated wizard that will guide you through the web store building process.

Thus, you can add and manage web pages or products, inventory list, upload images and videos, add and modify product descriptions, create discount coupons and assign them to certain products of your choice. If there is such a need, you can integrate your SpringBuilder web store with several sales channels, choose payment and shipping options and perform other actions.
Blogging
If you are an entrepreneur, who has an intention to write and publish posts to make your business website well-designed and full-featured, then connecting a blog will be a worthy decision. You can do this by using the Articles App. This is the place, where you can add and manage multiple article categories, write and add new posts or update the existing ones.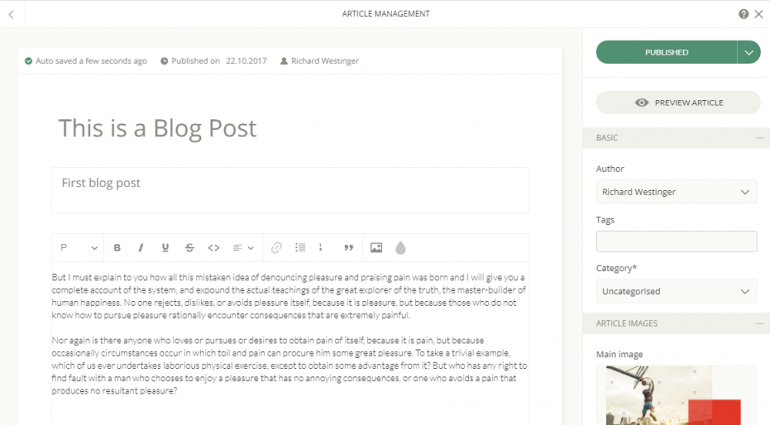 It is also possible to enable commenting and sharing options, set up SEO parameters, add tags and schedule posts here. The process of creating a blog doesn't take it longer than a couple of hours, while the result will certainly drive the attention of the target audience.
Designs
SpringBuilder design collection is not quite rich, but it has enough templates to come up to various web design objectives. The quality of these themes is on a decent level and you can use them to build different types of projects, ranging from simple landing pages and up to gaming, pormo sites and functional web stores.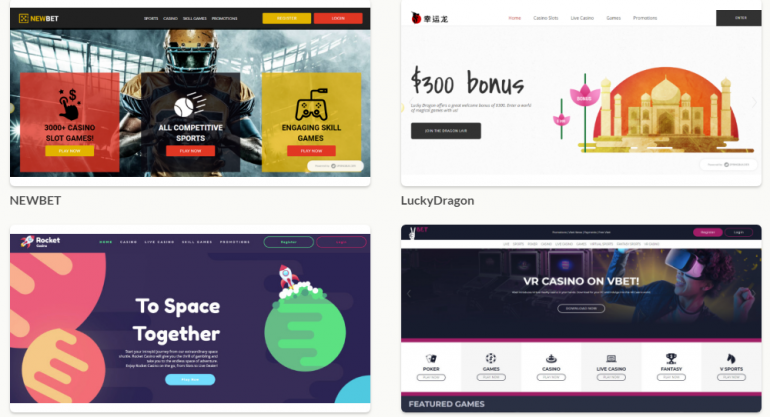 To design a website with the service, you need to select a template that meets your web design needs and targets most of all, choose a subdomain for it, get a plan (with a domain name and other benefits) and proceed to customizing the design. The templates are fully responsive. A preview mode lets you see the full-screen format of a theme chosen that comes with ready-made content.
Do you wish to replace the available content with that of your own? You are welcome to do that here with a few mouse clicks only. Drag the elements you'd like to be displayed on your website pages and change their parameters, positions, size, background images, spacing etc. That's easy, quick, interesting and effective.
Designer Tools
Apart from standard design customization features, SpringBuilder offers advanced Designer Tools. There are no many of them in the kit, but they can certainly enhance the way your website looks. By using them, you can edit your website styles, backgrounds, fonts, layouts, spacing and other elements all in one place. Designer Tools are available in the dashboard and encompass three elements - Typography, UIKit and Layout.

They make it possible to modify the typography (styles of headings, titles, sizes, letters, opacity levels etc.), build online forms, change web page borders, customize buttons etc. By the way, no coding is needed to do all these things. With Designer Tools from SpringBuilder, your web design expertise will gradually improve during the web building process.
Logo Maker
The website builder makes it possible to design your own logo to make your website personalized and to give it well-customized look. A logo will make your project remarkable, highlighting your business specialization. To build a logo, you can make use of icons available in the section.
It is possible to combine and modify them, tweak the fonts, sizes, shapes and colours. If you already have your own logo and wish it to be displayed at the website, just upload it and arrange it on a web page. Whatever logo you will eventually use, it will boost user attention and your website credibility. Logo Maker is absolutely free for all users. Even if you are not a web design pro, follow the tips the system generates to create a killer emblem and showcase your personal or business brand identity!
Pricing Policy
One of the undeniable highlights of SpringBuilder is its generous pricing policy. The website builder is absolutely free for all BetConstruct users. Whatever type of a website you are going to launch with the service, you can do that absolutely at no cost. This can be a landing page, a promo website, a business site and what not.
Mind that activation of the eCommerce module is paid. To do that, you'll have to choose the preferred pricing plan, namely Basic ($156/year), Pro ($372/year) or Unlimited ($720/year). It's up to you to decide whether this offer comes up to your needs and requirements or not.
Bottom Line
SpringBuilder is a pretty nice product developed and introduced by BetConstruct with the needs of users in mind. It comes with powerful design customization and marketing tools, various integration options and nice choice of responsive templates. It also provides an opportunity to build casino and gaming websites, but there are still many popular projects you can design with the system.
SpringBuilder is absolutely free and ensures comprehensive and flexible solutions for your web building needs. The website builder is easy-to-use and you don't have to be a coding expert to design decent projects with the website builder. Go ahead and test the platform to make sure it is really worth the attention!