There are many reasons to use VPN; however, one thing is sure, it is on the ever-growing rise. The more digital our lives become, the more likely our privacy is at risk. So, if you are asking yourself, 'Should I get a VPN? The quick answer is 'Yes'.
The rising popularity of virtual private networks raises questions about their work. Whatever your reason, it is vital to preserve your Internet hygiene, and to do that you can download a VPN.
So, if you care about privacy, security, or content access, there is a solution for you. Today, we will give you a general overview of the best providers so that you get started with some best all-around options out there.
Quick List Of The Best VPNs to Protect Yourself
Surfshark VPN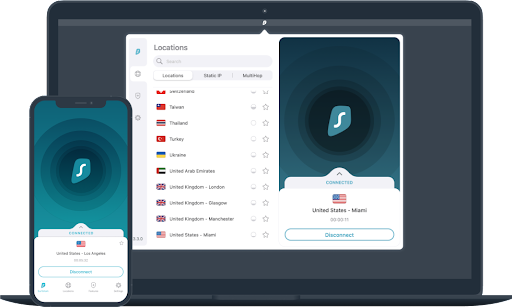 Although Surfshark is a relative newcomer, it hit the ground running with a slick product. Like all the best things out there, it offers some good features that help it still hold up against other services.
First, it places no limit on the number of devices you can use with a single subscription. In comparison, most providers limit you to just five. So, it is perfect for large families or households with lots of devices.
Available on all standard OS (Windows, macOS, Linux, Android, iOS), it has a web extension for Chrome or Firefox, and a VPN app for Amazon Fire TV. There are no issues unblocking Netflix and Amazon Prime Video content. However, accessing Disney Plus might take more time.
You will find many standard features other companies provide. It offers first-class privacy with 256-bit AES encryption combined with SHA512 hash authentication and a 2048-bit DHE-RSA key exchanger.
Also, it provides a kill switch, split tunneling, and MultiHop mode. MultiHop and Nexus are some extra features worth attention too.
And if you are looking for a cheap option that outperforms products twice its price, Surfshark is that. Don't like what you get for any reason? There is a 30-day money-back guarantee.
What Surfshark VPN has to offer
Make your location anonymous
IP addresses provide information about your general location. With a VPN, you can remain anonymous and hide your identity.
Private browsing
It is impossible to predict who may be spying on you. Protect your browser by encrypting your internet activity.
Keep away from restrictions on travel
Don't let your digital freedom be compromised when you are on the road. You will be able to access the same content as you would at home.
Wi-Fi safety in public places
It is possible for anyone to set up a false Wi-Fi connection in order to attempt to hack your device. With a VPN connection, you can protect your devices while in public.
Ensure your privacy is protected
No one - including Surfshark - is able to see what you do online as we adhere to a strict no-log policy.
Search for real results
Is it becoming increasingly difficult to get search results that are tailored to what advertisers can make from you? With Search, you will receive only genuine, organic results.
NordVPN
NordVPN is one of the most recognizable brands in the market. Its large infrastructure has 5,400-plus servers in 60 countries and includes a bit of everything.
It started with multi-hop connections and access to Tor. Today, it is a solid product that offers six simultaneous connection counts.
The service covers most platforms, including all major OSes, Chrome, Firefox, Edge browsers, and Android TV. Also, it ensures protection for platforms like Kindle fire, Apple TV, Playstation, Xbox, Linux routers, or streamers like Chromecast and Firestick.
Next, you get split tunneling, an effective kill switch, and AES-256 encryption. Threat Protection helps tracker blockers work more effectively.
The app is easy to use and has a map-based interface that works well on PCs and tablets. While on smartphones it is more of a hindrance than a boon.
Like most providers, NordVPN has unlimited data transfers and speeds. A super-fast RAM network is also beneficial.
Access geo-blocked streaming or TV services like Netflix, Amazon, or Disney+ with the fastest server. There are hundreds of optimized for Peer to Peer sharing servers.
Meshnet is a new feature that lets users link devices anywhere worldwide via encrypted connections. A 30-day money-back guarantee is not a new but pretty useful option when unsure about the choice.
IPVanish
IPVanish is a feature-packed server that has been in the game for a long time. It is a safe, reliable, and trustworthy provider for streaming, torrenting, and gaming.
The service delivers a respectable speed of around 720 Mbps when using WireGuard. It has an intuitive user interface with excellent performance graphics and 2,000+ servers across 75 server locations.
It comes with a kill switch, solid encryptions, and support for various VPN protocols. For countries where the government is more restrictive, IPVanish is a matter for debate.
There are no special servers for streaming. So, they are all for everything else. If you're only interested in Netflix and YouTube TV, IPVanish will do just fine. It is a good choice for unblocking Netflix US, UK, and India. However, when it comes to European Netflix libraries, IPVanish is not so convenient.
When on the lookout for an option that keeps no logs of your traffic on any of its servers, IPVanish is the choice. The Zero Traffic Logs policy ensures that none of your online activity is being logged.
CyberGhost
CyberGhost has an enormous network available. That doesn't mean that is an indicator of quality, of course. However, that ensures that it is a strong contender with 7,300+ servers in 91 countries and 113 locations.
The company works for OSes, web extensions for Chrome and Firefox, apps for Amazon Fire and Android TVLinux routers, Raspberry Pi, and game consoles. WireGuard tunneling is available in almost all major operating systems.
AES 256-bit encryption, various VPN protocols, Kill Switch, Wi-Fi protection mode, ad, and malware blockers are a few of the extra features of the service.
The company doesn't keep any users' data regarding their activities or any logs. That ensures that your data will not be shared with any third party. It delivers fast speeds and lets you use up to 7 devices protected simultaneously.
For streaming, use dedicated Netflix and iPlayer-optimized servers. They would give you the best speed. With access to over 35+ streaming services, it may seem like the company can do it all.
Its simple and easy-to-use interface makes it easy for even beginners to use it. There is also a 45-day money-back guarantee on subscription plans of a year or more.
StrongVPN
Anxious about your privacy? Then protect yourself with StrongVPN. It is a powerful option equipped with both OpenVPN and WireGuard protocols.
However, not all providers work best for all, and Strong VPN is no exception. It provides many features, including a browser extension, a kill switch, and protection against leaks. It also boasts servers in regions often ignored by other providers.
Have lost connection? Configure the client to reconnect automatically. That's it.
StrongVPN offers 12 simultaneous which is much more than other companies offer. It is also the fastest service in some locations with no speed limits.
However, it does not offer double encryption or live chat support. To secure its servers, StrongVPN says that it makes use of full disk encryption. That's good.
StrongVPN offers applications for iOS, Android, Windows, macOS, and even Amazon Fire TV. Speaking of streaming, Netflix, Hulu, and Amazon Prime Video all loaded in very quickly and in full HD.
The thing that it does not have a free trial period looks not convenient. It also does not offer multi-hop connections and access to the free Tor anonymization network. In addition, based in the U.S., the provider doesn't ensure the best privacy laws out there. However, the 30-day money-back guarantee makes it a good choice.
What Is the Best VPN Service of 2023?
Now that you know that the list of the best virtual networks is large, picking the one that fits you best might be tricky. However, there are some noteworthy points about each that could mean much to you. You can always start with the shortlisted five best VPNs above and grow from there. The good thing is that a 30-day money-back guarantee can help get you started and not fail.