With the rising need of having a digital presence in this modern world, more and more companies and businesses are looking to have their own website. With the increasing demand of websites comes the need for brilliant web designers. But what could a web designer do without an equally brilliant piece of technology where they could design equally great websites.
The latest iteration of Microsoft Surface Pro, the Surface Pro 4, is designed for all the needs of a web designer and so much more. With multiple new features as well as the standard features of the Surface Pro, you would be designing great websites in no time. To see all of the features and buy this amazing device, you could check Microsoft Surface Pro 4 in Harvey Norman, available for purchase now for just AUD $1, 499.
With multiple of new and improved features, such as its 30 percent increase in speed and slimmer bezels, it comes to no surprise that the Surface Pro 4 is perfect for any of your web design projects. With a storage of up to 1TB, up to 16GB of RAM, and the latest Intel processors, all in a 7% thinner body with a 12.3-inch screen, the Surface Pro 4 is a technological powerhouse. Not to mention the new Surface pen, which is a battery operated stylus which feels just like a real pen. In fact, the pen's one year battery life is described by the company as a nod to the liquid ink of a traditional pen, just like how the eraser on top of the Surface pen looks, feels, and functions like its traditional counterpart. It also has a strong magnetic locking that attaches to the Surface Pro 4, reducing the risk of you losing the pen. The clicker on the top of the pen may also be used to launch Cortana, giving you instant access to Microsoft's improved digital personal assistant.
The new Microsoft Surface Pro 4 is a technological marvel which every designer could use. With its thin, light design, and powerful specs, developing websites on-the-go is made possible. Here are some of the key features which could help you in your next project:
Both a Tablet and a Laptop
The Surface Pro 4 can be considered a hybrid of the two. It combines the power of an ultrabook with the portability of a tablet. While the Surface Pro 4 is designed as a tablet, one can convert it into a laptop simply by adding a keyboard attachment, also available from Microsoft. This ensures that wherever you go, you could work on your web design projects just like you would on a regular desktop. In fact, this could replace your regular desktop altogether.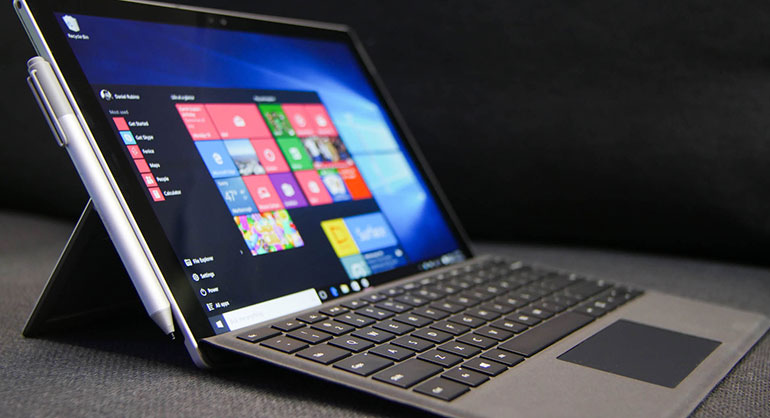 Bigger Screen, Same Size
The Surface Pro 4 has thinner bezels, giving you a larger screen. With a 0.3 inch increase in screen size and more than 23% increase in pixel density, this provides you an ideal workstation in designing web pages. From graphic designing to web programming, doing web design task on-the-go is a possible with this device.
Better Processor
The Surface Pro 4 runs on the latest generation of Intel Core chips, with options of the m3, i5, or i7. This ensures that any program you use would run faster and more smoothly than in any other devices. This device is capable of running CPU intensive programs that are CPU intensive such as the Adobe Creative Suite CC or AutoCAD with ease. Wherever you go, the Surface Pro 4 enables you to build a website from drafting the idea to launching the site, giving you endless possibilities in just one device.
Pressure Sensitivity
Surface Pen does exactly what you need it to do. With 1024 levels of sensitivity, it feels like you are using an actual pen and paper. Combine this with the powerhouse inside the tablet and it will give you the power to create and modify designs especially in processor intensive web design programs such Photoshop, Illustrator, DreamWeaver, and Muse.
Easy Access Buttons
Microsoft's now focusing on serious upgrades for its Surface Pen. With the former version, Pro 3, having two side buttons for the pen, Microsoft Surface 4 pen has a single button. This allows you to conveniently hold Pro 4 on one hand while smoothly using the pen on the other. The button serves as a right-click button in many apps. If you love using traditional erasers, you'll love the new addition of a rubber eraser on top of the pen. This could be pretty helpful for designers when designing the graphics for the site. The top part of the pen can also be clicked to launch Cortana, Microsoft's virtual assistant who could help you by giving you the information you need and managing your time. This helps you to work more efficiently by giving you shortcuts and tricks to let you work faster.
If you would like to know more, check Microsoft Surface Pro 4 in Harvey Norman for full specs and pricing.