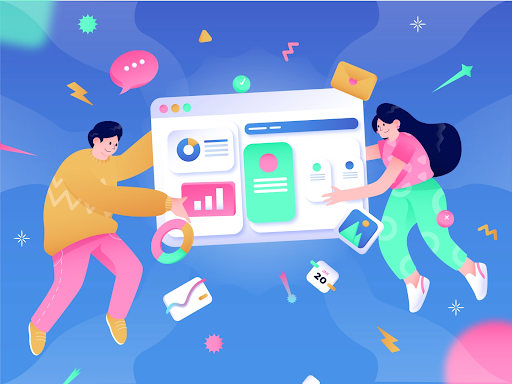 Source: https://dribbble.com/shots/14995317-Exploration-Illustration-Upgrade-Your-Website
The Internet has become an essential part of our lives. People search for places, events, new cafes, work online, shopping, and much more. It is not surprising that today the number of websites is ever-changing. According to the Website Setup statistics, about 576,000 sites appear daily. The total number of digital platforms on the world web is more than 1.7 billion.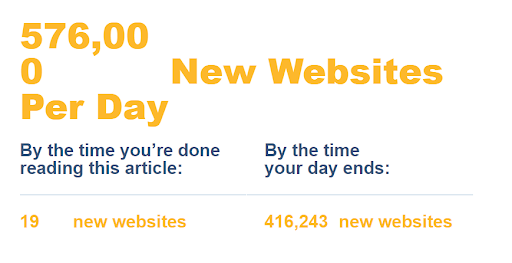 Source: https://websitesetup.org
The competitiveness on the Internet is astonishing nowadays. Users in the 21st century have plenty of options to choose from when it comes to ecommerce websites, online casinos, e-delivery, booking services, etc. A key factor at the forefront of public preference is the convenience of a site's use.
That is why the user-friendliness of digital platforms really matters today. People no longer want to face complicated interfaces, challenging navigation, low page load speed, or other unpleasant surprises. Everyone knows that there are many different niche websites to surf. That is why user experience has become a top priority for website owners and business representatives.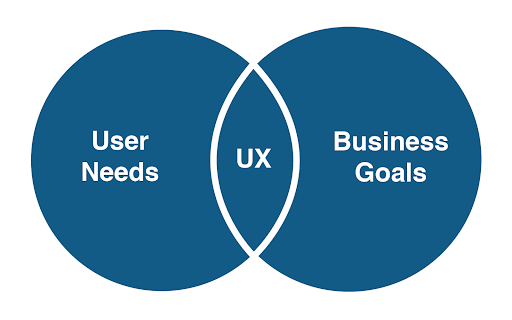 Source: Client Resources, Inc.
One of the ways to improve UX is to use micro-interactions. Let's dive into the topic to understand the true value of this approach for present-day players of various online markets.
What Are Micro-Interactions?
Micro-interactions are small website interactions users perform to accomplish a single online task. It can be downloading a file or entering some buttons on a site. Many experts compare micro-interactions with simple mini routine activities people undertake every day.
For example, when you are cooking a dish, you need to slice cheese or press the button on the coffee machine. The same story is about micro-interactions – they are part of one big process on the Internet:
Scrolling a bar;
Loading a page;
Facing a system error;
Entering CTA;
Surfing notifications, etc.
Put simply, micro-interactions are tiny processes that web designers cannot overlook when it comes to user experience. The simpler website interactions are, the better UX is on the site. You free users from complications and provide them with an interactive way of handling digital tasks. You also improve your UX writing because well-thought-out and user-focused micro-interactions complement your content the best.
The Common Structure of Micro-Actions
The most common structure of all micro-interactions is:
Triggers + Rules + Feedback + Loops & Modes.
Each user starts with a trigger. Triggers may be system-initiated. A user or the system determines the purpose or task that will give rise to the action on the website.
Then, the rules march into play. This means that the system triggers feedback that corresponds to the situation, or a user enters some button. Feedback takes place ­— it can be color-coded (usually, green or red for success or errors).
To provide a fluid user experience, loops and modes are applied after feedback. It can be "Trendy Items," "People buy," "Buy another," "Featured Products" blocks if we speak about ecommerce and already-completed orders.

UX Writing and Micro-Interactions: What Should You Know?
UX writers are responsible for the high-quality content that brings a great user experience. One of the main tasks is to create a happy blend of graphics, design elements, interface, and text messages. Additionally, UX writing performs better with micro-interactions due to decreased web fields.
The win-win UX writing is about short and catchy texts that complement a user-friendly interface with its design and website interaction properties. It is not just copywriting to describe some product or service and optimize on-page content with keywords. UX writing aims to provide website visitors with a natural and fluid experience.
Competent writers create text for buttons, menus, error messages, etc. This content becomes a microcopy of the visual accompaniment. That is why it is necessary to pick sides with the tone of voice first.
Then, writing guidelines for the text content are developed. Micro-interactions on the site allow UX writers to communicate with the audience clearly while avoiding complicated design structures (numerous registration fields, wordy sentences, etc.). To sum up, user-experience writing should promote interaction design and precise text messages that correspond to the required tone of voice and business purposes. That way, it is possible to make easy-to-use interfaces even for conservative and baseline notifications. For example, the message about system error could be some creative artwork with some engaging text.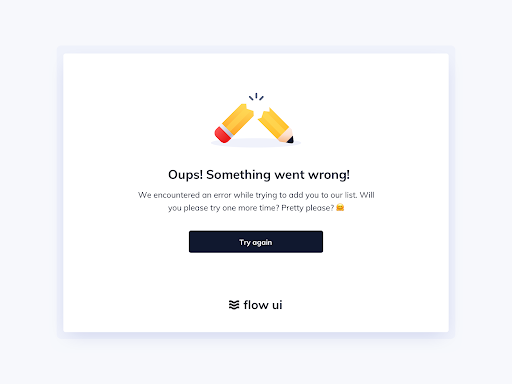 Source: Dribbble
Why Do Micro-Interactions Matter?
Implementation of micro-interaction design has many benefits for online businesses. First of all, you can decrease the drop-out rates of your website. People will not face multiple blocks to scroll or an annoying loading bar with a long wait time. Some good reasons to add micro-interaction on the site are:
1. Reducing the need for scrolling. You can complement your UX design with the "pull-down" or "swipe left" options. It is applicable not only for websites but for apps too. For example, recent dating applications allow users to swipe photos left to skip the profile if it does not match their preferences.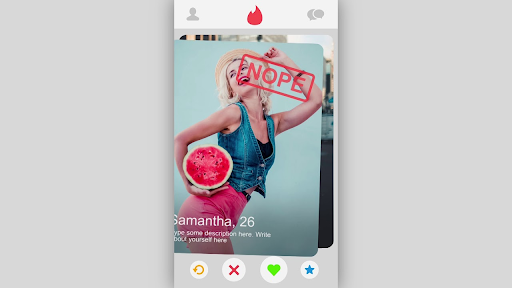 Source: YouTube
2. Signal for completed actions/system status. It is a perfect idea to implement a micro-interaction to inform users about progress in an interactive way. For example, set up light or dark modes on the website. Some cool animation can make a difference.
3. Introduction of branded content in an indirect way. The micro-interaction can be some animated logo or the patronyms of the brand added to the website interface.
Helping to build user behavior habits. For example, push notifications sent by companies can be considered micro-interaction. Users have a habit of checking all the messages they get via their pocket screens. Push notifications about sales, special offers, promo codes, and vouchers are focused on the UX behavior-building approach. For example, SmartThings practices this to improve user experience.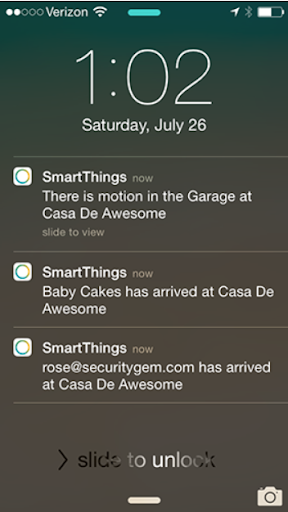 Source: UX Booth
Impact of Micro-Interactions on Website Performance
Through UX writing and interaction design, decreased drop-out rates are not the only reasons to use micro-interactions. They bring an exceptional user experience along with other website improvements for a good website performance:
Lower bounce rate and more time spent on the website – people become more engaged in your content if it has great animation and catchy words. Visitors will spend more time on the website and will not likely leave.
Page depth – although it is still not a ranking factor, micro-interactions can improve your PageRank flow. Remember that search engines hardly crawl pages that are too deep on your site. That is why these pages are ranked poorly as well. Make your website structure more recognizable for Google and convenient for users to reach the required web page without numerous clicks.
Higher conversion rates – all improvements mentioned earlier bring about highly-converted leads. It is important to stand out from the crowd of the niche digital project because there are so many websites. Today's users pay attention to the one-of-a-kind features of the site and exceptional representation of information that is possible to realize with the help of high-quality UX writing, animated graphical elements, interactive design solutions, and micro-interactions.
How to Create Micro-Interactions?
It is worth noting that we will focus on UX writing recommendations in the context of micro-interactions. We will not speak about hacks and tips for designers or the best animations to use. Let's take a closer look at the most efficient baseline practices for UX writers who work in tandem with web designers and creative directors.
1 – Focus on Your Audience and User Intent
Create micro-interactions for your website to bring high conversions, improve your UX, and boost your site rankings. Remember about decreased drop-out and bounce rates that are strong signals for search engines. To do that, you need to have a solid understanding of the customer profile, peculiarities of your audience, and user intent.
It is recommended to undertake a competitor website analysis first to get in-depth insights. This way, you will discover efficient approaches of your niche rivals, transform their strategies into one of your own, and create the best-matching UX content.
2 – Pick Sides with Tone of Voice for UX Writing
You should understand the audience's emotions to communicate clearly and in a common language. For example, suppose your company represents itself as a serious service provider with a high-status brand. In that case, it is not reasonable to use slang, dirty jokes, and other light content for UX elements.
Pick sides with the tone of voice that will fit your design. If you have colorful icons of animals and sell toys for pets, why not have fun with your audience? Have a balance that catches the attention of your target public.
3 – Have a Purpose and Functional Usage
Creating one catchy CTA is better than writing dozens of useless words. If you have a purpose, you can realize the best-matching strategy for the most functional usage of your website.
For example, Spire Global uses hamburger-menu properties to hide all the additional pages and information sections. It makes their homepage free of multiple fields and an overflow of data inconvenient for first-time website visitors.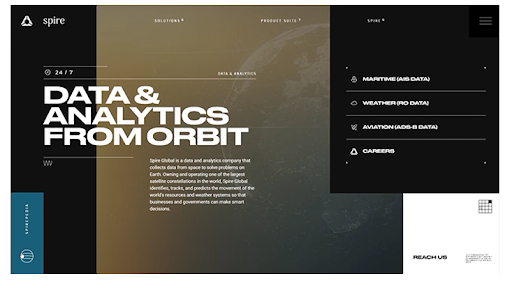 Source: Qode Interactive
4 – Follow the Structure
Remember the most optimal algorithm of any micro-interaction (trigger + rules + feedback + loops & modes). If this structure is ruined, the level of your user experience will decrease. Think of your triggers on the website and perform them as rules, adequate feedback, and supportive loops and modes to bring an exceptional UX through design and content.
5 – Be Simple and Consistent Using UX Writing Skills
It is useless to reinvent the wheel regarding UX writing strategies. Rule by common sense and simplicity of the implemented design and content tactics. All your steps should be consistent with bringing great results (high conversions, high-level engagement, user retention, etc.).
If you are going to add micro-interaction on your website, think of its functionality, branding properties, and convenience in usage. For example, let's speak about the loading bar. It can be a high-grade animation with your company's logo, and an easily understandable message below like: "Sorry, loading will take some time. Spend these couple of minutes resting!".
6 – Raise Your Brand Personality and Stand Out from Competitors with UX Writing
Speak louder about your brand with micro-interactions and UX writing. Create memorable design elements complemented with great content to differentiate yourself from your competitors. There are many opportunities to stand out from rivals in your market niche.
For example, the Method Madness company uses provocative messages and brave texts to be one of the top-performing film, VFX, and CGI product providers. Its homepage consists of reels and ambitious mottos to highlight its brand.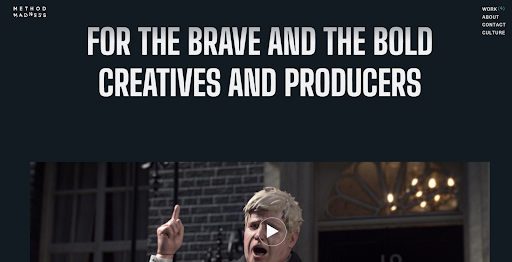 Vivid Examples of Win-Win Micro-Interactions and UX Content
According to WebDesignDev, micro-interactions and UX writing are among the top ecommerce design trends. It means that interactive graphical elements focusing on improved user experience are highly efficient for online businesses and brands.
Let's inspire with the most attractive examples where the synthesis of micro-interactions and UX writing is observed.
Scrolling
We have already mentioned custom scrolling via "pull-down" and "swipe left" options. But there is a range of other alternative interaction design options. For example, your animation can change when the user is scrolling. Or text blocks can change color when the page is scrolled down. It is important to highlight all the essential content elements with the help of such micro-interactions.
For example, the MOBIA company developed a website with moving text blocks. They complement each other. The user reads and scrolls the information. The animation becomes alive, and additional text messages and CTAs appear on the page.
Loading
The loading bar is one of the most interesting design elements on the page. It can be 100% custom and creative-friendly (snails, airplanes, thermometer, and other out-of-the-box animation options). Waiting is more interesting for the audience if the loading process is accompanied by text content.
Or one more excellent example offered by the dedicated team of developers from the Tunnel Bear app is the big bear moving that converts into a cub after the loading process ends. Take a look at the animation Before & After (UX content is presented in both variants).

Error
Users can face many system errors and feel disappointed or even angry. The task of a web designer and the UX writer is to decrease the level of anger and dissatisfaction with the help of brilliant creative micro-interaction ideas.
For example, Ramy Wafaa offered an interesting design for a 404-page. The friendly text message forces users to return to the home page and continue navigating the website.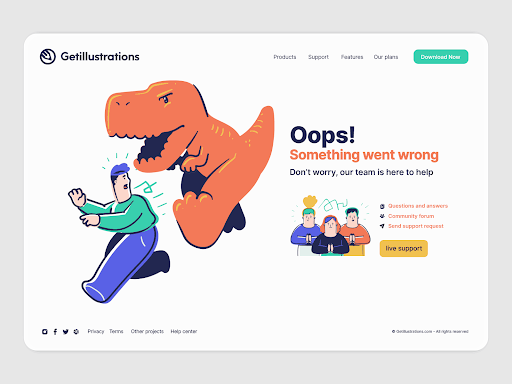 Data Input
Some users are tired of long and complicated registration processes. It is much easier to implement signing up with the help of social media networks as SE Ranking did.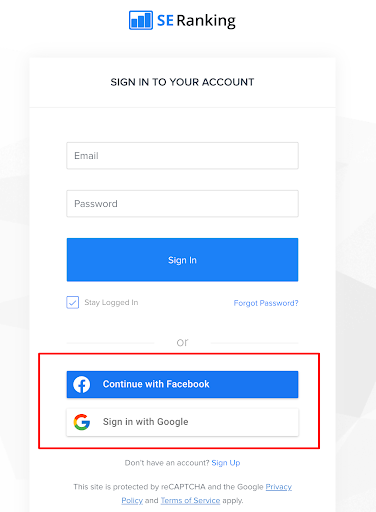 Other data input practices like the generation of a strong password that meets all the website requirements can be simplified with the help of micro-interactions. Pay attention to the Mailchimp signup online form.
Having specified an email address and a user name, the newcomer should enter a password. Note that a system suggests all the required symbols (capital letters, numbers, and other characters) to avoid the confirmation stage.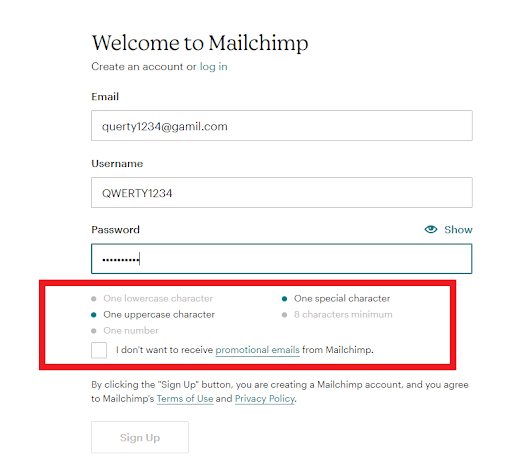 CTAs (Call to Action)
Perfect call-to-actions nudge website visitors to interact with any of the available blocks on the site. The CTA based on the creativity of designers and UX writers is important for conversions and brand recognition. For example, recently launched company TheMoon decided to develop a minimalistic homepage where the video is the central part of the presentation.
Only three call-to-action buttons are available on the homepage. They are placed as invitations. This design arouses interest and provokes users to click these CTAs to know more.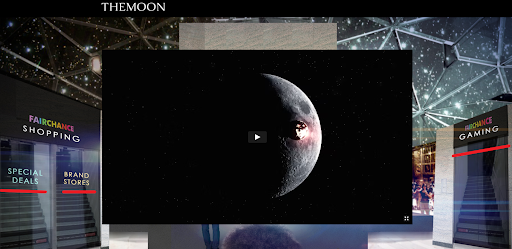 Notifications
We have already mentioned push notifications that promote user experience behaviors. But besides this type of micro-interactions on websites, there are other ones like system notifications, lead-generation notifications, and alerts. Use UX writing to create content for them and wrap it in a gorgeous design.
The Fire Art studio offers a user-friendly design of app notifications for the restaurant business. Both the owner and other registered users of the application who receive any payments will observe the transactions in the background mode and swipe them in the active mode.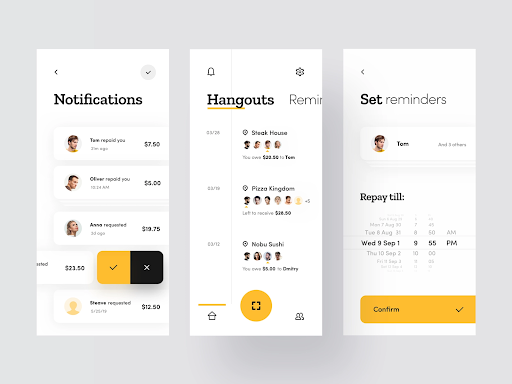 Hamburger-Menu
Almost all searches start with the homepage and the top panel. Newcomers navigate the menu with all the website sections to find the required category or page. The hamburger-menu design is best for web designers to structure all the items. The UX writers will be able to create the most user-friendly headers.
For example, the top retailer Adidas hides the numerous outfit categories with the help of the hamburger-menu concept. After unfolding the menu, the user can choose a section or page of the website.
Final Word
User experience is one of the top priorities of today's website owners. That is why endless practices to boost UX are applied every day. Micro-interactions are one of the most effective approaches to simplify and improve on-page user experience. They are not limited to graphic design and animations. Micro-interactions are about UX writing for website elements that complement the creative design and UI components.
To pick sides with the most workable CTAs, notification design, and other solutions, start by researching your competitors in the niche and keep track of all the UX trends so as not to miss any new approaches in the context of micro-interactions a better user experience.