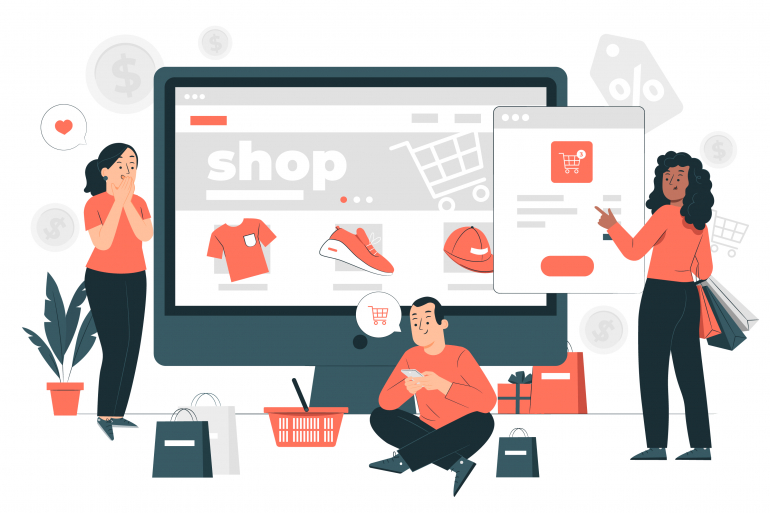 There are certain things that an ecommerce website needs – a user-friendly layout, for example, or fast response times. Then there are the things that an ecommerce site doesn't necessarily require to function, but it benefits from anyway. Nobody goes online and thinks, "wow, this website works so well". The functionality isn't what people notice and admire; it's the design, or the look of the website that can make or break a first impression.
That being the case, it's important to get some professionals involved in creating or maintaining an ecommerce website. Ecommerce development services such as WebCitz, or XtremeThemes Shopify agency, for example, can take an online business from the concept stage to a full-fledged website. Most people could puzzle it out themselves, but if you want to fulfill the potential of your site, it's always best to get some expert help.
How do design trends fit into the picture, though? If you incorporate one of this year's hottest design trends into your website, you're telling site visitors that you care about staying relevant. Plus, it certainly doesn't hurt to look cool. If you're curious about what some of these trends could be, keep reading!
Unconventional layouts
Some websites stand out because they're the best of their kind; others make an impression simply because they're so different from what people expect. One way to accomplish this is to use a striking layout, like what you can see on Christian Louboutin's mobile website. Most of the time, a page will stick to more or less the same background; if they don't, it's just opaque photos to make the page look more interesting. However, on this site, each section – whether it's a photo or a text element – is marked by a separate block of color. Pinks and greens predominate; the unusual layout has an unusual color palette. While the photos themselves are already memorable, most high-end ecommerce sites offer stylized product pictures; this particular site managed to set itself apart with simple changes in the background.
Increased personalization
This can be a tough one, especially since any successful ecommerce site will have between thousands and billions of visitors each month (looking at you, Amazon). You can certainly make each site visitor feel special, but how can you make the experience personal?
Some ecommerce sites have already found their solution: get people involved in making a positive social impact together. Sure, the ultimate goal of an ecommerce site is to make money. Still, ever since COVID-19 started to affect people worldwide, many companies have seen the benefits of participating in this trend. Feeding programs, donation drives, or special sales are all great ways for people to feel like their participation is valued.
That isn't personal, but what about communication preferences? Bloom & Wild Flower Delivery has an interesting feature for the people on their email subscription list; instead of being able to opt-out of specific categories of email, subscribers can also select the holidays they want to see emails about. It's a simple way to acknowledge that they may not celebrate every single holiday, and it also helps build trust in their brand.
Vertical menus
While horizontal menus have been the default for years, vertical menus are gaining popularity among ecommerce sites that want to set themselves apart. It's a very simple idea, but it can greatly improve the user experience. Why? Because most users (to the tune of 68%) use handheld devices when they're exploring websites. And what happens when you try to use a horizontal menu on a smartphone? You may have to scroll to see all the options, and if you open a drop-down menu, it obscures half the page or more. On the other hand, Vertical menus feel much more intuitive – and look more stylish too. Have a look at Laurie Raphael's gastronomy site to see vertical menus in action.
Turning physical into digital
This may sound like something out of Star Trek, but the explanation is a lot simpler – experiences that used to be exclusively in-person are now being accomplished online. One obvious example is grocery shopping; it used to be an obscure option in select retailers, but it's become common during the pandemic. It's possible to order the weekly shopping from your phone, as well as settle the tab and arrange for pickup or delivery.
You can do a lot more than buy food online, though; you can take virtual house tours on the Simple Showing app, for example. House hunting is often an intensive process that involves plenty of driving, appointments, and hoping the realtor remembered the keys, but apparently, it doesn't have to be that way anymore.
Exaggerated color schemes
We can all recognize an over-exposed photo when we see one, but what about colors that seem to pop a little more than usual? Decor Outdoor is an ecommerce site that's filled with lavish photos of poolside furniture, indoor ensembles, and most importantly, rich colors everywhere you look. Even though the furniture doesn't necessarily follow a specific color scheme, the photographs do. Stunning blue pools contrast with crisp white chairs, while autumnal armchairs rest comfortably surrounded by slate-colored rocks.
Sensory experiences
How many senses can a website engage for the average visitor? Not that many, as it turns out, but you can still keep them feeling entertained with a few extra features. Have the mouse clicks make a satisfying sound, for instance. You could also make your site more visually stimulating by introducing ripples in the background that follow the motions of the pointer. None of these things may add to the functionality of a site, but if people are having fun by simply being there, you're on the right track.
The point isn't to follow a trend for the sake of being trendy; you can also use it to fulfill the potential of your ecommerce site.
The landscape of ecommerce is changing quickly, and if you want to be successful, it'll pay to change your website along with it.