A web development company with a team of about five developers can make profits ranging from $400,000 to more than $1 million, according to data on TRUiC. Building a team of web developers is crucial for the success of your web development business. With the right talent, you can rest assured customers receive quality services while you concentrate on generating more leads.
However, managing website development teams can be challenging. This is because a development team isn't about people only. It's about the roles they play, the tools and strategies they apply, and their ability to balance being strategic and creative. Your team of website developers should also understand the project scope, customer's needs and turn each concept into reality. So, how do you add professionalism to your web development company when transitioning from a one-person business? Here are tips for managing a web development team effectively.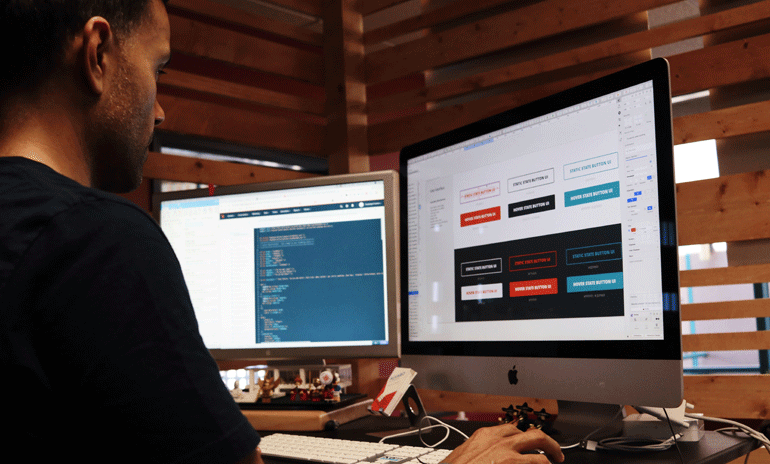 Build A Working Relationship With Your Team
As a business leader, you should prioritize building strong relationships with your development team. After all, your team of developers and designers will be the one handling your client's project from start to finish. Therefore, invest time to know more about your team. This step entails understanding their personalities, workflows, skills, and schedules. Doing so helps you establish effective communication plans, organize tasks, and set realistic milestones. You'll also enjoy working on projects, even the most complex ones because teams that work together effectively strive to deliver the best results.
Create Clear Project Guidelines
The key to managing a successful web development team is setting clear project guidelines. When you have a detailed project plan in place, your team knows what you expect them to do to meet client expectations. Ideally, they will have a clear insight into what direction they are heading in, how their actions affect the project outcome, and the risks involved. In addition to improving teamwork, this project management tactic boosts productivity and accountability among team members. To achieve the best results, set tasks, provide clear work procedures, and maintain effective communication. You can do this by responding promptly to emails sent from web developers or team leaders. Also, hold staff meetings regularly so that you can take reports and evaluate your team's progress.
Use Reliable Collaboration Tools
Your team of web developers needs to work in unison to complete projects successfully. For this reason, you'll need to invest in tech tools that enhance collaboration between in-house designers and those working remotely. Using the right collaboration tools helps streamline communication so that your team stays connected as they work on projects. Enhanced communication helps prevent confusion and enables developers to carry out tasks faster. Tools like Zoom and Skype are excellent for communication as they allow you to host video conferences with remote workers. You can also share screens with web developers whenever demonstrations are needed to provide a definitive guide regarding a project. Other tools worth using are Trello, Todoist, Asana, and Wrike. These apps come with a time tracker that allows remote workers to focus on their daily tasks and manage projects effectively.
Have A Risk Mitigation Plan
Like any other business, web development companies are prone to risks that interfere with growth. That's why it's crucial to identify potential risks and how they affect your team's progress. The ultimate goal here is to evaluate every aspect of the company, from the project's scope to the human resource department and technical needs. For instance, a poorly defined project increases the chances of not meeting deadlines, resulting in additional expenses or project failure. On the other hand, technical issues like unstable applications can result in a bad customer experience.
Once you have identified your business risks, focus on creating a risk management plan. This step is critical because it allows you to reduce the impact of business risks or even prevent them from occurring. For example, investing in workers' comp for remote workers reduces financial and legal implications when employees get injured. With the right insurance coverage, you can compensate injured workers for loss of income, injuries, and medical expenses without hurting your company's finances.
Provide Feedback
The success of your website development company depends a lot on the feedback you give your team. Therefore, make it a habit to share honest reviews regarding the outcome of a project. Doing so helps developers identify areas that need improvement. Also, encourage teams to offer criticism about your management strategies. Being open to opinions from your team and improving your project management approach helps you win a lot of respect among developers.
Managing a team of web developers is vital to the success of your website development company. However, the process isn't straightforward, especially when transitioning from a one-person business to an organization with multiple employees. To succeed, you must establish strong work relationships with your team, provide precise work guidelines, create risk mitigation plans, and give honest feedback.